Summer is chock full of opportunities for entertaining and enriching little kids' development through new experiences and activities. Need some ideas for summer activities for preschoolers? Check out these ideas for summer activities for the 3-5 year-old set. They'll come in especially handy during the dog days of summer, headed our way.
1. No-Stress, No Mess Water Play
Take advantage of a sunny day (or even a rainy one, provided there's no thunder or lightning) to set your kids loose outdoors and let them burn some energy doing what all kids love to do as a summer activity – play with water. Fear not, city dwellers, simply set a big plastic container filled with water on whatever outside space you have and arm your tikes with any of the following, all which make for great water play for little hands: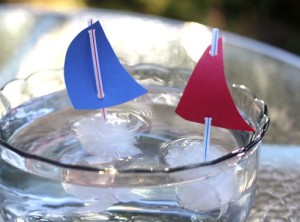 Small plastic fish or animals
Barbie or Polly Pockets dolls
Sponges and a wash cloths
Small paint brushes for "painting" the sidewalk
Matchbox cars for washing
Boats – make your own Ice Cube Boats with nothing more than an ice cube molded in a plastic cup set with a drinking straw and flag for a sail. These boats are adorable, and perfect for hot days.
Plastic cups for pouring and filling
A watering can for watering plants
A garden hose
Pull out the inflatable pool and let them splash for hours.
2. Easy DIY Crafts Just for Kids
Every kid needs a creative outlet, not to mention a quiet, inside activity once in awhile. We've found loads of great summer crafts for kids of all ages, some that can be made in minutes and others that will occupy a preschooler for the full duration of his baby sibling's nap. Check out our Summer Crafts for Kids Pinterest board for ideas, including these adorable and easy-to-make Flowers.
3. Explore a Good Book
Be sure to save time in your summer schedule for the simple pleasure of reading with and teaching your preschooler skills that will help him learn to read. You can encourage preschoolers to spend time with books by having them join older siblings in a summer reading program, whether it be one from a local library, Scholastic or a homemade incentive program. Encourage any form of reading, including pre-reading activities, like tracing or practicing their ABCs; "reading" to you or a sibling; or having a summer ritual of reading together as a family, perhaps a chapter of an endearing family-friendly favorite like Make Way for Ducklings, by Robert McCloskey, before bed. Scholastic has a helpful list of book recommendations for kids of all ages, including good picks for 3-5 year olds.
4. Get Your Groove On!
Another good hot summer activity is getting your groove on. Turn a playdate into a musical instrument making extravaganza (hint, hint, call in a babysitter to help!) and create the neighborhood's next musical sensation. Check out Meaningful Mama's fantastic list of 20 DIY Musical Instruments for Kids and see how simple and easy it can be to make anything from a bottle-cap tambourine to a full-on drum set.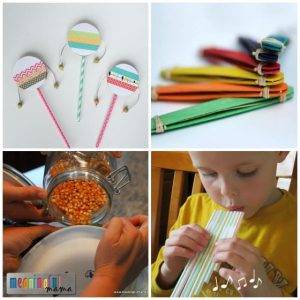 5. Master a New Skill (and give Mom and Dad a helping hand!)
Teaching kids new skills helps develop their independence and shows them that they are an important, contributing member of their family… and eventually of the bigger world. Early childhood education experts recommend building skills by assigning chores, and believe that most preschoolers are capable of any of the following simple "taking care of myself and my house" chores:
Setting and clearing their place at the table
Making their bed
Sorting their clothes from the dryer
Picking up and putting away toys and art supplies.
See our handy guide to age-appropriate chores for kids for more ideas.
After all the fun with these summer activities for preschoolers you might need a parents night out. Book an UrbanSitter and leave the entertaining to the sitter!