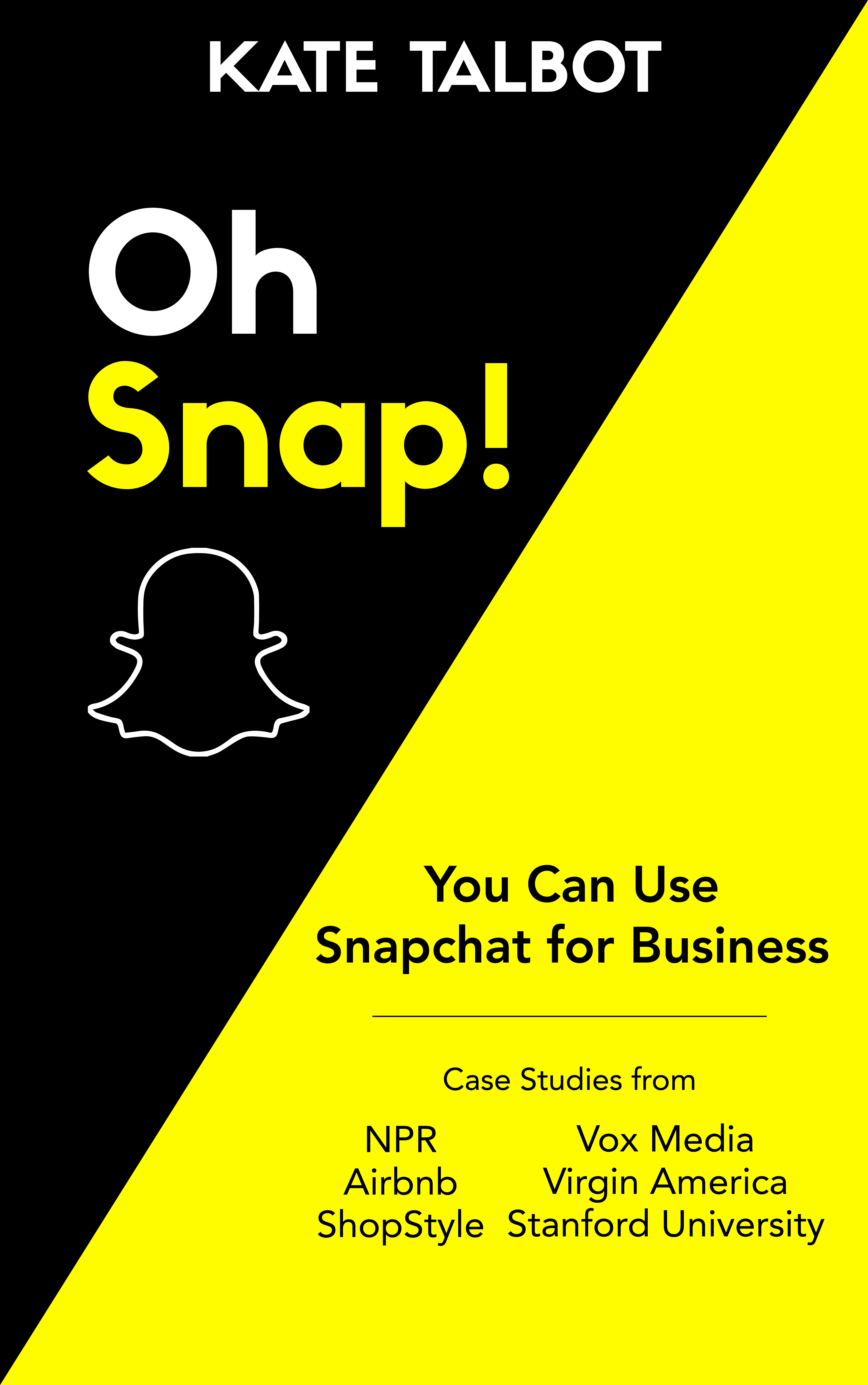 Kate Talbot has built her successful career by using digital storytelling to empower communities at brands like Kiva and Virgin America, as well as scale early-stage startups for growth. In her free time, she writes for online publications like Social Media Examiner and KISSmetrics, educating small business owners and entrepreneurs on how to successfully use millennial social media platforms like Instagram and Snapchat to build their brands. Recently, she published a book on the topic of Snapchat Marketing. Of course, like any city girl she was at the Dry Bar downtown on a recent Monday morning getting glam for an important event and ran into UrbanSitter CEO Lynn Perkins (whom she babysat for years back) and they got to chatting…
Here, Kate shares with us her experiences with UrbanSitter, what it's been like having written a successful book, and more insight into her career and life.
Can you tell us a little bit about how you know UrbanSitter CEO and Co-Founder, Lynn?
For me, I am all about the side hustle. SF is expensive and any avenue in which you can use technology to create multiple revenue streams is important. My girlfriends and I (as many of us) have babysat since our tween years, and after business school in 2012 we all signed up for UrbanSitter. This was a great way to supplement our job incomes off the bat.
I learned from my friend Lisa, who is a babysitting all-star, that the best way to build your babysitting profile is to reply to jobs right away and babysit on a Saturday night. From doing so, I ended up replying fast to a query and booked a job during the 2013 holiday season for Lynn. I had a wonderful time babysitting for her son and she was highly supportive of my own story and helping me succeed. We connected on LinkedIn, and I always loved following all the news about UrbanSitter; especially this amazing feature in the First Round Review on Lynn and UrbanSitter.

As fate happens, I ended up running marketing for a First Round Capital company—which also funds UrbanSitter—so at a dinner roundtable I met Daisy [Downs, Co-Founder of UrbanSitter] too! I let the other attendees know that even though I was in the tech space, I also was an UrbanSitter babysitter, which delighted everyone.

You mentioned going to business school, where did you study?
I went to the University of San Francisco, where I focused on Marketing and Entrepreneurship.

I grew up in Moraga in the East Bay —I have lived in New York City, too—but I knew I wanted to be in the Bay Area long-term. My dad and brother both went to USF for law school, so I knew I'd be getting a great education.
Can you tell us a little bit about what you're doing now?
I have my own consulting firm where I lead growth marketing for early stage startups—whether that's influencer marketing tools or cybersecurity technology—it really runs the gamut but I love it all.
I also write on the side. I do that because it's a passion of mine.
In fact, when I babysat I am able to write when the kids are asleep. One of my favorite articles I wrote on Snapchat was written in a Pacific Heights apartment overlooking the Bay, while babysitting for a great family.
You just wrote and published a book about Snapchat, what was the process like?
I combined the writing which was already published on the topic and leveraged my community. I'm extremely fortunate to have contacts across all industries at big brands and media entities, and they were able to provide case study insights into their own execution of the platform. My mentor, a VC from Onset Ventures, who encouraged me to write the book, wrote the foreword about the future of enterprise marketing and Snapchat.
I also mentor at Stanford for an undergraduate course in media and technology. From this class, I was able to hire a recent graduate to design all the creative assets. That was probably my favorite part, because we had so much fun thinking outside the box and what would help the audience understand the platform from a visual perspective.
What interested you about Snapchat enough to write about it ?
I've always been really in tune with the millennial, and now Gen Y, audience on what the next trends will be. As a user myself and talking with my 22-year-old god-sister and her friends, I realized the power of Snapchat as an authentic way of telling stories and connecting with friends. Since I'd already been writing about social media for Social Media Examiner, I pitched the topic of Snapchat for Business. I was one of the first writers to do so, and it's led to amazing opportunities speaking at business schools and conferences. I figured next steps, why not write a book!
What has the reception been like for your book?
It did amazingly well! I felt so thankful for my community that downloaded it. During the 5-day free promotion, it went to the #2 spot in all of Business Marketing and Sales on Amazon. It was also #1 on Amazon for Advertising and Professional Development and #1 on Product Hunt books.
To wrap up: If you could give advice to sitters using the service, what would it be?
My advice would be to think of your profile as a personal brand. Fill out your profile in the best light possible. Also, remember parents are really looking forward to their date night or event they are off to, so be as professional as possible and always make sure you are doing your best! I know it can be tough sometimes, but keep trying to babysit more and more even if you get overwhelmed.
Babysitting in SF is a great way to explore the different neighborhoods—I didn't know about all the parks that were out there—and connect with the families! If I hadn't followed up with Lynn, I wouldn't be in this position. You never know what will happen!
You can pick up a copy of Kate's book, Oh, Snap! You Can Use Snapchat for Business, on Amazon, follow her on Twitter and Instagram, and see more of her work on her website at http://www.katetalbot.me/.