The beloved children's author and illustrator, Dr. Seuss, was born March 2, 1904. Children around the world celebrate his birthday by reading his treasured books and spending time in school and at home doing fun activities that reflect his brilliant work. Don't miss out on the chance to have some fun with your kids!
Here are some fun, fan-seussical activities to do with your kids:
READ
The National Education Association has chosen Dr. Seuss's birthday for its Read Across America Day, a nationwide reading celebration that shines a spotlight on the importance of reading to children. The obvious activity of choice for the day – read to your kids! There are 46 Dr. Seuss children's books to choose from!
Dr. Seuss books are ideal for reading aloud to children, even infants who will be mesmerized by the rhymes and preschoolers who will get big kicks out of the nonsensical nature of the stories. Early readers get a boost of confidence from tackling "Hop on Pop," or other beginner favorites.
The official Dr. Seuss website by Random House is chock full of activities for kids to do on their own and a Parents section to provide tips on maximizing both the quality and the quantity of reading time in your home. The website's Books section provides a search tool to help you select Seuss books by your child's age, a favorite character or series, and other criteria.
CREATE
Create a Reading Chart to track reading time and progress. The blogger of Mom Endeavors crafted a simple DIY chart centered on a favorite Seuss quote:
"The more that you read, the more things you will know. The more that you learn, the more places you'll go."
Use these free printables to have kids color and create bookmarks that encourage them to read well beyond today's festivities.
Make and play with Oobleck. This ooey, gooey not-quite-liquid-not-quite-solid play gunk is inspired from the strange stuff that falls from the sky in "Bartholomew and the Oobleck." The non-edible recipe: Mix together 2 cups cornstarch, 3 drops of food coloring and up to 1 cup of water in a medium sized bowl. Add water slowly as you may not need entire cup.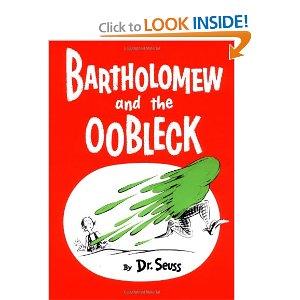 ENTERTAIN
One Fish, Two Fish Matching Game and Magnets. Before you can play this simple matching game with your kids, you'll need to bust out a bit of DIY. You'll need foam board, magnets, a Sharpie, and images from either printables or those you've traced or sketched yourself. Detailed instructions are here.

Record your early reader reading "Green Eggs and Ham." This handy app makes it fun and easy to record and the accompanying games and activities will hold your child's attention long enough for you to create the matching game listed above.

Host a playdate or a movie night (or afternoon) by popping some popcorn and showing a Seuss classic. "Horton Hears a Who" is entertaining for little kids and "The Lorax" is tops with older kids who can appreciate the environmental message, as much as the characters and cool animation.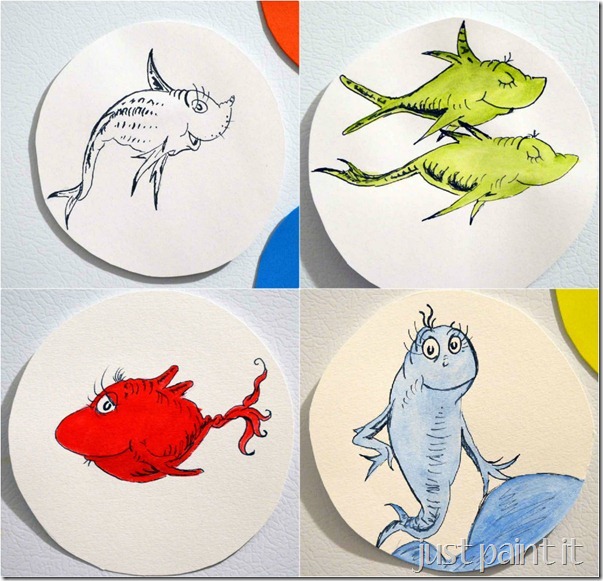 EAT
A celebration isn't a celebration without food! If you aren't up to tackling The Lorax cake pictured below, there are many other simple treats to make the day even more memorable and fun.
Truffula Trees – Adorable mini cupcakes you can create with a cake mix, pretzel sticks and cotton candy, along with a few extras to make them look like the trees from The Lorax movie.

Do You Like Green Eggs and Ham? Here's a Green Eggs and Ham recipe that will be just as appealing to adults as kids (and it doesn't involved icky food coloring!). Try it, try it, you will see!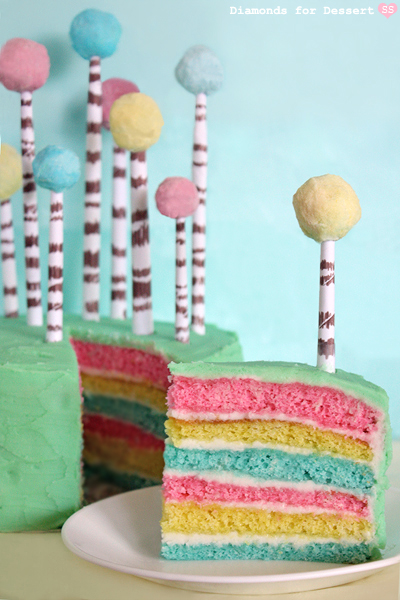 And, for those with wee-little ones who shouldn't miss out on the fun, how about this photo opt for the baby book?!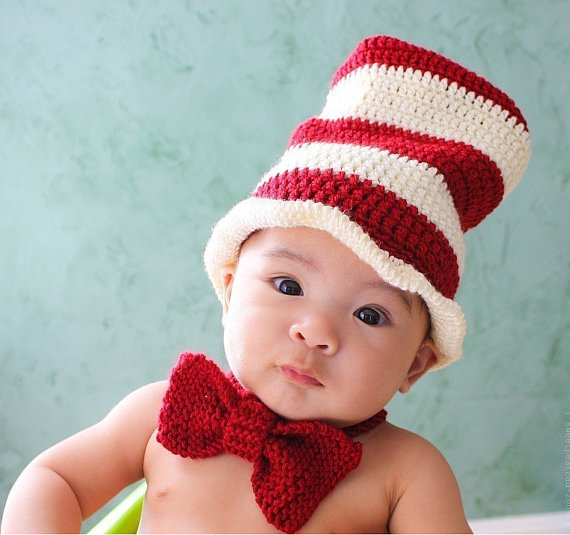 Need a few more ideas to help you celebrate Dr. Seuss's birthday with your kids? Check out the ultimate Dr. Seuss Links Collection. If you run out of time (or steam!), find a babysitter to lead the charge.