How to Turn Your Passion into a Successful Small Business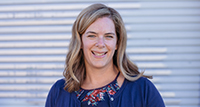 Presented by Lynn Perkins, UrbanSitter CEO & co-founder
Did you know there are more moms starting businesses today than ever before? It's estimated that as many as one in three U.S. small business owners are moms. In fact, female entrepreneurs represent 39 percent of businesses in the U.S. and are one of the fastest growing segments of the U.S. economy, employing more than 9 million people and generating $1.7 trillion in sales.
Do you have an inspiration or great business idea and wonder what it would take to get started? In this workshop, Lynn Perkins, CEO and co-founder of UrbanSitter, will outline a step-by-step plan for evaluating your business idea, building your product or service, and ensuring a successful launch—all while balancing work, faith and family.
Lynn will share her first-hand experience and expertise having launched UrbanSitter in 2011 with two other moms co-founders. Their childcare service is now nationwide with over 1 million registered users. Lynn's team has raised over $40M in venture capital funding—and even had babies while successfully expanding the business. Workshop topics will include:
Setting up a business entity
Taking on business partners
Securing business financing
Marketing your business
Acquiring your first customers
Landing great PR coverage
Juggling family, faith and a new business
About the speaker
Lynn Perkins is CEO and co-founder of UrbanSitter, a mobile and online service that is reinventing the way parents find trusted childcare. Launched in 2011, Lynn grew UrbanSitter into a national marketplace in less than a year. To date, more than 3 million hours of babysitting have occurred on the platform across 60 cities. An Internet startup veteran, UrbanSitter is Lynn's third startup experience.  Lynn enjoys mentoring other entrepreneurs on the topics of fundraising, hiring and business strategy.