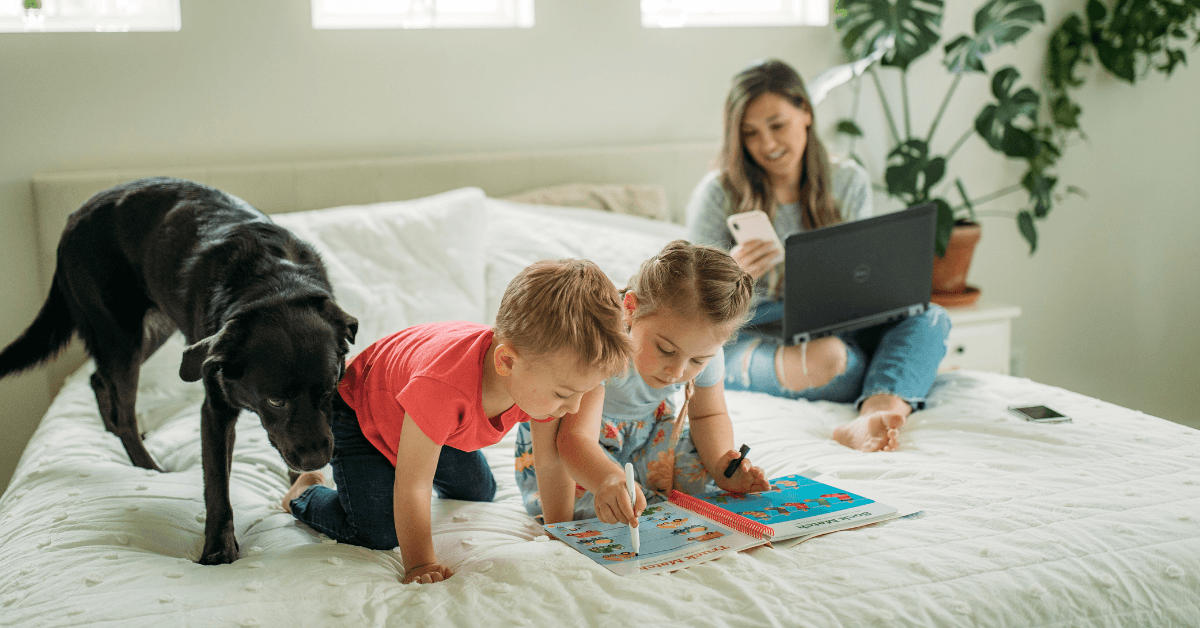 In today's dynamic workforce, understanding and responding to the needs of working parents is crucial for any organization. It's no secret that providing child care benefits is a top priority for supporting working parents, but what more can employers do to offer comprehensive support?
At UrbanSitter Corporate Care, we've conducted extensive research to uncover the key policies and benefits that working parents truly value. In this blog post, we'll share the five essential working parent policies and benefits that organizations should consider implementing. Whether you're looking for a good, better, or best approach, we've got you covered.
Key policies to support working parents

1. Child Care Benefits: The Top Priority
Our research confirms what many already know – child care benefits are the most wanted benefit for working parents. With the end of government pandemic relief child care assistance in September 2023, 3.2 million children are projected to lose access to care, so this benefit is more critical than ever. Organizations can choose from a range of options to support their employees, from providing access to trusted in-home or center-based child care options to offering stipends or reimbursement programs. By prioritizing child care, employers alleviate a significant source of stress for their parent employees.
2. Flexible Scheduling: Empowering Work-Life Balance
Flexible scheduling is more than just a perk; it's a lifeline for working parents. It offers the freedom to attend school events, manage doctor appointments, and be present for their children when it matters most. Our research revealed that the number one source of stress for working parents is "balancing work and home responsibilities" and their second most wanted employee benefit or policy (behind child care benefits) is a flexible schedule. Organizations can empower their employees by adopting flexible scheduling policies that accommodate the diverse needs of working parents.
Introducing UrbanSitter Corporate Care
Give your employees the caregiving benefit they deserve.
3. Remote Work Options: Embracing Flexibility
In today's digital age, remote work has become the norm. Our study found that one of the top ways working parents say employers can support them better is by offering an option to work remotely. Hybrid models, which combine in-office and remote work, are also preferred to 100% in-office, which provides parents with less of the autonomy they need to balance their professional and family lives effectively.
Related: Why Do Remote Employees Need Child Care Benefits?
4. Innovative Work Arrangements: The 4-Day Work Week
Emerging trends like the 4-day work week offer a unique approach to attract talent seeking improved work-life balance. Organizations can stay ahead by considering innovative work arrangements that cater to the evolving needs of their workforce. These arrangements not only support parents but also contribute to a more engaged and productive workforce.
5. Comprehensive Care Benefits: Beyond Child Care
The challenges of working parents extend beyond child care. To address more of these household responsibilities, organizations can expand their support by offering additional caregiving benefits. These benefits may include tutoring services, household assistance like housekeeping and errands, and even inclusive care providing services for pet owners and employees caring for older family members. By embracing holistic support, organizations can create an inclusive work environment that values the diverse needs of their employees.
Tips for measuring success
Implementing these essential policies and benefits is a significant step toward better supporting your parent employees. However, measuring success is equally important. We recommend regularly assessing the impact of these policies through feedback, surveys, and performance evaluations.
Employee Surveys: Conduct periodic surveys specifically addressing working parents' experiences and satisfaction with family support policies. Use anonymized surveys to encourage candid responses.


Parent Employee Resource Group (ERG): Consider establishing a parent ERG within your organization. This group can serve as a valuable source of feedback and insights from working parents directly.



Usage Analytics: Leverage data analytics to track the utilization of family-oriented benefits, such as child care services, parental leave, and flexible scheduling. Analyze trends and areas of high demand.

Exit Interviews: Incorporate questions about family-related policies and support during exit interviews to identify potential areas of improvement and retention challenges.

Retention Analysis: Analyze retention rates among working parents and compare them to broader employee turnover rates. Identify any significant differences and their underlying causes.
A final word on supporting working parents
At UrbanSitter Corporate Care, we understand that every organization is unique, with its set of challenges and limitations. Our aim is to provide the resources you need to choose solutions that best suit your parent population. Whether you're looking to offer child care, tutoring, senior care, pet care, or household services, we're here to help you navigate the journey.
Take the first step toward enhancing your support for working parents. Check out our latest Working Parents & Child Care Report to discover actionable insights and solutions. If you're interested in learning more about our child care benefits or discussing your organization's specific needs, contact us for a free consultation.
Empower your working parents and foster a workplace culture that prioritizes their well-being and success. Together, we can create a more supportive and inclusive environment for all employees.
Introducing UrbanSitter Corporate Care
Give your employees the caregiving benefit they deserve.