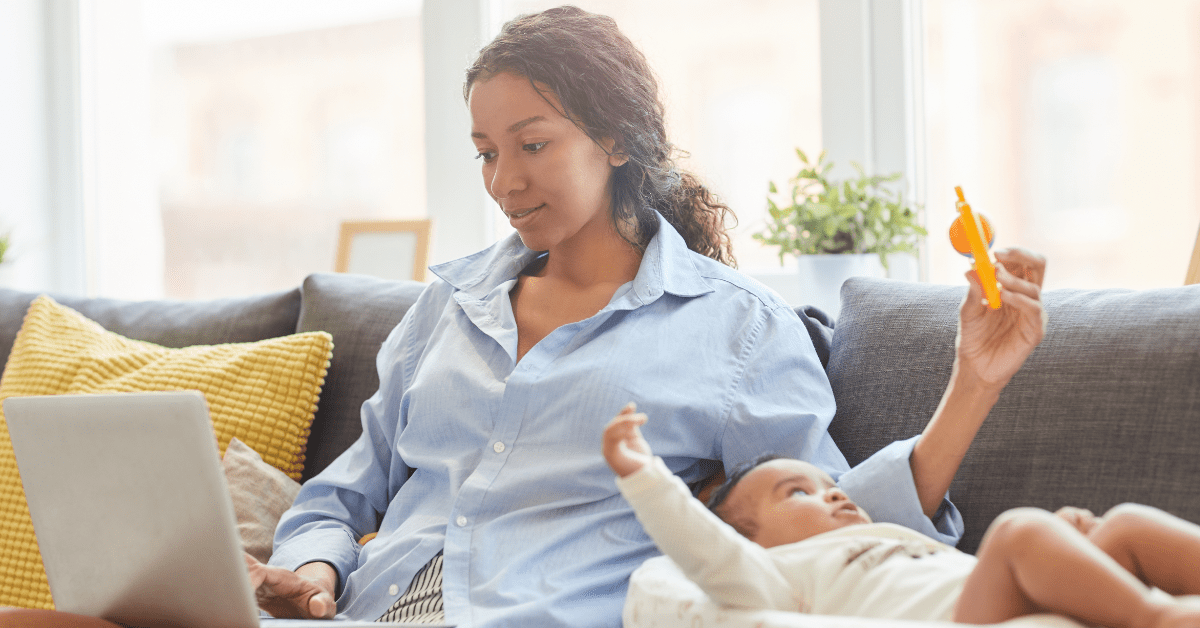 As HR leaders broaden the benefits landscape for the upcoming year, certain trends continue gaining momentum, such as caregiving and child care. 2023 is expected to see a greater rise in interest from companies implementing family care benefits for their employees.
However, several child care myths may deter benefits managers from including child care in a complete benefits package. Follow along as we discuss 7 reasons for HR leaders to include child care benefits.
1. Employees are often working parents
2. Child care benefits improve retention and turnover
HR professionals know that retaining top talent and limiting employee turnover is paramount to successfully managing a company. For employers looking to resolve these HR challenges, employee caregiving benefits have been known to ease the burden while strengthening overall satisfaction. 
Family care benefits lead to a more balanced work setting with:
Improved job satisfaction and productivity

Added encouragement and a boost in morale

Reduced cases of absenteeism

Higher retention and less turnover

More women returning to the workforce
3. Offering child care benefits is now a necessity
If this weren't true, then employers wouldn't face the many struggles of absenteeism, recruitment, and retention. In reality, a lack of quality caregiving and child care solutions costs over $50 billion per year in lost productivity, wages, and gross revenue. Instead of managing the trickle effects of caregiving discrepancies on their bottom line, companies should remain ahead of the curve by providing affordable family care benefits that produce positive results for everyone in the organization. 
Most working families may already have a full- or part-time sitter or nanny scheduled for routine care needs; however, there will be times when unexpected cancellations occur, and backup caregivers are needed. Backup child care supports working families in case of an emergency or interruption of routine caregiving and child care plans and provides reliable assistance for scheduling conflicts with regular caregivers, so no one has to call out of work or scramble to find a sitter.

Backup child care is seen as a necessary element of employee caregiving benefits and not just an additional perk. In fact, roughly 60% of working mothers expect employers to provide backup child care.  
Related Article: Is Backup Child Care Safe? What You Should Know?
4. Child care benefits are more crucial than ever to job seekers
HR leaders are always looking for ways to stay atop the competition. Before the pandemic, caregiving and child care weren't highly sought-after benefits or seen as ways to entice potential hires to join an organization. However, in an increasingly competitive labor market, that perception changed immensely. 
Companies of all sizes are trying to combat hiring issues, and child care benefits are quickly becoming the most desirable incentive, beating out unlimited PTO and 401(k) matching. Employee caregiving benefits are now viewed as a way to improve recruitment and retention, which allows for a healthy hiring structure and ultimately reduces callouts, absenteeism, and employee dissatisfaction. 
Download our free Working Parent Benefit Report for a comprehensive look into the employer benefits most desired by today's working parents.
5. Remote employees need child care benefits, too
Since the beginning of the COVID-19 pandemic, working families have struggled to balance personal and professional responsibilities while working from home. Despite the notion that remote employment enables working parents to attend to work and family needs simultaneously, this child care myth proved to be unsustainable. Caregiving and child care demands do not disappear when employees sign into a meeting from home rather than their cubicle. 
The reality is, remote workers require the same child care benefits as in-person employees. When teams operate remotely, working families may have specific caregiving and child care needs that employers aren't aware of. When proper employee caregiving benefits are not provided first-hand, it can create a tremendous financial burden for employees and employers alike.

Related Article: Why Do Remote Employees Need Child Care Benefits?
6. Companies don't have to pay the full cost of employee child care benefits
Even partially subsidizing an employee's child care costs can go a long way. Some employers may choose to offer child care stipends, which are a specific amount of money allotted by the employer to help employees cover child care costs in monthly, quarterly, or annual installments. If you're a working parent struggling to afford quality caregiving and child care, stipends are the lifeline needed to balance family and work-related duties. With a flexible child care stipend in place, employees can reduce work-related stress to help maintain efficiency during working hours.
With UrbanSitter, organizations can customize their caregiving benefit to best support their workforce no matter which allotment schedule they choose. Employees can use these care credits to schedule child care, household services, senior care, pet care, and more. And keeping your bottom line in mind, at UrbanSitter, companies are only charged for the used credits regardless of how often they provide their employees with care credits.
To access the complete care stipend data, download the 2023 Employer-Sponsored Care Stipend Benchmark Report:
7. On-site daycare isn't enough
On-site daycare might have been sufficient at one time or another, but with the rising cost of child care, working parents fluctuating schedules, and declining child care availability, families need a complete caregiving package that provides every possible care solution. 
Most organizations lack the time, resources, or budget to operate their own on-site daycare facility, or they are unwilling to take on the financial liability that it possesses. Even if daycare solutions are provided, they might create additional care issues for your employees, such as: 
There are often not enough open spots to enroll, and long waitlist times prevent working parents from signing up their children. Employee work schedules may fluctuate beyond traditional daycare hours, leaving school-age children without care after school hours. 
If employees are limited to daycare, remote workers may not have access to these on-site facilities, and they most likely will not be able to provide access to nannies or babysitters after business hours. Perhaps the most glaring issue is that backup child care won't be included, meaning care during nights, weekends, callouts, and emergencies isn't covered.
Still Wondering About Employee Caregiving Benefits? Try UrbanSitter
UrbanSitter's Corporate Care Program can help you find the best employee caregiving benefits solution to support your team. We are here to answer any questions and guide you along your caregiving benefit journey. 
To learn more about the different family care benefits provided or how to find qualified, background-checked caregivers, refer to our selection of blogs, case studies, and free resources to find the solution that suits your organization. 
If you're interested in trying UrbanSitter as a parent or need more information before launching your caregiving and child care benefit, we'd love to help you get started. Click the button below to contact a member of our team today.
Introducing UrbanSitter's Corporate Care Program
Give your employees the caregiving benefit they deserve.