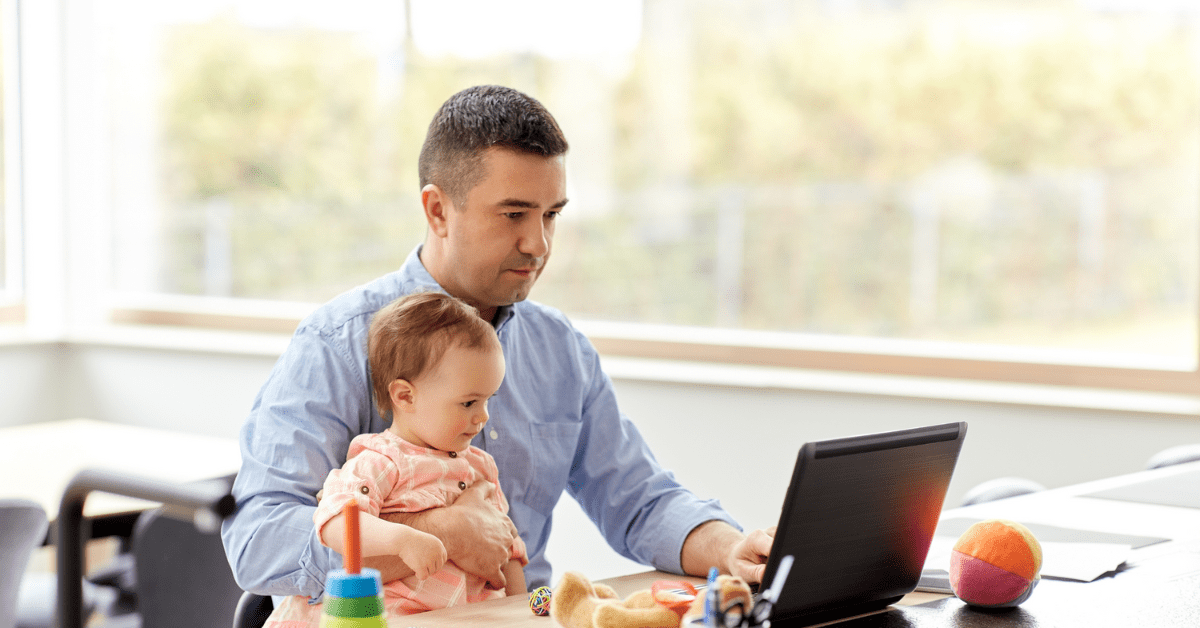 There are numerous advantages to providing child care benefits at your company, but do family care plans cover remote workers? Both parents work full-time in most American households; however, only 6% of employers offer child care benefits. 
The corporate world continues shifting toward a hybrid and remote workforce, so there is a greater need for child care for remote workers that allow employees access to dependable caregivers whenever they need assistance. 
Even if you commute down the stairs to your home office and work in your pajamas, remote employees still require the same child care assistance as on-site workers. Continue reading our latest blog to learn how UrbanSitter supports working families and solves the organizational challenge of remote working and childcare.

Related Article: Child Care Benefits & Working Parent Loyalty
Why Do Organizations Provide Remote Working and Childcare Benefits?
Before highlighting remote work and childcare, let's first discuss why organizations provide child care benefits. Working families need a solution to bridge the gap between personal and professional responsibilities, and organizations report seeing a return on their investment in child care benefits.

If you are an HR leader considering a child care initiative for your company, you may see significant improvements in the form of:

Reduced absenteeism

: When working parents struggle to find reliable child care they can afford, they are more likely to call out of work regularly. Supporting working families with a flexible child care solution can help absolve absenteeism and improve productivity. 

Higher retention

: Like combatting callouts, employee retention rates are a focal point for employers. In what has been a

restrictive labor market

for years,

competition remains fierce. However, childcare benefits can help improve employee satisfaction and prevent another

Great Resignation

. 

Improve recruitment efforts

: HR professionals know that a healthy hiring structure is vital to organizational success. Employers are continuing to turn toward more expansive benefit offerings, including child care, in an attempt to attract potential talent. Much like a 401k, child care benefits are quickly becoming

the most sought-after benefit

. 
The upside for employees also offers employers ample reason to provide child care benefits:
Work-life balance

: Child care benefits are essential to creating work-life balance for employees. For an organization to thrive and flourish, working families need to feel supported in and out of the office.

Job satisfaction: According to UrbanSitter's 2022 Working Parents & Child Care report, 73% of working parents are more likely to stay in a job if their employer offers a child care benefit.
Related Article: Employer Caregiving Benefits: What Are Child Care Stipends?
Why Do Remote Employees Need Child Care Benefits?
Remote work carries its own set of unique perks, such as eliminating arduous commutes and allowing for more flexible working hours, but it also can make employees feel overwhelmed trying to balance personal and professional duties under the same roof, especially when kids are home sick or during school holidays.
While there are plenty of helpful tips remote workers can follow, it is still a balancing act that requires tremendous patience and attention. Luckily, the corporate world continues to swing in favor of working families as employers and employees bear witness to the rising cost of child care exacerbated by the COVID-19 pandemic. Since then, more employers are subsidizing child care for remote workers and employers are beginning to recognize the positive impact of a healthier work-life balance.
When employees have children at home, remote workers still need a nanny or babysitter for support. When a caregiver is present to help throughout the day, it becomes much easier to focus on professional matters and remain productive during the week. Especially if you have elementary school-age children, you might need someone to pick them up from school, assist with homework, or drive them to after-school activities. 
Simply put, remote working and childcare solutions are needed to help employees navigate daily routines and busy work schedules with greater ease and efficiency. 
Related Article: Is Backup Child Care Safe? What You Should Know?
How Can My Organization Benefit From Remote Working and Childcare?
Child care for remote workers will often vary depending on the size of your company, budget, and available resources, but even small- to medium-sized businesses can start an employer-sponsored child care program. For example, a smaller company might find exceptional value in: 
Local child care assistance

: Helping working families and remote employees access dependable, affordable child care solutions with qualified sitters (Child care services like

UrbanSitter

provide background-checked caregivers).

Babysitter or nanny service

: Remote employees receive access to an app, website, or agency that helps them find child care providers according to their needs. Nannies and babysitters are more flexible options than in-center care because these caregivers often work full-time and provide assistance at the family's home location.

Tutoring and classes

: Many remote workers require additional tutoring services for their children after the regular school day to help keep up with homework, study skills, organization, and routine school demands in a focused, 1-on-1 approach.
For medium-sized and large organizations, there are additional ways to structure remote working and childcare in a fully customizable format. For example, there are: 
Backup child care services

:

Backup child care

provides reliable assistance for emergencies or last-minute scheduling conflicts with regular caregivers, so working families don't have to call out of work or scramble to find a sitter. This service supports remote employees in case of an emergency, last-minute cancellation, or interruption of child care plans.

Child care stipends

:

Caregiver stipends

are customizable child care benefits used by employers to cover child care expenses in weekly, monthly, or annual allotments. Employers are only

charged when credits are used.
In addition to a core remote care plan, your company may be interested in combining these different services as part of your complete benefits offering. UrbanSitter makes it easy for remote employers to offset caregiving costs and support working families no matter the size of your organization.

Related Article: The Push for Flexible Child Care: How to Get Started
Child Care Benefits for All
Whether you operate a fully remote workforce, an on-site team, or a hybrid model, UrbanSitter's Corporate Care Program can help you find the best child care benefits solution to support your team. We are here to answer any questions and guide you along your caregiving benefit journey. 
To learn more about the different caregiving services provided or how to find qualified, background-checked caregivers, refer to our selection of blogs, case studies, and free resources to find the solution that suits your organization. 
If you're interested in trying UrbanSitter as a parent or need more information before launching your caregiving benefit, we'd love to help you get started. Click the button below to contact a member of our team today.
Introducing UrbanSitter's Corporate Care Program
Give your employees the caregiving benefit they deserve.