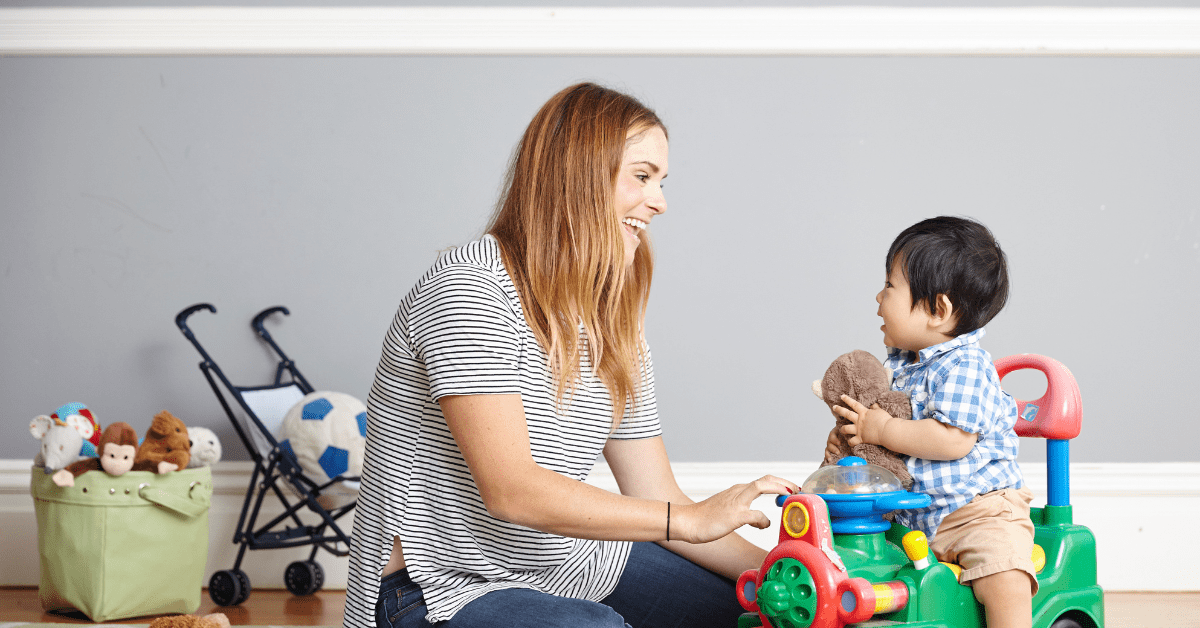 In Home Child Care vs. Center Based Child Care
There are several key differences between in home child care and center based child care. Some you may be familiar with, and others may catch you by surprise. These notable distinctions should be carefully considered when determining the best child care benefit. Let us explain: 
Operating hours

: Center-based child care typically operates during business hours only (Monday-Friday, 8-5). In-home child care provides a much more flexible option for working families, providing coverage during mornings, nights, and weekends, as well as

backup child care

in case of callouts or emergencies. 

Age range

: Center-based child care typically only accepts younger children, which means it doesn't solve the after-school care gaps for school-age children. However, in-home child care covers all ages from infants to middle schoolers and is available at time of day.

Expense

: In-home child care providers may charge less for care services compared to center-based daycare, depending on where employees live.

Caregiving rates fluctuate by location

.

Potty training

: This can be quite the dilemma for working parents searching for child care solutions. Potty training policies vary among center-based daycares and preschools, with certain centers requiring it to enroll. However, in home child care providers aren't as likely to set strict parameters on potty training and will often assist with the training. 

Vacation and holiday schedules

: It's common for center-based child care programs to follow local school schedules, including state holidays and seasonal breaks. In-home child care providers are not limited or restricted in their availability during school breaks, which makes it much easier to find child care year-round. 

Distance from work

: Work location is often a deciding factor when choosing child care providers. If your employees live in major cities, they will be able to find in home child care near them, making it a convenient solution with zero commute time. Center-based care may not be accessible for certain employees without a commute, adding additional stress to caregiving challenges. 

Health concerns

: While germs are everywhere, it is much more likely for children to catch a cold or bring home something they caught from another child at a center based child care program. In-home child care certainly won't prevent sickness from going around, but the smaller, controlled environment makes it far easier to minimize the exposure and health risks compared to larger center based care facilities.
Related Article: Is Backup Child Care Safe? What You Should Know
The Pros and Cons of In Home Child Care and Center Based Care Child Care
Now that you know a little more about the differences between center-based and in-home child care, it's time to dive a little deeper into the pros and cons of each care type to help you better understand which option is best for your organization.
The Pros of Center Based Child Care
Socialization and structure

Multiple care providers

Licensing
The Cons of Center-Based Child Care
Waitlists 

Less one-on-one attention

Staff turnover

Lack of holiday coverage

Most centers won't take sick kids
The Pros of In Home Child Care
Capable of flexible or extended hours

No commute time

Individual attention for child

May be willing to work when kids are sick or have school holidays

Price (depending on the average child care rates in your area)
The Cons of In Home Child Care
Less socialization for children

Fewer checks and balances

Reliance on an individual provider
When selecting the right child care solutions for your employees, start by surveying them to understand their care needs. Call in the leaders of your parent ERGs to review the insights and determine a strategy with you. This will help you decide on the proper benefits solution to best serve the largest employee population. Once you've honed in on the right solution for your employees, it's time to identify the best providers and what to include in your benefit.
Related Article: What to include in a child care benefit
Interested in learning more about UrbanSitter's Child Care Benefit Program, which includes both in-home and center-based care options? We are here to answer any questions and guide you along your child care benefit research process. Refer to our selection of blogs, case studies, and free resources for more information or contact our team today.

Introducing UrbanSitter's Corporate Care Program
Give your employees the caregiving benefit they deserve.