One of the big factors in making a decision on hiring a nanny is how much does a nanny cost. With the plentitude of child care options available, it's a tough choice narrowing down what's the best for your family at the given time. If you've decided a nanny might be the right caretaker for your family but you aren't sure of the cost, keep on reading. Let's dive into what is a nanny and how much they are?
Starting with the basics, what is a nanny?
Here's the short answer, a nanny is someone you hire to take care of your children and look after their well-being. They have a set number of consistent hours per week, and receive paid sick and vacation days. When they join your family, they will sign a contract, this helps to set everyone's expectations at the beginning. Another big bonus is the longer they work with you, the more involved they are with your family and your child's development.
Nanny Cost: What's included in calculating the cost?
There are many factors to consider in calculating the cost of a nanny.
Hourly rate/salary
Taxes
Child care tax credits
Insurance
Payroll
Hourly Rate/Salary: What is the average nanny salary?
The average nanny hourly rate nationwide is $19.31/hour. With a typical payment schedule, the nanny will get paid weekly or biweekly. In addition, they will receive paid time off (sick and vacation time). 44% of parents pay their nanny a salary between $20K-$40K a year.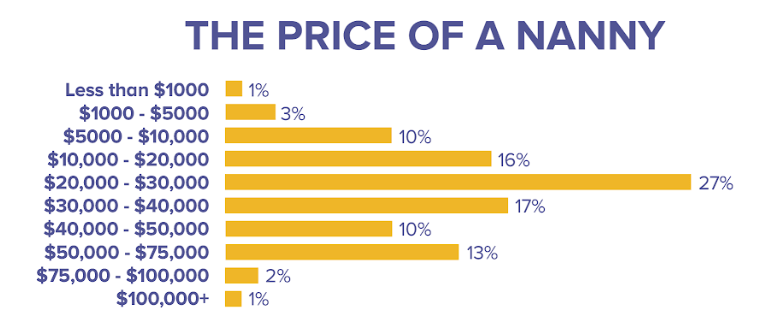 Keep in mind the cost of a nanny varies greatly based on:
Location
Experience
Number of children
Driving the kids
Additional tasks the nanny is responsible for
There are a lot of advantages to having a nanny and paying a higher rate over other childcare options. Some of the advantages are, a nanny generally has more experience, is more flexible (can come early or stay late – additional compensation may be required depending on the contract) and your child gets one on one attention.
Taxes: Do I have to pay nanny taxes?
Nanny taxes are an aspect you'll want to consider in the overall cost. According to the IRS, you become an employer when you hire a full-time nanny (domestic worker). Therefore, you'll need to apply for an employer identification number (EIN). The Internal Revenue Service (IRS) will require you to pay a Federal Employment tax if you pay your nanny more than $2,300 per year (as of 2021). In some cases there are exceptions, so make sure to review those outlined by the IRS with your tax preparer. The employer and the domestic worker each pay a portion of the tax. An employer can choose to withhold the nanny's share and pay it for them with those withholdings. In addition, if your nanny earns more than $1,000 a quarter (as of 2021), then social security and Medicare taxes must be paid/withheld. Please note: We are not licensed tax professionals. We encourage you to reach out to your tax professional for any questions or advice.
Child & Dependent Care Tax Credits: Can I get a tax credit?
One way to offset the cost of a babysitter or nanny is to take advantage of the child-care tax credit. The credit for childcare expenses is a percentage of the amount you've paid in childcare for children under 13, as long as you are paying a childcare worker to care for your children while you work or look for work. This means you cannot take advantage of the credit if you are hiring a nanny so you can take care of personal errands, run to the gym or simply enjoy some well-deserved time to yourself.
As of 2021, you can count up to $3,000 in expenses for one qualifying child or up to $6,000 in expenses for two or more qualifying dependents. The amount of the tax credit is based on your adjusted gross income and can range from 20%-35% of your expenses. To be eligible for the childcare tax breaks, you must identify the care provider on your tax return, report the wages paid to the nanny and remit the necessary employment taxes. Please note: We are not licensed tax professionals. We encourage you to reach out to your tax professional for any questions or advice.
Insurance: Do I need to pay insurance for my nanny?
According to the experts, the answer is "yes" and "no" depending on where you live. There are multiple types of insurance: health insurance, workers compensation insurance, employment practices liability Insurance, and auto insurance.
Health Insurance: Most employers will pay into health insurance for their nanny, similar to what small businesses pay.
Workers Compensation Insurance: Most states require you to pay for a policy. This covers you if your nanny has an accident on the job. You'll need to check if your state requires it.
Employment Practices Liability Insurance (ELPI): This insurance covers you (the employer) in case you are sued by your employee. Many employers are able to have ELPI added to their workers compensation plan.
Auto Insurance: This will depend on if your nanny is your driving your car, driving their car, how often they drive your kids, etc. Since it varies by state, be sure to check with your auto insurance company. Something else to consider is it may be necessary to increase your liability insurance. Lastly, if the nanny is driving their car, you would reimburse them for mileage at $0.56 a mile according to the IRS.
Payroll: What's the best way to pay my nanny?
Many families prefer to use a payroll service to process payment to their nanny. With a nanny payroll service, the nanny receives their paycheck directly with the taxes and withholdings already taken out of the paycheck. A payroll service such as NannyLane can also take care of tax filings, year-end documents, and pay stubs/receipts, which saves you time and takes one item of your to do list.
Making the Decision – Does the cost of a nanny fit your budget?
Ultimately, if a nanny is the best fit for your family's lifestyle and the cost of a nanny works for your family's budget, then it's the right choice for you. If not, a babysitter might be a better fit, here's a quick comparison between a nanny and babysitter.
Looking for nanny? Join UrbanSitter to browse profiles, sort by pay rate, and book jobs online.
Please note that UrbanSitter is a platform for families and caregivers to connect. We are not an agency and do not employ caregivers. All members are individually responsible for any applicable tax, withholding or reporting. We are not licensed tax professionals. We encourage individuals to reach out to a local tax professional for any questions about tax preparations.