The UrbanSitter Childcare Resource Center is full of valuable information for parents, babysitters, and nannies.
We'll answer your most pressing child care questions like, "How much should I pay my babysitter?", "What kinds of activities are appropriate for babysitting toddlers?", and "Where to find a babysitter?"
Parent Resources
Childcare planning:
Budgeting for a Babysitter or Nanny – How to make a budget and childcare tax deductions.
Average Babysitting Rates & Nanny Pay by City – Find out the going pay rate in your city.
Choosing Between a Nanny, Daycare or Au Pair – Tips on choosing full-time childcare.
Is an Au Pair The Right Childcare Solution for You? – Explore the pros and cons of au pairs.
Studies Reveal the Pros and Cons of Daycare – Evaluate the benefits and limitations of day care.
UrbanSitter Review: Not Your Typical Babysitter Site – Review of UrbanSitter's service.
14 Secrets for a Successful Family Vacation – Tips for traveling with kids.
Making the Most of Maternity Leave – Ideas of what to do after baby arrives.
Going Back to Work After Maternity Leave – Tips for your transition back to work.
Transitioning Your Baby to a Caregiver – Advice about adjusting your baby to a caregiver.
Preparing for Your First Babysitter – How to prepare you and baby for a night out.
Preparing Kids for a New Caregiver – Tips on making kids feel at ease.
Parents Guide to Taxes – Understanding Childcare Tax Credits and the Nanny Tax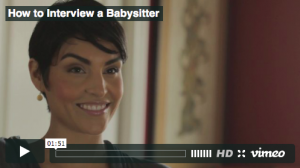 Finding a babysitter, nanny or childcare:
What should I Look for in a Babysitter? – Questions to ask yourself before hiring a sitter.
Interview Questions to Ask a Babysitter – Most important questions to ask a babysitter.
Babysitter Interview: Deep Dive – More interview questions that cover almost everything.
[VIDEO] How to Interview a Babysitter – Expert gives tips on interviewing a babysitter.
When You Need Last-Minute Childcare Help – How to plan for unexpected childcare needs.
Which Babysitter is Right for My Family? – Different families have different needs in terms of childcare.
Type of Childcare Jobs – Understand the differences in order to make the right choices for your preferences and lifestyle.
Vetting A Caregiver – Conduct a thorough vetting of the candidate, which will help put your mind at ease.
Conducting Reference Checks – Can help you make a fully informed choice when choosing a childcare provider.
Tips for a Creating and Managing a Successful Nanny Share –  How to start a nanny share
When You Need Back-Up Child Care – Tips to find emergency child care.
Working with babysitters and nannies:
Bringing the Babysitter or Nanny into the Family – Transitioning from Nanny to Family.
Preparing Your Babysitter for an Emergency – How to make an emergency preparedness plan.
When Your Babysitter is Responsible for Driving Your Kids – What you need to know about keeping your child safe.
How to Evaluate and Monitor Your Babysitter or Nanny – Ways to evaluate your sitter, and hopefully put a damper on nerves.
How to Have Difficult Conversations with Your Babysitter – Tackle tough topics with your babysitter.
Reminders for the Babysitter printable form – Download and print this useful form to leave behind for the babysitter
Babysitter & Nanny Resources
Tips for using UrbanSitter:
Getting Started on UrbanSitter – Basic tips and how to make a babysitter profile.
Advanced Tips – Advice for babysitters who use UrbanSitter frequently.
CPR Events– Find a CPR training event near you.
For Babysitters and Nannies:
Top Tips for Babysitters on the Job – How to do a great job and impress parents.
Babysitter Activities and Games – Things to do with the kids when babysitting.
Babysitter Activities with a School-Aged Child – Activities to do with an older child.
Babysitting Children with Food Allergies and Intolerances – Making a food allergy plan.
Babysitting Children with Special Needs – Overview of three common disorders.
How to Respond When a Child Misbehaves – Behavior management tips for sitters.
Understanding Babysitter Credentials and Certifications – How to become a qualified babysitter.
Tips for Traveling with a Baby – Tips for stress-free travel with a baby.
10 Reasons Why College Students Should Consider Babysitting Jobs – Why you should babysit during college.
How to Land Nanny Jobs – Tips to finding your perfect nanny job.
6 Factors to Consider When Looking For Nanny Jobs – Factors to consider before choosing a job as a nanny.
Professional Development Resources for Childcare Workers
Babysitter Report Form – Print out a copy of this fun report to impress parents on your next job
Take me to the UrbanSitter homepage.