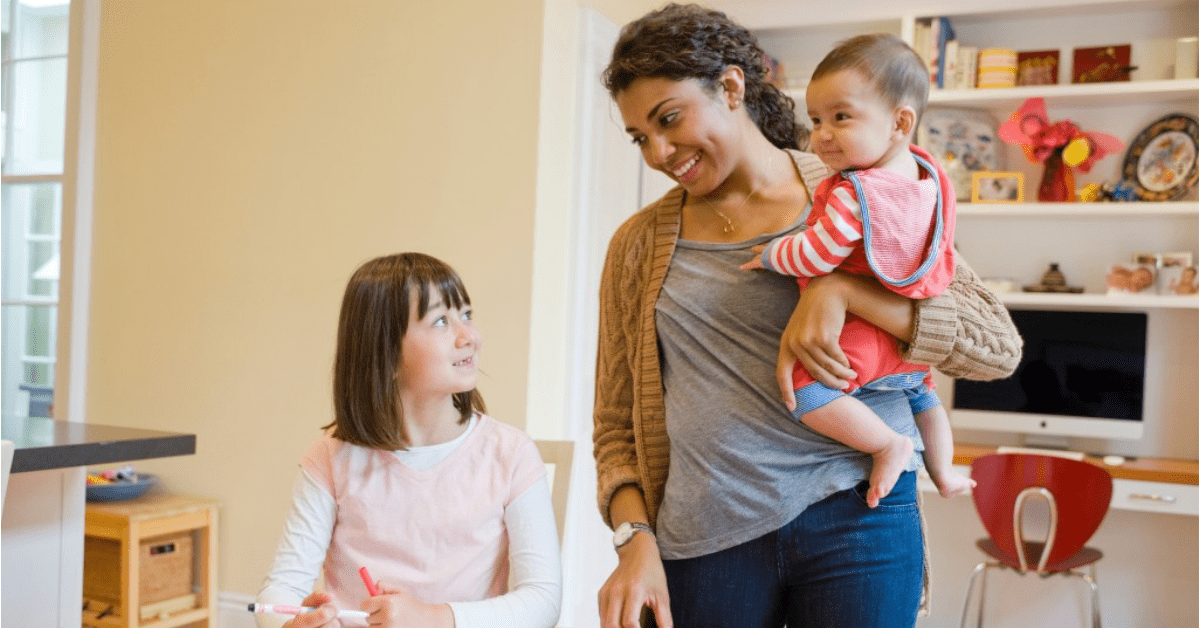 Many parents are choosing a nanny share, rather than relying on day care centers to provide child care that is both personalized and affordable. As many parents can attest, child care is one of the most significant expenses in a family budget. A nanny share is an excellent childcare solution for providing convenient, specialized care from a nanny at a much more affordable cost. Plus your child has a playmate! Highlighted below are nanny share tips to create a successful share!
What Is a Nanny Share?
A nanny share is a child care arrangement where two or more families split the cost of one nanny. The nanny, who is paid a premium over nannies who care for just one family, has her salary split between two families—typically caring for all of the children together. Along with convenience and affordability, families involved in a nanny share cite socialization for kids as big advantage of a nanny share. Kids get interaction with other kids, without the broad exposure to germs and illnesses they'd get at a day care facility.
While this is an attractive childcare solution, it can be tricky to manage nanny share logistics without proper planning and commitment.
Tips for creating and managing a successful nanny share:
Choose a Nanny Who Suits Both Families
The first nanny share tip is it's often best to choose a nanny together with another family—finding one that works equally well for both—rather than joining an existing nanny relationship. Interview potential nanny candidates to gauge rapport, and ensure that he or she meets both families' needs and that all three parties share the same expectations. Check references and reviews from other families to confirm that the nanny is well qualified for the job. Caring for two families at once is not without challenges, and isn't the right fit for all nannies.
Find the Right Family
Choosing a family for a nanny share arrangement is just as important as selecting the nanny. While no two families will share the exact same parenting style, you will want to find a family with similar views on diet, discipline, and screen time since the nanny will be caring for your children collectively. Many parents find that it works best when their children are the same ages and share similar schedules, needs and activities. Once you find the right family, decide where the nanny will care for the children, likely at your home or the other family's home, or perhaps alternating homes by the day, week or month.
Create a Thorough Contract
An employment contract should be in place before the nanny begins work, and can be referred to throughout the relationship to keep the arrangement on track. It should include the nanny's pay rate and pay schedule, hours each family agrees to pay, tax responsibilities (both families are considered by the IRS to be employers with tax responsibilities), and policies for late pick-ups, holidays, vacation time, and sick days (for both the nanny and the kids she cares for), as well as termination. The contract should also include a detailed description of the nanny's child care and household duties.
Stay Connected and Coordinated
A successful nanny share requires consistent, open communication between families and their nanny. To keep up with changing needs, commit to frequent meetings or phone check-ins with the other family, and a regularly scheduled, three-way meeting with the nanny—perhaps at pick-up, weekly or biweekly. Discuss how things are going, make adjustments to logistics or schedules, and agree on changes or tweaks that will make the relationship smoother and stronger.
Contribute Fairly to Shared Supplies and Equipment
Our fifth nanny share tip is also quite important—decide upfront who will pay for and supply meals, baby supplies, and any equipment needs, such as a portable crib, baby swing or car seats. Typically, a family supplies whatever food and equipment their child needs, and contributes to shared items, such as a double stroller and snacks. Agree on how you will replenish shared supplies so no one feels taken advantage of for having to pick up baby wipes, for instance. Decide how you will communicate needs—via text, email or a quick chat at pick-up–to determine who will make the pick up. To create goodwill and fairness, be generous, bringing fruit or treats for the children to share or extra diapers when you know that your child will inevitably require a back-up from the host family's supply.
Expect Change
Eventually—either because your needs change or because you are no longer happy with the relationship—you or the other family will want to exit the nanny share. It's advisable to give a minimum notice, likely four weeks or longer, or to pay the nanny in lieu of the notice. "Advance notice of your intent to leave a nanny share ensures that the other family involved is not stuck footing the nanny's full salary, and allows them to either find a replacement for the share or alternative childcare," says Lynn Perkins, CEO of UrbanSitter. "It also gives your nanny time to look for other employment, if necessary."
A nanny share can be an ideal child care solution for families who commit to open communication, flexibility, and a mutual respect for each other and the nanny who cares for their kids. Services like UrbanSitter offer a convenient way to find qualified nanny candidates for your nanny share.
Written by Dawn Van Osdell, Contributing Writer for UrbanSitter 
Looking for a nanny for your nanny share? Join UrbanSitter to browse profiles, sort by pay rate, and book jobs online.