When your babysitter is responsible for driving your kids, child safety should be your their number one priority. Here we tell you what you need to know about keeping your child safe when she's in the car with a sitter, including how to do a driving record and driver's license check, and what to share with your sitter regarding car seat safety laws and booster seat requirements.
Making Sure She's a Licensed, Safe Driver
If you need your sitter to drive your kids to or from school, to lessons, practice or play dates, first check to see if she has a valid driver's license and a safe driving history. UrbanSitter can help you run a Motor Vehicle Record Check on your sitter! Reach out to our Member Services Team at [email protected] for the details.
It's also important to establish some rules for when she drives your kids, including no talking on her cell phone or texting while driving.
Car Seat Requirements & Safety Recommendations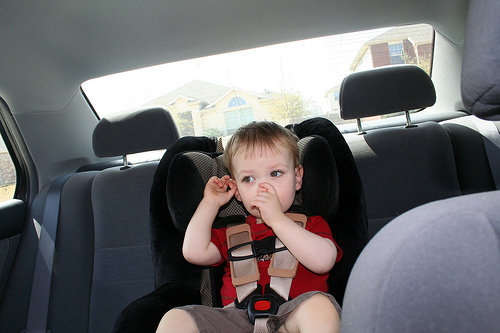 It's the law in every U.S. state that kids must ride in the appropriate car seat. Car seat requirements vary by state. You can check Governors Highway Safety Association to review the requirements for your state. The National Highway Traffic Safety Administration provides the following recommendations for children from infants to 12 years:
Children 0 – 12 months should ride in a rear-facing car seat.
Children 1-3 years should remain in a rear-facing car seat until they reach the top height or weight limit allowed by your car seat's manufacturer. Once they outgrow the rear-facing car seat, they can move to a front-facing car seat with a harness.
Children 4-7 years should continue to ride in a front-facing car seat until they outgrow the height and weight limits. They can then move to a booster, and should continue riding in the back seat of the car.
Children 8 -12 years should ride with a booster until a seat belt fits properly.  They should continue riding in the back seat.
Make sure you provide your babysitter with age-appropriate car seats for your kids. Install them for her, and also show her how to install them in case she needs to do it herself. If she will drive your kids on a regular basis, it's helpful to provide and install car seats in her car so you won't have to remember to swap yours each time she drives your kids.
Checking to see that your sitter is a licensed and safe driver, and reviewing these car safety recommendations and car seat requirements with her will help to keep your children and your sitter safe on the road.
Search for babysitters who have a car and are willing to drive at UrbanSitter.