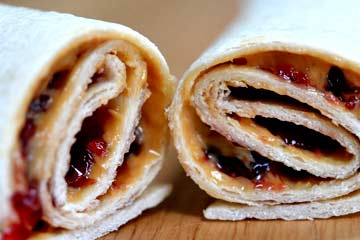 The new school year has begun, and there's likely not one of us who is not committed to creating a less harried, more balanced, healthier daily life for our families.
You have to start somewhere, so why not let it be with breakfast? After all, research shows that kids who eat breakfast not only do better in school, but also tend to eat healthier the rest of the day, participate in more physical activities, and get their daily requirements of fiber, calcium and other important nutrients necessary for good health and growth.
Here are 5 Ways to Send Your Kids Off with Satisfying, Healthy Breakfasts that are just as yummy as they are quick and easy to make.
PB & J Burritos. Stock your freezer with peanut butter and jelly burritos to defrost  at a moment's notice. Spread pb&j  (or almond butter and fruit preserves) on a whole wheat or rice tortilla, wrap tightly like a flute, and freeze. Microwave in the morning.
Pancake Roll Ups. Layer a frozen, heated pancake with peanut butter, top with sliced bananas and roll. Add a carton of milk or fresh juice to go with it and you have a good meal to eat on the run. Or, you can make your own pancake batter by mixing 4 c. flour, 3 tbsp. baking powder, 2 tsp. baking soda,  1 tsp. salt, 2 tbsp. sugar, 1 c. milk, 1 beaten egg and 1 tbsp. melted butter.
Smoothies. Keep on hand large cartons of non-fat plain (or Greek) yogurt, several packages of frozen fruit, bananas, quick cook oats and any kind of milk or juice to make speedy breakfast smoothies. In the morning, load the blender and let it sit and soften a bit while you get the kids ready so you avoid the dreadful roar of a blender tackling rock solid, frozen fruit. For one smoothie you need 1 sliced banana, 1 c. frozen fruit, 2 tbsp. yogurt, ¼ c. quick cook oats, a bit of sugar or Agave, and 1 c. milk or juice. Blend for a complete breakfast in a cup.
Yogurt Parfait. Whip up some parfaits by layering yogurt, fresh berries and granola in a pretty glass.
Breakfast Pizzas. Serve breakfast pizzas by spreading low-fat ricotta on a slice of a baguette, top with tomatoes, drizzle with olive oil, and add a dash of salt and pepper. Broil only if you have the time.
Following these easy formulas and substituting with what you have on hand, makes preparing breakfast a breeze, and gives you the peace of mind of knowing you've started your day and theirs' off just right.