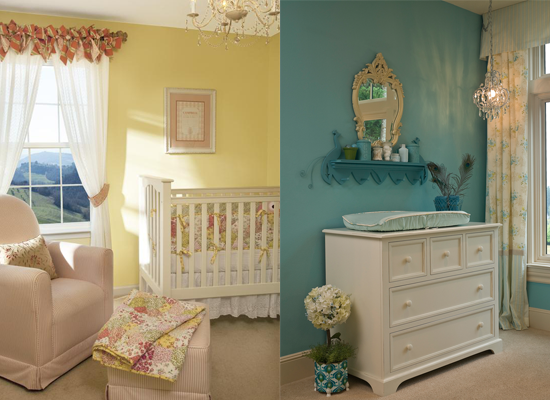 Contribution by Andrea Davis, Home Advisor
The arrival of a newborn is an exciting time and a nursery provides a tranquil, comfortable space for your newborn. Preparing the space before the baby's arrival minimizes the stress associated with the first few weeks at home. Consider these six tips for getting the nursery in order before the big day to cut down on stress.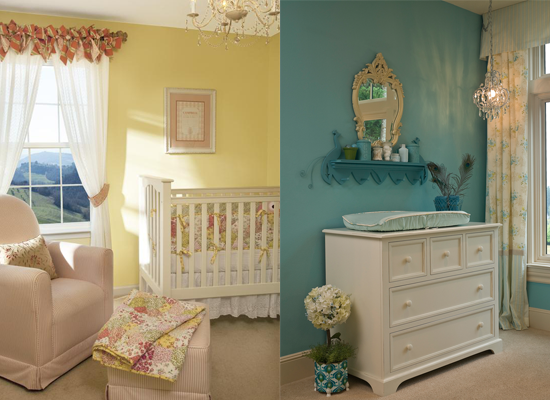 Select a Design
The décor of the nursery is the first thing to consider: colors, decorations and materials based on the baby's gender. Select the fabrics first and paint to ensure the walls match the curtains and bedding. The design should also include items that stimulate your baby's development like animals and mobiles. Because your baby will spend a lot of time on his or her back, consider adding a mural or stimulating design to the ceiling to stimulate the mind.
Childproof the Nursery
When purchasing or borrowing a crib, ensure that the slats are no more than 2 3/38 inches apart and you can consult consumer protection regarding recalls or warnings. Purchase a baby monitor with more than one receiver so you can move around the house while your baby is in the nursery. Crawl around the floor to ensure that the room is baby proof and add childproofing locks to cabinets for when he or she starts to crawl around the nurse. Also add soft padding to corners of cabinets, tables and other parts of the nursery so he or she doesn't bump their head when they're crawling about.
Decorate ASAP
While there is no set time to prepare the nursery, it is easier to paint and decorate the room when it is empty. You should schedule a time to decorate the room several weeks before the due date once you know the gender of the baby. This also provides time for any paint fumes and other volatile organic compounds (VOCs) to dissipate. It's best to use low-odor, VOC-free paint and materials whenever possible to prevent exposing your baby to such fumes. This target date helps determine the time by which items need to be acquired as well, like posters, stuff animals, furniture and so forth.
Make a Checklist
After choosing the type of nursery you want and when it needs to be finished, make a checklist to help keep you organized.
List the essential items you will need immediately after bringing the baby home.
Ask family and friends for advice on the items that they found most useful as well as what to borrow or buy. This will help you to avoid wasting money on unnecessary items.
Determine if you will use a bassinet, cradle or crib and a changing table or dresser.
Develop a timeline for accomplishing each task, such as painting the room and installing furniture.
The checklist will help you create a budget for larger items.
Optimize Space
If your nursery is too small to fit everything, you will require creative storage and furniture arrangement solutions. Traditional baby furniture like a changing table, dresser and crib take up a large amount of floor space which may leave less room for play. So maximize the space for movement as well as furniture that serves multiple functions like a crib with drawers underneath and a low dresser than can be used as a dressing table. Because children's clothes are smaller, you could add another crossbar in the lower half of a closet, for example.
Create a Sanitation Station
Creating a sanitation station will help keep the nursery germ-free with a diaper disposal system and clothing hamper. In addition to diapers, baby wipes and creams, the changing station should also have paper towels and a disinfectant cleaner for cleaning spills. By keeping everything nearby for easy access and removal, you will be able to cut down on germs and time when changing the baby's diaper and smelling dirty diapers.
Andrea Davis is the editor for HomeAdvisor, which helps homeowners find home improvement professionals in their area at no charge to ensure the best service in the shortest amount of time. 
Photos courtesy of DesignMine.