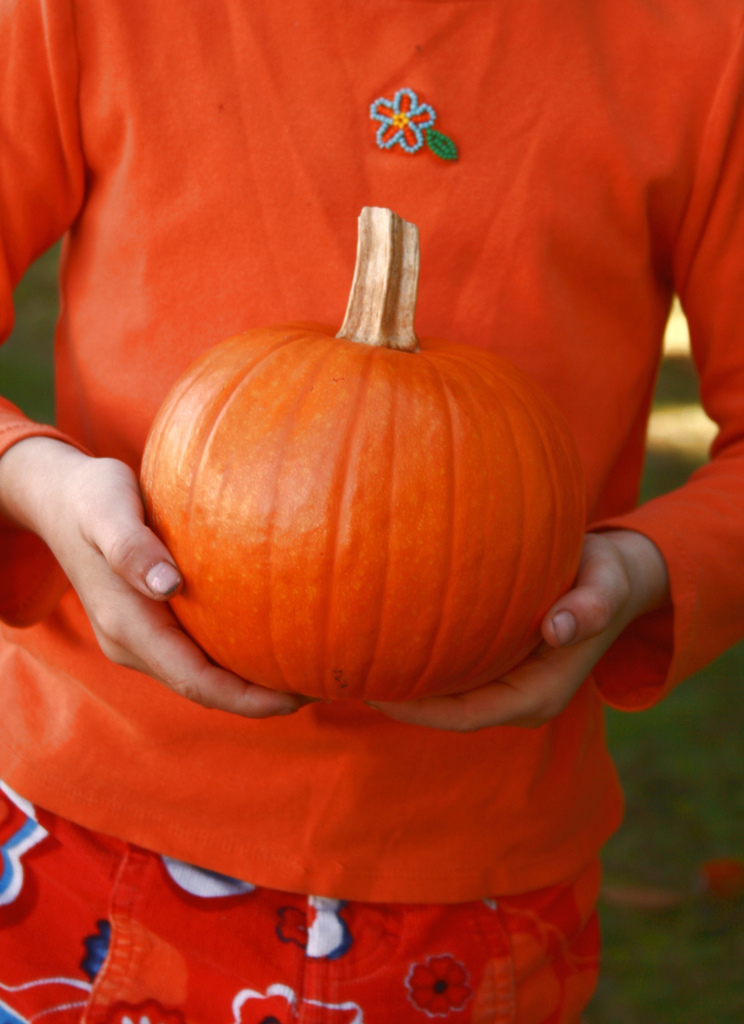 There's a pretty good chance you've taken your kids to a pumpkin patch, farmer's market or even a grocery store this weekend, and are now living with a menagerie of pumpkins, little and big. Do you realize you're sitting on a goldmine of kid craft potential?!
Bring your pumpkins to the table, gather your craft supplies, call a friend or two to make a fun play date out of it, and get down to business! Not the crafty type or invited more than a few friends? Call in a sitter to help!
Here are 7 of our favorite pumpkin projects:
Gourd Family: Stack miniature pumpkins to build a replica of your own family.  The gourd people on MarthaStewart.com are made by gluing natural materials, such as acorns, nuts, leaves, and flowers… which means you can start your project by taking a nature walk to gather supplies.
Giggly Ghoul: They'll be giggling so hard, they'll have a hard time finishing this one. Talk about bang for your buck – insert two thumbtacks for eyes,  carve out a mouth and insert removable teeth. How can these not have you in stitches?!
Fall Leaves + Pumpkin = Perfect decoration for the table, foyer or front porch: Gather gorgeous fall leaves and dry them under a book for several days. Brush decoupage glue on a pumpkin (white is especially nice). Arrange the leaves on the pumpkin's surface, cutting small slits along the edges of the leaves as you go, so they'll fit the pumpkin's contours. Coat the decorated surface in decoupage glue.
Message on a Pumpkin: Put on your thinking caps and come up with a fun message to write/paint/glue on your pumpkins. How about your family name (with a pumpkin for each letter), or a spooky Halloween shout-out like "Boo," "Beware," or "Who Goes There?!" You can cater to your kids' ages and abilities, keeping it simple with glitter glue or stepping it up by glue-gunning buttons, acorns or candy to spell out your message.
Give Thanks: How about making a festive vessel for a bouquet of fall flowers? Clean out the insides of your pumpkin (save the seeds for snack time), and insert a handful of fall flowers or branches. You can make it a spooky treat (and a bigger project) by first painting the pumpkin, then giving it a face. Don't carve out too much, as you'll want to fill it with a bit of water if you hope to make it last.
Talking Pumpkin: This one will get the neighborhood trick-or-treaters talking! Carve a face for your pumpkin, scary or silly will work. Instead of making a removable top, cut a hole in the bottom. Once cleaned and carved, sit your masterpiece atop a baby monitor. Voila, you have a talking pumpkin!
Roasted Pumpkin Seeds: Wait, don't throw out that muck! Make a toasty snack of pumpkin seeds. It's as simple as digging through the strings and pulp – what better job for a crew of little hands – and cleaning off the seeds. Spread the pumpkin seeds on baking sheet, drizzle with oil and sprinkle with salt. Bake 45 minutes at 325 degrees, stirring occasionally, until lightly toasted. Yum!
Need a sitter for the pre- or post-Halloween weekend? Log on to UrbanSitter and search for a babysitter by date & time.