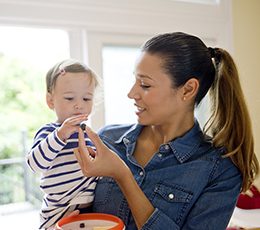 The end of the school year doesn't necessarily mean the end of rushing around. And on-the-go summertime families need quick, easy, healthy snacks to keep them energized as they dash from camp to playdates to the pool. "There are good and bad packaged options for your kids," says Kimberley Grayson of the all-natural online shop, Abe's Market. She's helped us round up some of the best treats out there. They come in properly portioned sizes; contain wholesome mixes of fruits, vegetables, grains, and dairy; contain little sugar; and are non-GMO wherever possible. Happy snacking!
These toddler-friendly bagged snacks are "filled with 100% organic fruits and veggies in bite sized and easily dissolvable pieces," raves Grayson. "The produce is harvested fresh and quick-dried to lock in essential nutrients. And the flavor combos contain just the right amount of natural sweetness and engaging color." ($3.50, Abe's Market)
Two varieties of granola—Caramel Apple and Chocolate Banana—are surprisingly light, easy-to-chew and not-too-sweet. Perfect for those busy mornings when your kid's got to eat breakfast in the stroller or the car seat, since they're delicious even without milk and provide plenty of fiber and carbs to get tykes fueled up on the fly ($4.50, Target).
What snack's more classic than popcorn? If you don't have time to pop it yourself, or just don't feel like shaking a pot over a hot stove on a sweltering afternoon, grab one of these handy snack-size bags for a low-salt, high-yum treat ($5/bag of 6, available at Whole Foods).
Maybe you have time to spread some nut butter on a slice of toast; maybe you don't. Either way, Justin's has you covered with these 1.15-ounce squeeze packs that get some high-quality protein into your snack-needy child's afternoon—even if it means squeezing them right into his hungry little mouth ($1.30, Justin's).
This nutrient-packed bar will give kids and parents alike a wholesome, high-energy, low-calorie snack that's also vegan, gluten free, organic, and non-GMO. All you'll notice is its vanilla deliciousness ($22/pack of 12, Pure Bar).
Unlike certain yogurt tubes that shall here remain nameless, Siggi's squeezable yogurts, in blueberry, raspberry, and strawberry, are low in both sugars and ingredients—no frightening-looking dyes, no weird fillers. And while they're also low in fat, they sure don't taste like it, thanks to the Icelandic method of straining yogurt into rich skyr. Also great frozen ($4/box of 8, available at Whole Foods).
Especially well-suited to tweens, these easy-pack bars are perfect for any time of the day and fit neatly into lunch boxes and glove compartments for after-camp pick-me-ups. Says Grayson, "Made with five wholegrain super-grains with mix-ins of flavors kids love, I am in love with the chewy texture and nutrition of these bars!" ($5/pack of 5, Abe's Market)
These smart snacks were developed by two moms to make eating healthy a fun adventure while boosting the brain power of growing minds, according to Grayson. "As the world's first fruit and vegetable smart cookies for kids, Bitsy's provides new palette introductions while providing the nutrition active kids need," she says. Bonus for kids with allergies: they're also made in a nut-free facility ($6, Abe's Market).
A sweet, chewy twist on that old nature-lover's stand-by, gorp. A little bit sweet, a little bit salty, these little bars are the perfect tidbits to munch on as you make your way to all your kids'  summertime activities ($13/pack of 6, Amazon).
This is puffed fruit that crunches, in bite sized clusters active kids can snarf right from the bag.  "Here's a snack that spans the ages" says Grayson. "It's got fewer than 75 calories per serving and is made without refined sugars or preservatives. It can do double-duty as a yogurt or ice cream topper, and mixes well with nuts to create a custom-made snack of your own choosing." ($5.50, Abe's Market)