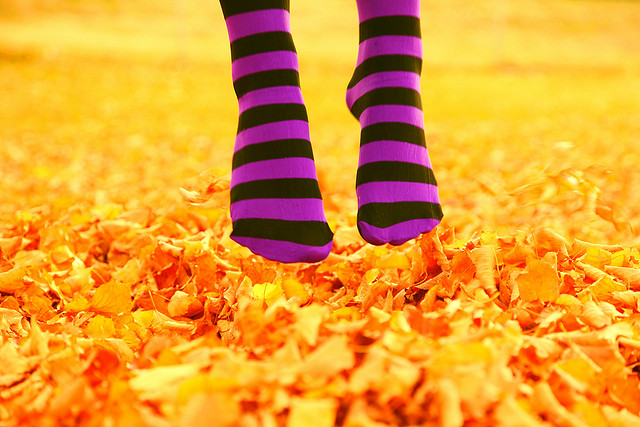 Ahhh, Autumn. It's many people's favorite season, and for good reason — the nip in the air, the crisp leaves, the pumpkin-flavored espresso drinks — to name just a few. And for little ones, there's loads of fun to be had. Why not take the whole family and indulge in one of these sure-to-please Fall diversions on your next free weekend?
1. Pumpkin Patch
Now, this one is a classic, tried and true. Children are just as pleased with a trip to the super market aisle or an off-the-freeway patch complete with jumpy house. But most counties have at least one big, fall-festival-like patch with a corn maze, hot cider stand, and maybe even a petting zoo.
These off-the-beaten-track spots offer a little something extra and really bring the experience home. Plus, the car ride builds anticipation. Check out these safe, no-carve pumpkin decorating ideas.
2. Apple Picking
If you venture out a little further into the country (or deep suburbs in some spots), you can usually find a place to pick apples when Fall rolls around.
A family farm is the typical backdrop and kids as young as one or two can join in the fun. Apple orchards are heaving with fruit this time of year and for a small fee, you can borrow a basket and pick as many you like (or want to pay for), as you meander amongst the trees and livestock. Have a taste or make apple cider at home! This is a fun, easy activity for families and makes for a great photo op as well. Some farms require an appointment, so do your research.
3. Pie Making
Once you've picked your apples (or purchased them at the grocery store), why not share the experience of making a home-made pie with your kids?
Whether you have Grandma's tried and true recipe or one just downloaded, the kids will love the hands-on experience…and delectable result. You can even let the kids use cookie cutters to decorate the crust….easy as pie! And sure to fill your home with a delicious Fall aroma.
4. Jumping in Leaves
A classic straight out of a Normal Rockwell painting. But truly, leaf jumping never gets old for kids–or even dogs. Just use a standard rake to gather the leaves in your yard and let them go to town. Of course, you will have to deal with the end product — a mess of crispy leaf bits, but it's worth it…right?
If you don't have a yard full of leaves, head to your favorite park and do the same. In that case, the kids will have to gather the leaves themselves, but that in itself can be a great diversion.
Whatever you do this Fall, enjoy yourself! It's a cozy season filled with rosy cheeks, full moons, and warm sweaters. Plus, before you know it, the madness of the holidays will be upon you. So get out there!
Find babysitters & nannies at UrbanSitter.com.