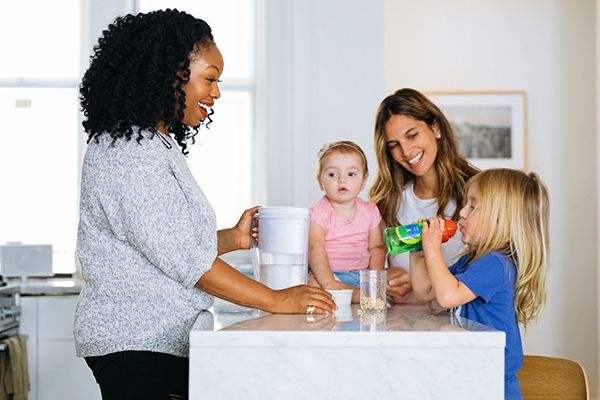 8 tried-and-true ways to provide child care and work together with work-at-home parents
Babysitting or nannying while parents are working from home can all too often become a case of 'too many cooks in the kitchen.' Children often want to stick close to mom and dad, and the sitter may struggle to distract them enough to give the parents some space. We asked UrbanSitter's experienced babysitters for tips on how to navigate the nanny/parents relationship and provide exceptional child care while parents are home — here's what they said!

1. Communicate
The only way to ensure that both you and the parent(s) are on the same page is to talk about it. "Before starting the actual sitting, I have a conversation with the parents about the developmental stages of their child," says nanny Nadia Joseph. "I ask if I can make any suggestions and we go from there." Open communication can be a way to encourage teamwork and set a standard for honesty for everyone.  You can say:
I've noticed as baby grows out of infancy she has become better at recognizing who her primary caretakers are. What are some ways we can work together to make sure she doesn't get confused or upset when you are working from home while I take care of her?
This strategy worked for Joseph, who says that "while initially we had some pretty challenging situations, with major temper tantrums when kids heard or saw their parents, we agreed on a plan and strategies and the parents are on board."
2. Establish boundaries
"The best way to co-exist with a parent at home is to accept that there are boundaries," says UrbanSitter member Christy Chan. When working with parents who are accepting of your role as a childcare provider, use this to your advantage. Use professional language to clearly establish what is and is not fair, and come to a common agreement. Examples may include:
Baby tends to get confused when he sees you coming in and out of the office during his playtime, which makes him fussy. We are going to stay in the living room and nursery today so that he doesn't get mixed up. Would you mind if I got some one on one time with him?
When toddler has multiple people in her room shortly before naptime, she has a hard time falling asleep. Would you like to be in charge of putting her down today, or should I? We can take turns.
Babysitter Safiya Taylor has been able to use this technique well, saying, "generally the kiddos know that I am in charge once I show up, so they don't really run off to the parents when they don't get their way!" Sitter Dalia Cabrera Martinez agrees, stating that this type of sitting works best when "they usually close their office door and try not to come out unless they want to spend time with the kids."
3. Say goodbye
Experienced nanny and mom Susan Malone says "learning to say goodbye happily" is crucial. In this case, you and the parent set the tone for the child, so cheerful goodbyes help to create an environment in which the child is happy to be in your care, even when their parent is also at home. Going through familiar goodbye routines can help the child understand the transition from being in the care of their parents, to being in your care, even if the mom or dad remains in the home.
4. Make it a game
Another tip when providing child care while parents are home, making a game out of goodbyes is a fun and helpful coping mechanism, generally best for older children. This method has worked for UrbanSitter member Dori Heather, who says that she and the children she take care of "make a game out of it somewhat," with rules such as needing to stay quiet outside of the parents' office door. You can make up the rules of the game as you go, with suggestions such as:
Asking the kids to be 'as quiet as a mouse' or to 'tiptoe as softly as a cat' near the area where the parent is working.
Pretend the floor is lava and the office space is a volcano, and thus off limits.
5. Take the kids outside
"I usually choose to take the child outside of the home, returning briefly for meals, naps, et cetera," says baby sitter Ava Martinez. This achieves two goals: both bringing the child away from the immediate temptation of being with their parents, and engaging them in fun activities outside of the house, affording them opportunities to learn and to have fun. It's a win win for uninterrupted work – the parents can concentrate on working from home and the babysitter can provide the child care without distraction.
6. Change as needed
As children grow older, their needs change. Whereas a toddler may not have a need to be close to their parent every single moment of a day, a breastfed infant must be in close physical proximity to her mother. Being respectful of both the parent and child's needs is crucial. With new parents, sitter Alexandra De Martini suggests being "especially mindful of the mom or partner just starting back to work, as they might not be totally sure what they want and their needs will evolve over the next few weeks."
7. Have fun with it
"My current nanny family, the dad works from home and honestly it doesn't bother me whatsoever. We have an excellent relationship and he respects me as a nanny so I am never bothered! I act the same as if I were home alone," says Pennsylvania sitter Caleema Lawler. Actively put work into establishing positive camaraderie with both the parents and children so that you all feel totally comfortable in each others' presence. This can come in many forms—intentionally spending time together with both the parents and children together to get to know one another and having monthly scheduled meetings to communicate successes and issues are two suggestions.
8. Move on it it's not right
If you are aware that babysitting while the parent works from home is something that you wouldn't be comfortable with, move on from the opportunity. Instead, take roles that allow your natural talents to shine and leave these experiences to other sitters.