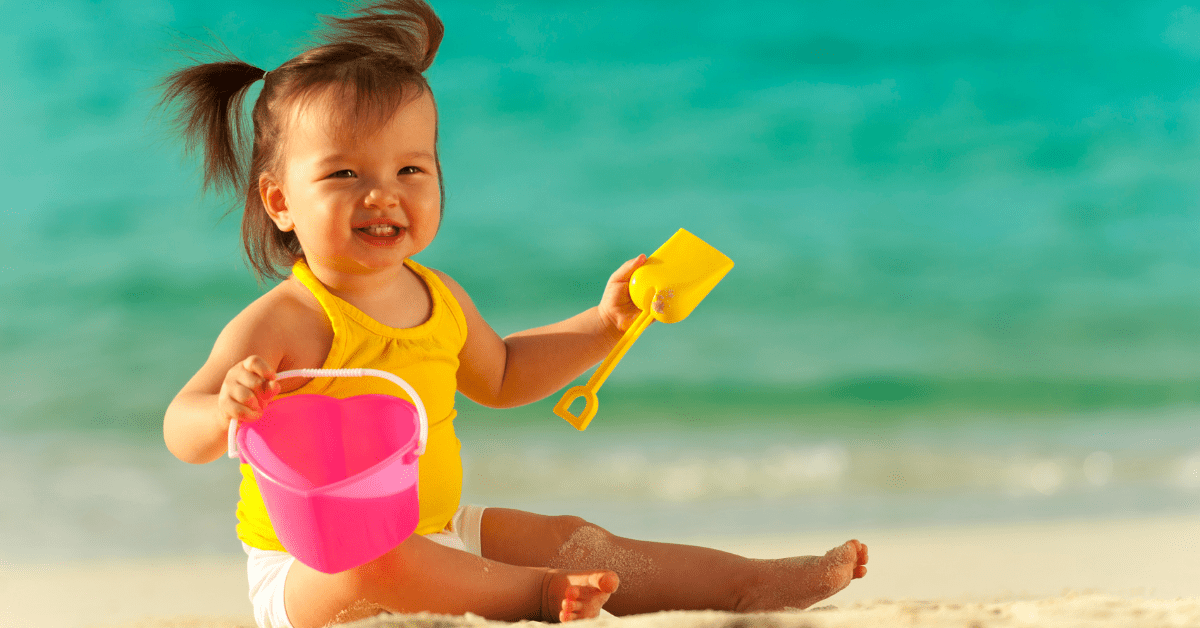 Whether you're taking a road trip or facing a long flight together, the thought of traveling with an infant can be daunting, especially for first-timers. But, the trip doesn't have to be a hairy one.
In fact, infants often make for much better travel companions than their squirmy, mobile, older siblings! Consider these tips from the experts for smooth, stress-free travel with your baby this summer.
Tips for Traveling with Infants
Travel Light. We think babies require a lot of stuff, but whittle down your daily baby care items to the bare essentials, and you'll be surprised at how little a baby really needs. Unless you're headed to a remote location, you can lighten the load significantly by renting the big, must-have items and have them waiting for you when you arrive. Rental companies such as Babyquip, Rents 4 Baby and Travelingbaby.com will deliver to your destination, so no need to lug a crib or pack-n-play, jogging stroller, high chair, bicycle baby carrier, swing or baby gates. Verywell has a list of the best baby rental equipment.

They'll also deliver car seats. Another option is to reserve one through your rental car carrier. Just be sure to request one in advance, making sure it's the appropriate size, since supplies seem to be limited.
Another helpful hint for keeping the packing to a minimum – purchase diapers, formula and extra baby wipes when you arrive, rather than carrying a large supply with you.

Think ahead and be prepared. Ever try to carry a baby through a busy airport, thinking it was easier to check the stroller at baggage claim? Ever try to hold an infant while using a public restroom? Not fun. Make it easier on yourself by becoming one with your stroller while traveling. Not only will it save you from having to carry your precious cargo, it will also provide a place to change a diaper or let a tired little one get some rest. Along with the stroller, be sure you have an especially well-packed diaper bag, carry-on or tote. A diaper bag packed for an infant should include:

at least two changes of simple, low-fuss clothes and socks (blow-outs happen when you least expect them!)
diapers and plenty of baby wipes
a bottle and formula if you are bottle-feeding, a pacifier (especially helpful to combat air-pressure changes while flying)
hand sanitizer
light blanket to warm a chilly baby, serve as a nursing shield or provide a place to lie your baby down for a stretch.
any necessary medications, sunscreen, and diaper rash cream.

Consider applying for TSA PreCheck

To make traveling through the airport even easier, you might want to apply for TSA PreCheck. Children under 12 can go through TSA PreCheck with an adult who has it. With TSA Pre, your family won't need to remove shoes, belts, toiletries, personal electronics such as an iPad or laptop or jackets, plus the line moves much more quickly. Keep in mind there is a cost to applying, however many credit cards will reimburse you.

Keep to a schedule. Most parents agree with the experts who tell us that babies who stick to a schedule or routine are often the most content.

While it's not always possible to follow the exact routine you have at home, you can typically feed, change and put your baby to sleep with some consistency. You and your baby will have a happier trip if she's not skipping naps or missing bottles or snacks.

Incorporate time for yourself and time with your spouse or partner. No matter how well you plan and prepare, travel with a baby can be stressful and tiring. Give yourself a break by making time to take care of yourself and your adult relationships. Let Dad do solo duty for a bit while you splurge on a spa treatment, take a nap or simply lounge by the pool with a good book.

You can both get a break and a chance to see the sights by taking advantage of a local babysitter. Hotels can often recommend local babysitters, though it's typically less expensive and more convenient to find and book a trustworthy babysitter on UrbanSitter. You'll have greater peace of mind leaving your child in a new sitter's care after reading her profile and other parents' reviews on the site.
Before long, your tiny travel companion will become an energetic toddler in tow! Check out these tips for happy traveling with tots and little kids.
Looking for a babysitter or nanny while on vacation? Join UrbanSitter to find sitters at your vacation destination.