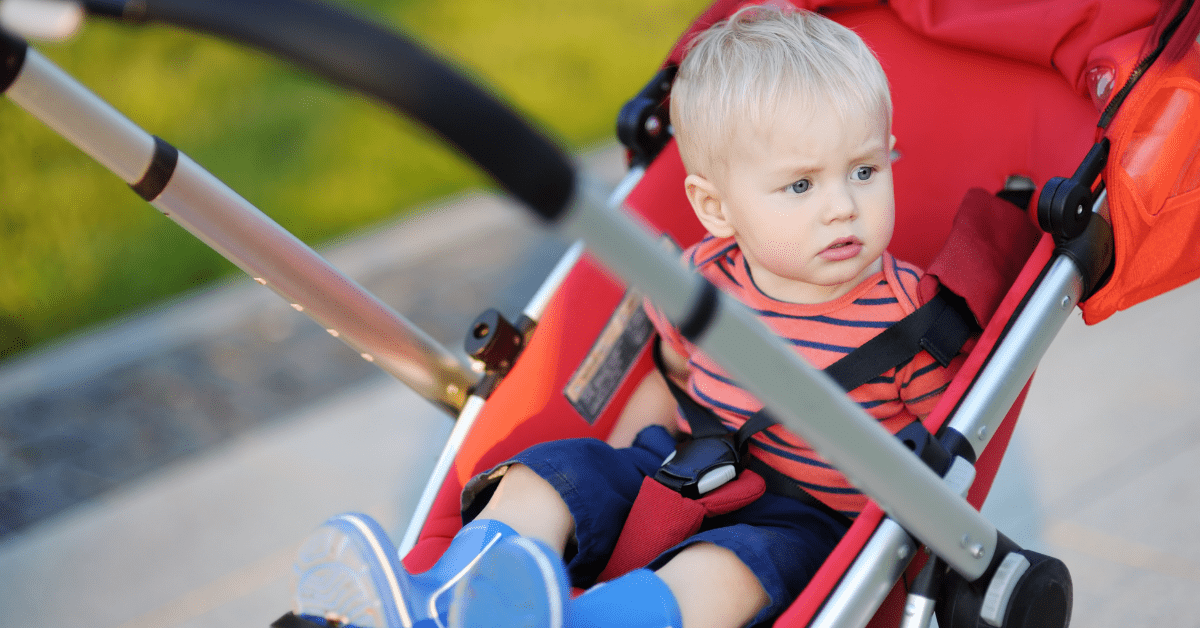 Once your baby reaches the toddler stage, typically around the age of 1-3 years old, traveling becomes a whole new experience with its own unique challenges. Your child has become mobile, more expressive and innately curious and anxious to explore his surroundings. Your job is to not only get to and enjoy your destination, but to keep your travel buddy safe, comfortable and entertained. Follow our tips for easier travel with a toddler, and you'll both have a wonderful trip.
Pack smart (which, unfortunately, doesn't necessarily mean light).
You think babies require a lot of stuff, but now that you're in the throes of the toddler stage, you'll quickly see that the Baby Packing List has nothing on the whopping amount of toys, snacks, clothes and gear you'll need to travel with your toddler. Here's a handy pack list for tots we've found at BabyCenter and have revised after traveling with toddlers of our own:
Diapers – Bring extras in case of emergencies or delays. Potty training? We feel for ya. Regardless of what the experts say, rely on pull-ups, rather than new underpants for the plane ride.
Wipes – Not just for changing diapers. You'll likely use them more for the endless spills, drips, and messy disasters that go hand in hand with toddlers. Also useful for cleaning and de-germing toilet seats, arm rests and restaurant tables.
Mat to put under your toddler during diaper changes – You have no idea where you might need to change a diaper.
Blanket(s) – Bring a few for comfort, shade, and warmth. Big scarves and wraps can do double duty, serving your needs as well as baby's.
Plastic or reusable bags – Carry a variety of sizes for storing soiled diapers, clothes, and shoes.
Small bottles of disinfecting hand gel and toiletries – Buy travel sizes that can be stored in an easy-to-access tote or carry-on.
Tissues
Toys and books – Your child's favorites, plus several new toys for surprises along the way. As lovely as it is to have a few books and crayons on hand, nothing beats a fully loaded iPad.
Your child's favorite stuffed animal or blanket – Anything that provides comfort while away from familiar places.
Clothes, socks, and shoes – One to two outfits per day is a good guideline. Denim and dark colors are good for hiding dirt and stains. Prepare for weather changes by dressing in layers. Some parents swear by packing each outfit – a full change of clothes – in individual sealed bags for easy access.
Bathing suit – Lightweight and easy to pack, and you never know when it will come in handy.
Washable bibs
Sun hat and sunscreen
Sippy cups or bottles – Encourage your toddler to drink plenty of liquids to avoid dehydration, especially when flying.
Snack food – Don't forget high-energy snacks for you, too.
Eating utensils
Nightlight – Helpful for your toddler and for you to locate him and the bathroom in a dark hotel room.
First-aid kit and child-proofing supplies – Think socket protectors.
Portable crib or bed – Think long and hard before planning to have a (squirmy) toddler sleep with you. If he doesn't have his own bed or crib at your destination, bring a portable one.
Car seat for travel by car or plane – If you're renting a car, you can call ahead and arrange to have one waiting with your rental.
Portable stroller – Can usually be gate-checked or stored in the overhead bin of an airplane. It's extremely helpful, even for toddler's who think they've outgrown the stroller. Plus it's perfect for holding your bags as you navigate the airport.
Keep to your schedule.
Toddlers, like babies, are more content and adjust better to new surroundings when they stick to a familiar schedule or routine. While it's not always possible to follow the exact routine you have at home, you can typically stick to meal, nap and bedtime schedules with some consistency. You'll both be happier travelers if you're well rested and well fed.
Build in extra time for short attention spans.
As much as you'd like to get to your destination as quickly as possible, it's not reasonable to expect a toddler to sit quietly, strapped into a car seat in a car or waiting in long lines at an airport. Build extra time into your schedule so that you can have little, frequent breaks and distractions.
For instance, let him push a toy around the airport waiting room or ride the escalators a few times. Three-wheeled scooters are great for burning energy, and they are easy to transport. On long car rides, plan to stop frequently. Experts suggest planning the trip so that part of it takes place during nap time – when your child is awake, make rest stops every hour or two. Let him get out of the car to stretch, blow bubbles or kick a ball.
Incorporate time for yourself and time with your spouse or partner.
No matter how well you plan and prepare, travel with young children can be stressful and tiring. Give yourself a break by making time to take care of yourself and your adult relationships. Let Dad do solo duty for a bit while you take a nap or see the sights. You can both get a break and a chance to see the nightlife by hiring a sitter. Hotels can often recommend local babysitters, though it's typically less expensive and more convenient to find and book a trustworthy sitter on UrbanSitter. You'll have greater peace of mind leaving your child in a new sitter's care after reading her profile and other parents' reviews on the site.
Travel with your curious, squirmy toddler can be eye-opening and lots of fun if you're prepared and patient. Before long, your tiny travel companion will become a big kid with a whole new perspective to bring to travel.
Traveling with a baby? Check out these tips for a stress free trip!
Looking for a babysitter or nanny while on vacation? Join UrbanSitter to find sitters at your vacation destination.