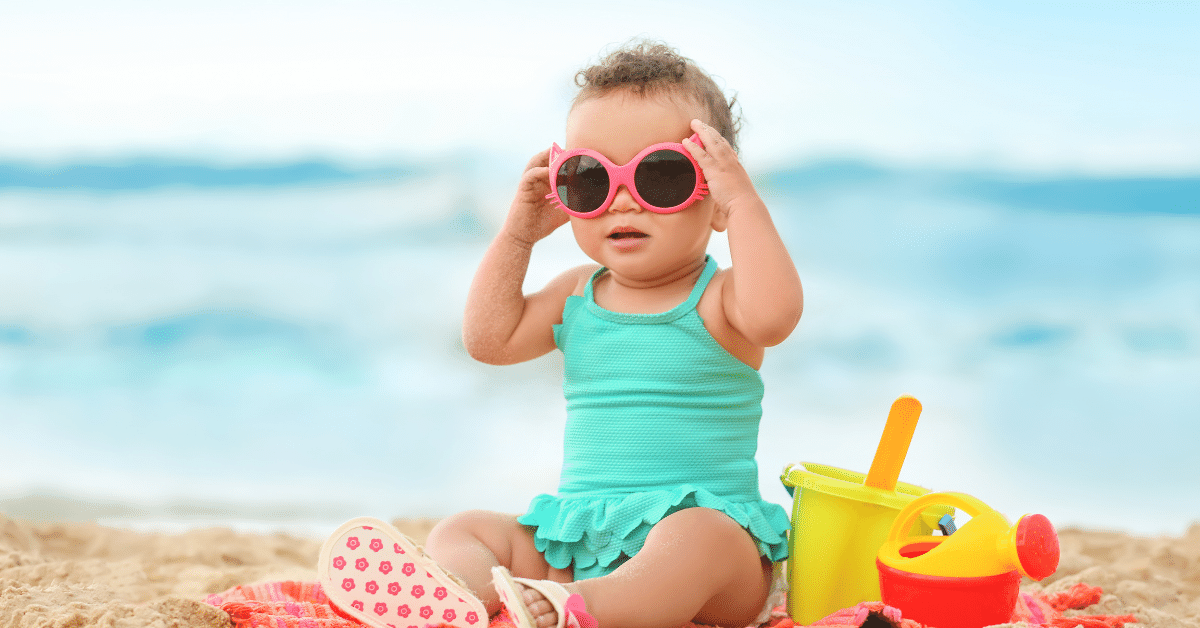 Is your baby as ready for summer as you are? Before you take the newest member of your family outside for some summertime fun, make sure you are prepared to keep your child protected from the sun and heat. Experts recommend that you keep babies under 6 months old away from sun exposure. For older babies, here are summer baby must haves to pack in your tote for a day out.
Summer Essentials for Babies
Lightweight clothing: You want to keep your baby cool, so you might think less is more when it comes to clothing. Not so true. Choose light-colored, lightweight fabrics to protect their skin, including arms and legs, and keep them cool, too. If you spend a lot of time outdoors, you may want to invest in clothes with built-in sun-protection.
Summer Hat with Coverage: Don't leave home without a dependable hat (or even two!). Babies in hats are always adorable, but choose a hat for function, not just fashion. Summer hats are essential and those with big brims or flaps that cover ears and the back of the neck are especially good. Verywell has compiled a list of the best summer hats for babies

.

Sunglasses: If you can get your baby to keep sunglasses on, choose sunglasses that block 99 to 100 percent of both UVA and UVB rays (check the label). Baby Bandz sunglasses have a velcro fastener for easy on and off. If you can't keep glasses on your little one, a visor or hat with a large brim should help shield his eyes.
Swim Diapers: If you'll be hitting the pool, you'll need swim diapers. Save money and the planet by choosing reusable swim diapers. Reusable swim diapers made from a stretchy swimsuit fabric are easy to change. Some even come with matching rash guards.
Sun shade with UV Protection: Don't rely solely on your stroller's canopy to shade your baby. He'll, undoubtedly, end up with burnt toes! Amp up the protection by attaching a pop-up stroller shade with built-in UV protection to shelter your baby's entire body.
Sunscreen: You can decide between a physical sunscreen (often called sunblock, which does not get absorbed into the skin) and a chemical sunscreen. There's a debate brewing about whether chemical sunscreens are absorbed and potentially dangerous to babies. While these is no proof that the chemicals are toxic, you can play it safe by choosing sunscreens that are made with zinc oxide and titanium dioxide, which sit on top of the skin, forming a physical barrier against the sun. Sunscreens with zinc oxide or titanium dioxide start protecting as soon as you put them on, while the chemical-based products need to be applied 15-30 minutes prior to sun exposure. Lucie's List provides a list of the best sunscreens for babies

.

Whichever you are using, be sure to reapply often. BabyCenter has a nice overview article on how to choose sunscreen for your baby.
Swim Float: To give your arms a rest in the swimming pool, consider a swim float that the baby can safely sit in and enjoy the water. Plus it provides extra sun coverage!
Hydration: Be especially mindful of keeping babies hydrated when it's warm outside. The American Academy of Pediatrics doesn't advise giving water to babies younger than 6 months. If your child hasn't yet reached the 6-month mark, nurse or bottle-feed more often when they are likely to be thirsty. For older babies, be sure to offer water in a bottle or sippy cup throughout the day.
Lightweight blanket: A lightweight blanket is indispensable. Use it as an extra sun shade, a cover when the A/C's a bit too chilly, a changing pad, a nursing shield and for an impromptu picnic.
Find your summer babysitter with UrbanSitter. Search for CPR-trained babysitters.