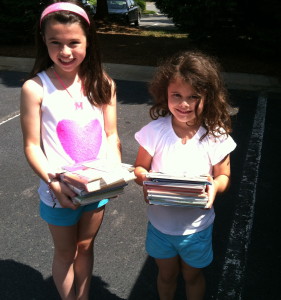 Even if you are sad to see the summer go, there's no denying the excitement a new school year brings. You can get your kids motivated for a fresh start and build lasting memories by starting back-to-school traditions you can repeat each year. These fun, memorable traditions will have everyone raring to go!
To help you create traditions that are just right for your family, we've pinned loads of great back-to-school ideas, tips and products to our Back-to-School Pinterest Board and included links below. We hope they are helpful!
Start a New Back-to-School Tradition:
1. Super Star Shopping Date
Remember the thrill of picking out new school clothes when you were a kid? Maybe you got a new backpack, lunchbox or some fresh kicks.  No matter how much or how little was on the shopping list or what's on your list for your own kids, everyone loves  starting the year with something new.
Take advantage of pre-fall sales and hit the stores with your child. Make him or her the center of attention by arranging to send siblings on a playdate or hiring a sitter to take over while the two of you are on a date.
Stock up on school supplies, gear and clothes for the new year.
Keep budgets in check by first doing a closet and drawer assessment with your child, deciding together what's needed. Organized Home posts helpful strategies for Back-to-School Shopping.
Make shopping a fun event by including a stop for lunch and using the time with your child to talk about highlights of the summer, and plans and goals for the new year.
2. Meet a New Teacher and Host a New Friend
For a child, walking into a new classroom can be a scary thing. Seeing a familiar face in the room always makes it a bit a easier. Take advantage of opportunities to meet the new teacher and visit the classroom to build familiarity and calm first-day anxieties. It's also helpful, if you have a class roster or know of a child who will be in the same class, to schedule a playdate with a classmate who happens to be an old friend you haven't seen in awhile or make an introduction to a new friend.
Turn it into a fun tradition by making it an annual project to find a new or long-lost friend to meet up with after orientation day. You can make it extra special by meeting at a local park and bringing a treat to share or at a local ice cream shop for Back-to-School cones.
3. Tweak your Routine and Refresh your Homework Station or Quiet Time Spot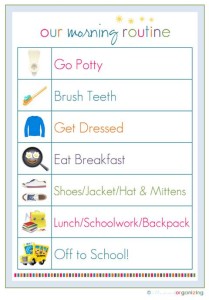 Being organized feels fantastic and  gives everyone in the family a sense of control and preparedness. Have a tradition of holding a family meeting to discuss with older kids what could be improved from last year and to share with everyone what the routine will be once school starts.
This is the time to roll out new calendars, introduce new sitters and make sure kids know what to expect. There are lots of free printables that will help you organize expectations, including chore charts, weekly planners, lunchbox planners you can create with your child, and even simple This is Our Morning Routine and This is Our After-School Routine printable charts that will help kids stay focused and limit the number of times you'll be barking orders, such as "Put your shoes on!"
If you have school-age kids, now is the time to refresh supplies for homework and organize them in a location that's easy for kids to access. For younger kids, you can perk up the quiet time area, maybe adding a few new books to the collection or making a space more inviting by seeing that it has a comfy spot to rest and plenty of light for reading.
4. Share a Story and a Craft
Get kids excited about school and address concerns and worries by sharing a book about starting school. Picture books can help to reassure kids about starting school or going to a new school, and they also serve as catalysts for better communication at home. Check this handy list of top children's books about starting school, including books that talk about first day jitters, how to make new friends and simply what to expect so the day is not so scary.

If you have a crafty crew, get them excited for the big day by spending time together on a Back-to-School project.  Red Ted Art has a popular round-up of back to school craft ideas that are sure to get school spirit soaring.
5. Make the First Day Extra Special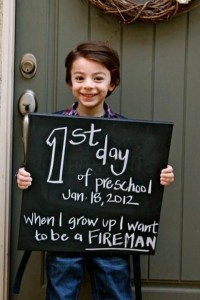 Create a tradition of great fanfare on the first day of school! This doesn't mean you have to spend hours planning menus and creating DIY decorations. It just means putting a little extra TLC into the day to turn it exciting and memorable. Here are some simple ideas you can do each year:
One more tradition to start (just for mom and dad): The occasional night out! Find a trusted babysitter at UrbanSitter.com.