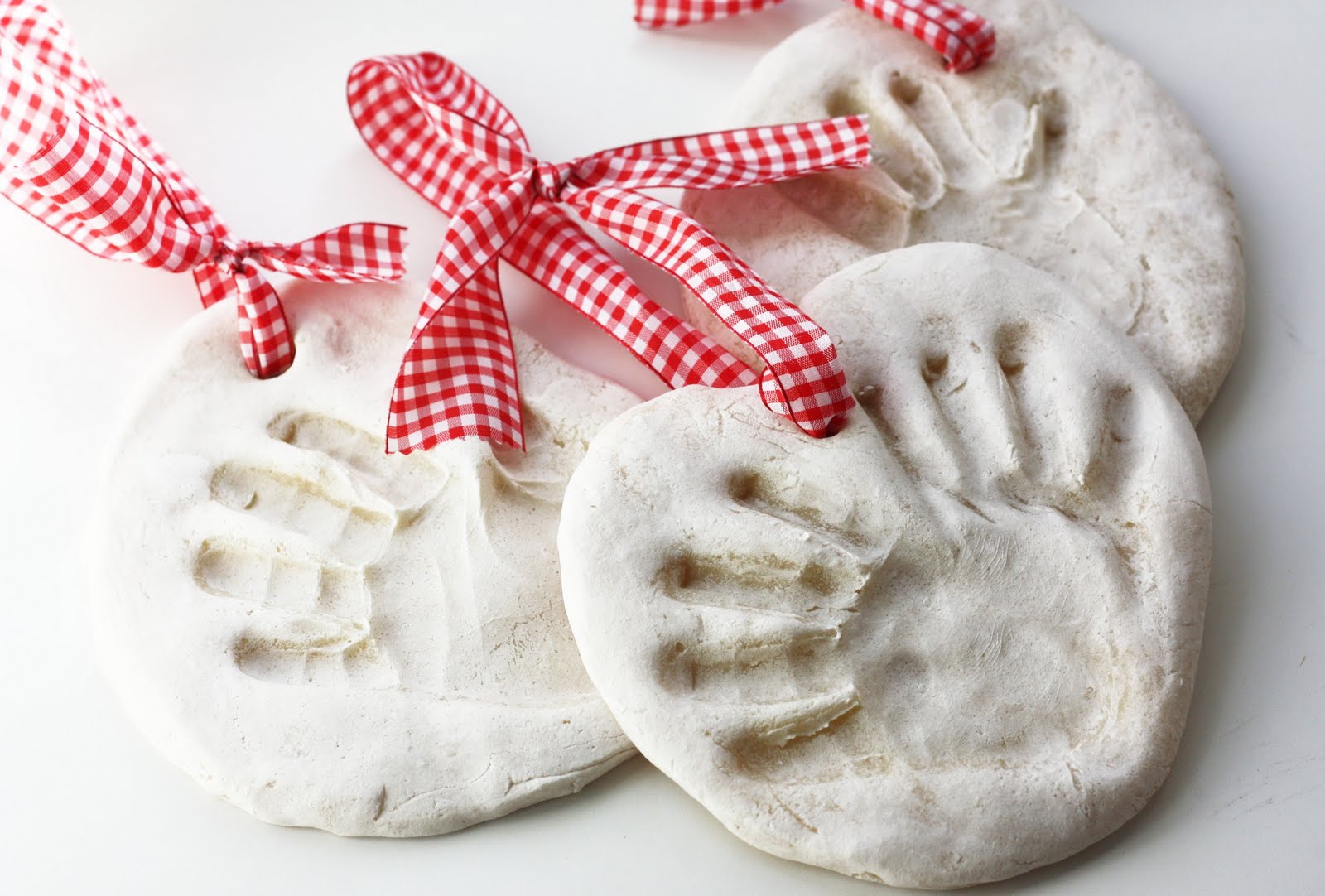 Hopefully you've taken advantage of UrbanSitter to score a sitter or two so you can get out to enjoy a holiday party or take care of some shopping without the kids. Why not make it fun for the kids and a little easier on the sitter by leaving them with instructions and supplies for holiday crafts to tackle together?
We've selected four crafts that will score big points with kids and are simple enough as to not to stress out the sitter. What's even better? These crafts make awesome homemade gifts. Your kids will love wrapping their masterpiece and will beam with pride when they deliver it to a lucky recipient this holiday season.
Our top four, fun-to-make, homemade gifts, along with instructions and a handy shopping list for each:
Those tiny hands, whether they belong to your newborn or your 7-year-old, won't last for long. These classic handprint ornaments made with salt dough are an adorable, touching way to cement a moment in time.  You'll cherish them so much, you won't want to give them away… so have the sitter and your kids make one for you, too.  Click for instructions.
Here's what you'll need to leave the sitter:
4 cups of flour
1 cup salt
Food coloring
Large Mixing Bowl
Cookie sheet
Canola oil
Small rolling pin
Drinking straw
Ribbon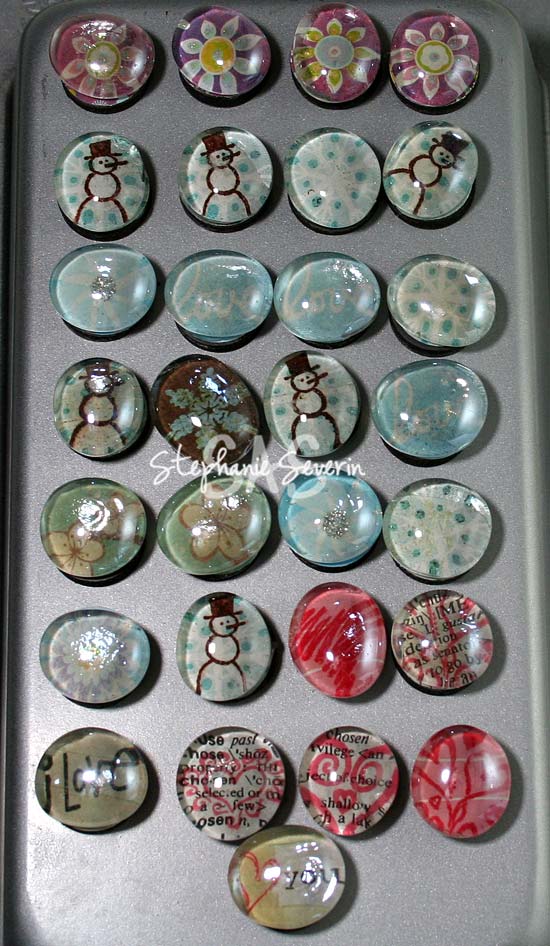 This is a good project for bigger kids who have better focus and dexterity than their younger  siblings. Half the fun of the project is hunting down tiny pictures to fit on the back of glass pebbles. Good places to search for images include: scraps of wrapping paper, Christmas cards, homemade drawings, and thumbprints made with a stamp pad. Simply cut out the image and glue it right side up to the flat side of a glass pebble. Once dry, glue a magnet to the back of it. The blogger gives you more detailed instructions, and lots of photo for inspiration.
You'll need the following, available from a craft supply store:
3/4 inch circle punch
Glass accent marbles/pebbles
Adhesive
Stamp pad
Craft paper, wrapping paper, cards
¾ inch magnets
3. Chocolate-Dipped Pretzels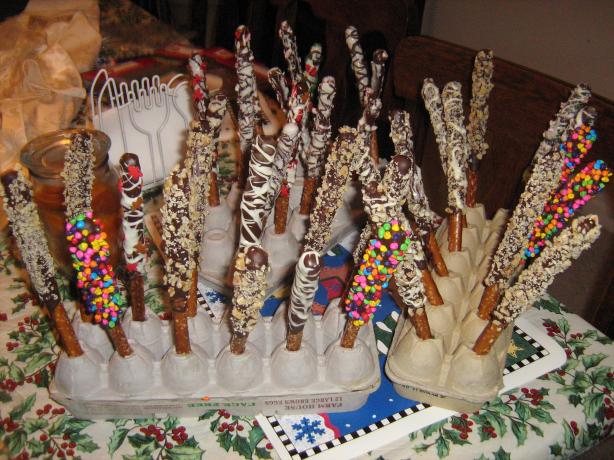 This is a yummy cooking project for kids of various ages.  Everyone can help break up the chocolate; older kids, with the help of a sitter, can dip the pretzels into melted chocolate (candy canes work well for dipping, too); and little ones can sprinkle and/or roll pretzels in crushed candy, sprinkles, nuts or coconut. There is no shortage of recipes for this one, but here's a favorite of ours.
You'll need:
Pretzels rods or candy canes
Chocolate chips or melting chips
Candy, sprinkles, nuts, coconut – anything you want to roll them in
Wax paper for cooling pretzels
Holiday Cards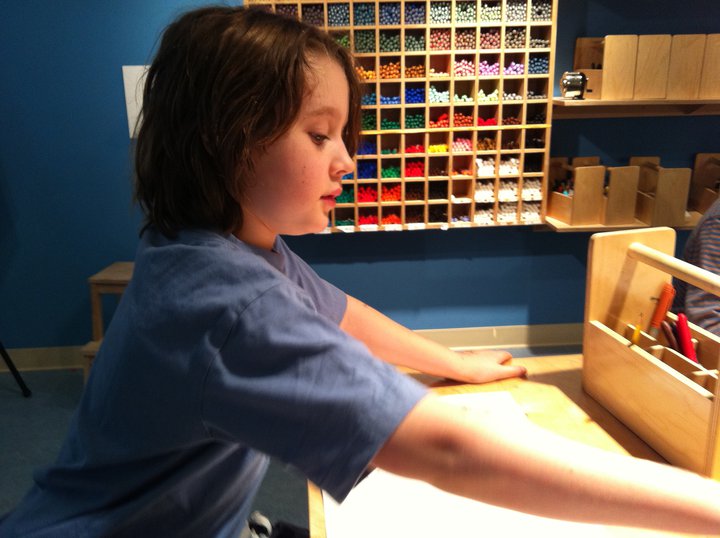 Here's a good project for preschoolers. It's a DIY holiday card using their handprint and finger paint. The instructions recommend using washable finger paint because it's thicker and of course, easier to clean up than the real deal paint. You simply help kids coat their palm in paint and press it onto the front of cardstock to make a Christmas tree or menorah. You can use other colors and fingerprints to decorate the tree if you are making a Christmas tree print, or for the flames on the tips of the menorah candles.  It's a simple project that requires few materials, and  produces great results.
You'll need:
Finger paint
Cardstock
Paint brush
Pen
Have you found other holiday crafts for kids that your kids are going ga-ga for? We'd love to hear about them. Please share with us!