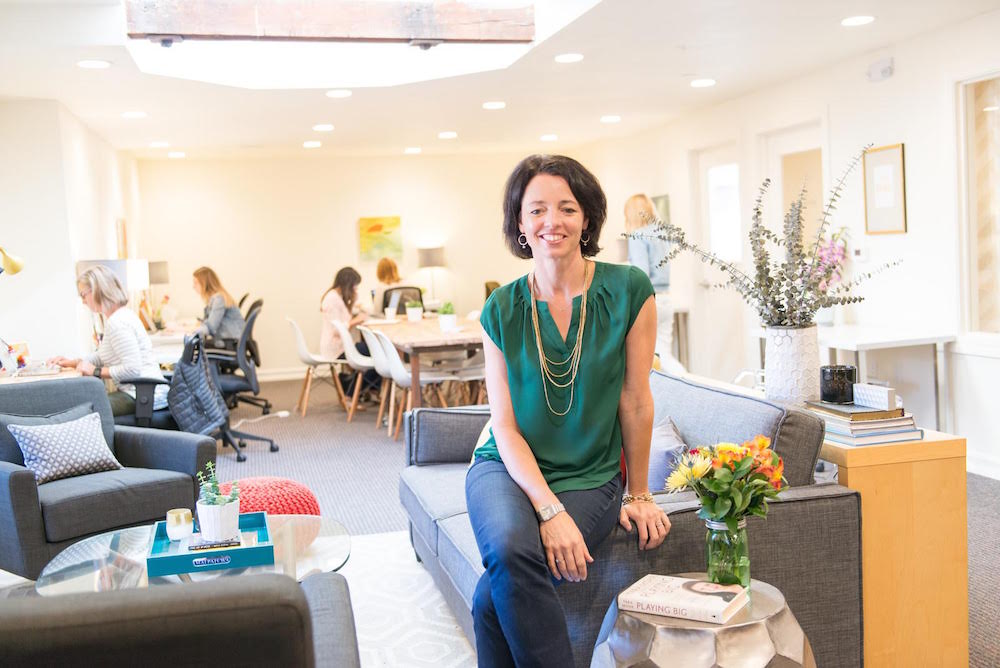 By Lela Nargi
What does a mom who's eager to get back to work—or start a new chapter of her worklife— want for the holidays? If she lives within striking distance of Mill Valley, CA, no doubt she wants a membership to The Hivery, a two-year-old cooperative workspace, where women can meet and brainstorm whatever comes next in their lives. Mothers helping mothers is a concept as old as human society, and in this newest iteration, many other like-minded organizations have sprung up across the country. But to find out what's so important about this sort of community, and why its time has so assuredly come, we caught up with Hivery founder and former ballet dancer Grace Kraaijvanger.
Where did you grow up and what was the worklife that was modeled for you? I grew up in a house full of girls; I was the oldest of four daughters. I am very close to my sisters, Emily, Maggie, and Abby. My dad was a pilot in the Air Force so we moved every few years. I grew up having to be flexible and make new friends often. I think that has served me well as an adult as I'm not afraid of change. My mom worked when I was younger and then stayed home later in my childhood. She was my hero as she was the perfect blend of a progressive, modern woman, but she also loved and respected her role as our mom. She passed away four years ago and there isn't a day that goes by that I don't miss her. She was a huge inspiration for me in opening The Hivery, and caring for her was my biggest lesson in not waiting on the things that make us feel vibrant and alive. I hope to pass on to my kids—Jane, 12, and Ben, 10—the unconditional love she gave to me and my sisters, as well as her sparkle, zest, and her feisty humor.
What's your own work background? I studied marketing at the University of Arizona. I received a dance scholarship there and was thrilled to be part of their dance department. Ultimately, I received a degree in marketing, and my first job out of college was in the marketing department for a big tech firm, but I missed the community of dance and the arts. I created a marketing consulting firm so that I'd be able to pay the bills with marketing work, and still rehearse and perform with amazing professional dance companies and choreographers in San Francisco. I felt like I was able to blend business and the arts, by melding two very different careers. The Hivery was a further extension of creating a vibrant, creative community, with a business that serves a very specific need. I knew that women are seeking connection with other vibrant women, and that we all want to create meaningful work that fits into various stages and responsibilities within our lives. The Hivery is a place of creative connection and support, in addition to being a gorgeous, vibrant, co-working space for women.
When I became a mom, it became even more apparent to me how much we seek connection and support from other women in our community. We need to know that we aren't in it alone, both as moms, and outside of motherhood. We need to know that it's okay to want to create something meaningful for ourselves, and that we can count on other women to empower us to do that in a way that feels authentic.
How do you see this happening? At The Hivery, we talk a lot about cultivating what's next for women. We provide programs and workspace for women to explore their next career, start their own business, or create work that works in their lives. I'm in the lucky position of getting to hear from women about what inspires us, and also what scares or stops us from doing work we truly want to do. The Hivery isn't just about a place to work (although we have created a stunning place for that) but it's also about connection and the idea that whole is greater than the sum of the parts. The Hivery is founded on a firm belief that together, women can do anything.
Do you have plans for your second year of business and beyond? We certainly have plans to expand The Hivery, with new locations opening in 2016. This first location has been a beautiful guide for us on what women want and need to create work enlivens them, and how to clarify what's next for them. We have women asking us constantly when we will open The Hivery in their area, and our answer is SOON! We are thrilled to have received such support and momentum, and we know that this is part of a movement for women to support and empower each other.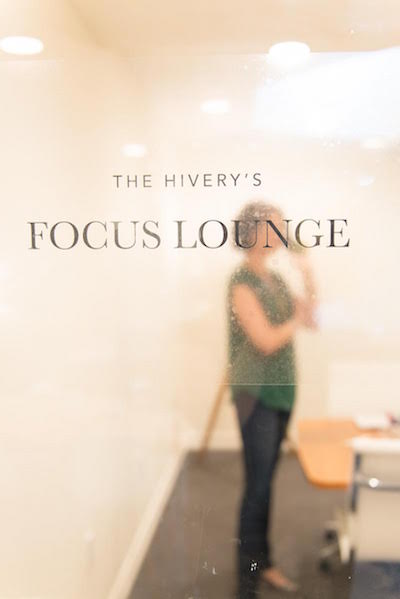 What's your family life like? We live in Mill Valley, California, just over the Golden Gate Bridge from San Francisco. I am in love with where I live. We are surrounded by redwoods and stunning hiking trails, yet can be in the energy of San Francisco in just 15 minutes. I feel so fortunate to live and build my business here. We lead busy lives like so many parents in our time, but we love taking it slow, too, and spending the day at the beach or taking a long hike together. Both my kids love to surf, ski, and mountain bike and I love that they can take advantage of all those things where we live!
When I need an urban fix, we hang out in our old neighborhoods in the city, the Mission, and wander the eclectic and creative streets of Valencia Street. As a lifetime dancer, I never tire of seeing professional dance, and love taking the kids along when I can. I think that seeing other artists in action reminds them of the creativity and potential they have inside, as well as broadening their minds to all that humans can do!
Photographs courtesy of Grace Kraaijvanger