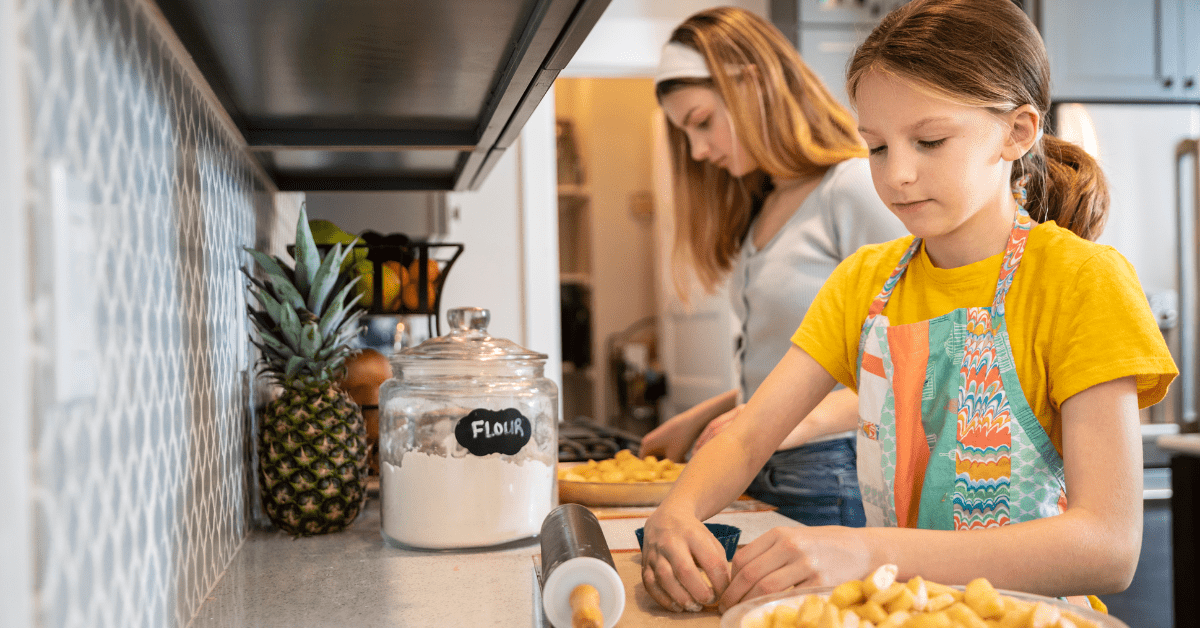 If you're like millions of others around the world, the start of the New Year marks a new or renewed commitment to healthier eating for you and your family. Here are some helpful, quick and easy tips to help make your resolution a reality that sticks.
8 Resolutions for Healthy Family Eating
1. Buy what's in season
Fruits and veggies that are in season simply taste better and often have more nutrients than produce that's traveled long distances to get to you. Using what's in season – greens and citrus are in season now – is the best choice for you, your budget and your environment.
2. Cook quality in quantity
This goes for meals – such as making a big batch of veggie lasagna or a large pot of soup that provides enough for at least two dinners – and for making batches of dishes that can be pieced together for quick and easy meals throughout the week. Make a big pot of lentils, brown rice or any other grain when you have a spare minute, and keep it in the fridge along with fresh fruits and veggies you prep once and have at the ready all week.
3. Buy in bulk
Beans, nuts, grains and dried fruit can all be purchased from the bulk bins. They are hearty, reliable staples that can be turned into meals in minutes. Keep them on hand and you'll always be ready to whip up something good for your family.
4. Eat less white, and fewer refined grains
If you haven't already, make a commitment to switch to whole grain bread, pasta and rice. If you're nervous about sneaking the change past your kids, try mixing brown rice with white, gradually adjusting the ratio of brown to white until the darker wins over.
5. Incorporate more texture and new tastes
If your kids are like ours, introducing them to new foods is often a recipe for disaster. No one wants to toil at a new meal only to have it met with great protest, aghast faces and turned up noses. Instead of throwing something totally foreign at your kids, start by introducing a bit of new texture and taste along with a tried and true meal. For instance, sprinkle some chia or flax seeds into the breading you use for chicken tenders, sneak some greens into a favorite smoothie, or simply add a new, in-plain-sight veggie to your child's plate, casually suggesting she try your tasty new find.
6. Plan ahead
Nutritional experts say that meal planning is a crucial component to consistently providing your family with healthy, filling meals. Planning ahead is also friendly on the family budget. If you'd like someone else to do the planning for you, check out Yummly. Yummly lets you search through thousands of recipes based on super-specific filters like prep-time, flavor profiles, allergies, special diets, and more.
7. Commit to fewer restaurant meals
With restaurant meals, you never truly know what you're getting. Chances are, the meals aren't always as healthy as they are described on the menu, and chances are even greater that the kids' meals are even worse. View dining out as a treat – book a babysitter and make a night of it – and keep a standby list of local restaurants that commit to healthy meals to call when take-out is your only option for getting food on the table.
8. Get your kids involved in meal planning and preparation
It's true that kids are more likely to eat what's on their plates if they helped to put it there. Start talking to your kids about good food and how it grows while they are young, and keep at it by starting your own garden, visiting farms and letting the kids help choose new fruits and veggies at the farmer's market or grocery.
Remember that how you eat is how you live, and how you live is likely how your kids will live. Giving them good food and healthy habits now will be a gift that lasts their lifetime.
Search for babysitters and nannies who can help cook healthy meals for the kids at UrbanSitter.