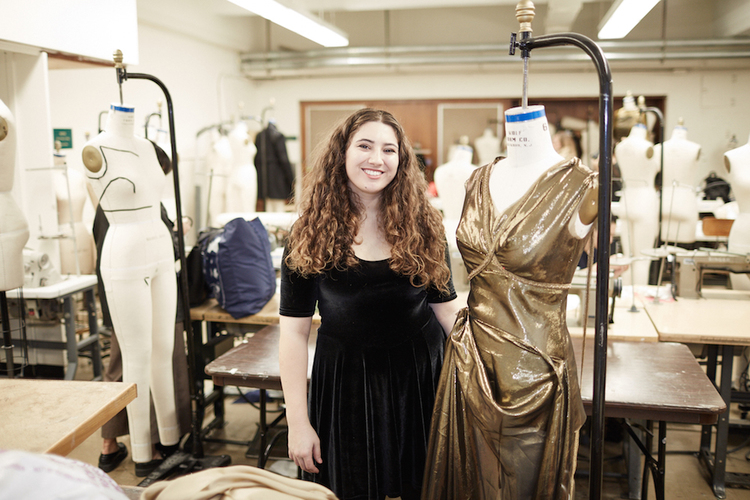 Our childhoods shape us and prepare us, not only for our own lives, but for the joys and values we'll pass on to others. 
As told to Lela Nargi
My parents first started letting me come into the city from the suburbs of Red Bank, NJ, when I was about 16 years old. I'd already known I wanted to be a fashion designer since I was 9 years old—it was either that, or a lawyer, or a dolphin trainer!
But in 2011, I saw the Alexander McQueen exhibit at the Metropolitan Museum's Costume Institute. That was so breathtaking and beautiful and weird, it really got my mind going, especially this gold coat made of feathers. I'd already taken some classes at the Fashion Institute of Technology (FIT) in high school, and life drawing classes, which got me interested in the science of the body. And in 2012, I moved into the city to study fashion.
The only other person in my family who can sew is my aunt—she helped me make my prom dress. And my grandfather was a tailor, although I never got to meet him, but I guess he's where I get my talent from. Originally, I wanted to go into costume design but as time went on I realized intimates was the field that interested me the most. Intimates are hard. There are so many things a bra is supposed to do; you have to keep all the utility elements while still making a thing you want to wear. That's challenging, but fit is the biggest struggle. Eventually I want to have my own company—I wouldn't mind being the next Agent Provocateur! And I'd like to do lines that cover a bigger spectrum, with more options for women of different sizes. At the moment, though, I'm a sophomore at FIT taking about nine classes a semester, and I also intern at an international wholesale company that specializes in pajamas and intimates.
I started babysitting when I was 11, for my neighbors who had 4 kids: twin 1-year-olds, a 4-year-old, and a 6-year-old. It was insanity, but it was the best crash course I could imagine. I've been babysitting ever since. I started sitting for UrbanSitter when I moved into the city. I love it, and I always need money, because living in New York is so expensive. Plus, being away from my family, I get to be with other people's families, which is really nice; it gets lonely being in the city by yourself.
Fashion has taught me a lot about patience. If you work too fast you make mistakes and then have to do it 10 times instead of once or twice. I've learned to slow down and think about what I'm doing, which also helps me in babysitting. Working with children, you have to take a step back and hear what they're saying to you with their words or their actions. You have to be patient to grasp what they're telling you.
Photograph of Jess by Roy Beeson