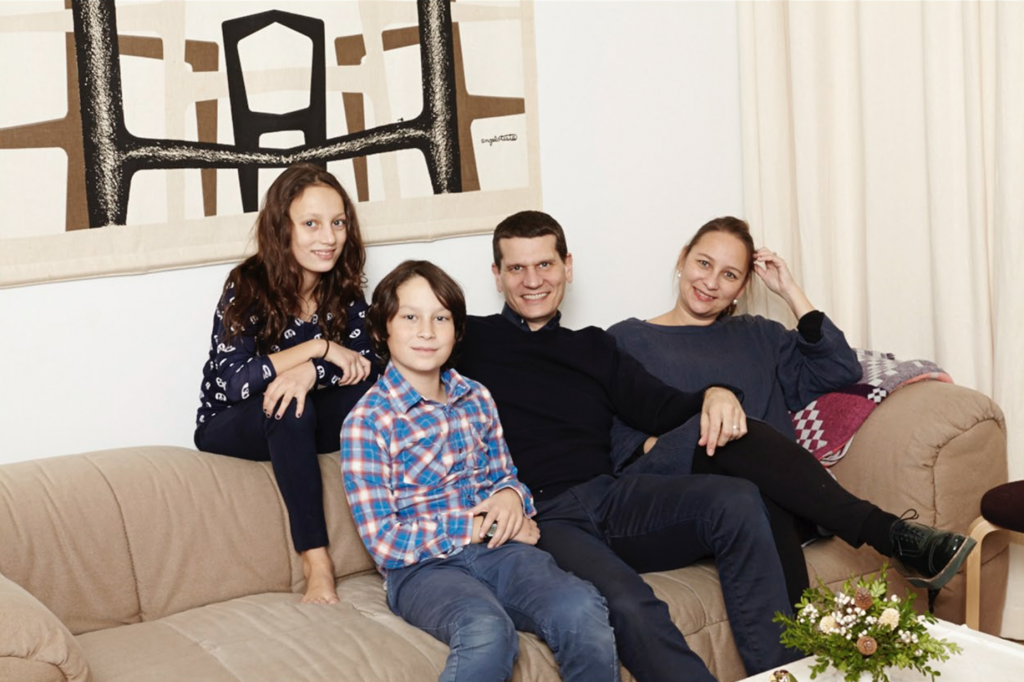 By Lela Nargi
What do two architects want in a NYC apartment? "We were looking for a big loft in downtown Manhattan," recalls Jennifer Hanlin of the move she and husband Chris Cooper made in the late '90s after graduating from Harvard's Graduate School of Design. "It turned out, that's only for people on Friends."
What she and Cooper got was a "teeny-tiny" apartment on Tompkins Square, followed up by a larger space near Gramercy Park that was still too small for the two cribs Hanlin tried to wedge in when she was pregnant with the couple's now-11-year-old twins, Mia and Felix. So, they plotted a course for Brooklyn. At the time, it offered more room for less money, along with a distinctly family-centric vibe. Nevertheless, "We went kicking and screaming the whole way," says Cooper.
But how their anti-borough sentiments changed. Having found a unique, high-ceilinged apartment in a 1920s school building in brownstone-lined Cobble Hill, Cooper, an architect at Skidmore, Owings & Merrill, and Hanlin, who runs her own interior design studio, Hanlin Design, have more than settled in. "We've become so committed to this neighborhood," says Cooper. "There's a real community here, centered around a school and restaurants and markets. It has a suburban aspect in an urban setting."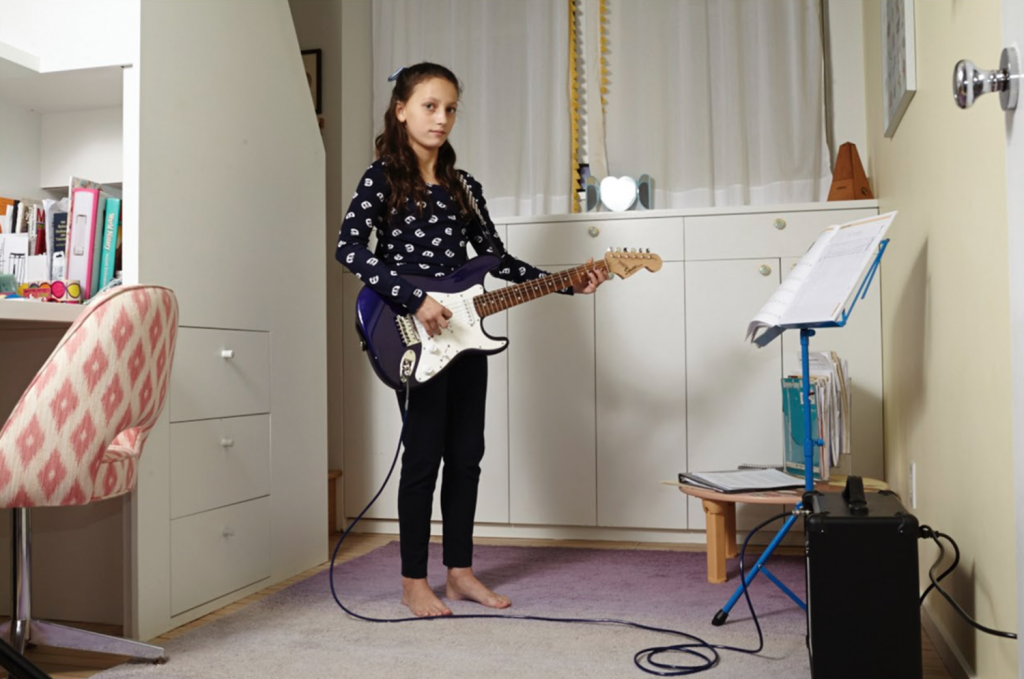 For Mia and Felix, that adds up to a lot of recreational possibilities, all within walking distance. "My friends' houses are close-by, like within five blocks," says Mia.  "And I love Farmacy—that's an old-fashioned soda shop that has milkshakes and root beer floats, and if you wear one of their T-shirts when you go in, you get a free egg cream." The shop has become a favorite of many locals since it opened in an abandoned apothecary in 2010, after its renovation was undertaken—for all the world to see—on the Discovery Channel show Construction Intervention.
Felix is a regular at game shop Brooklyn Strategist, a popular weekend and afterschool haunt for neighborhood boys, especially. To hear Felix describe it, every Friday night features a cut-throat draft for a "Magic: The Gathering" tournament. "It fills up pretty fast," he says, eyes wide. But the effort is worth it: "You can win Magic cards that you get to keep." Felix also cites the rare-for-the-neighborhood parking lot that fronts their building as a fortuitous feature, especially in winter: "We can go down there and make snow forts and have snowball fights," he says.
Hanlin quickly discovered that the neighborhoods surrounding Cobble Hill have everything a design studio could want, resource-wise. "What's available locally is amazing," she says. "There are four workshops in Red Hook and the Navy Yard that I use for upholstery, furniture restoration, fabrication of mill-working and built-ins. Right now I'm working with a guy in Greenpoint on a caning project. No one offers that kind of customized craftsmanship in Manhattan anymore; it's all been pushed to Brooklyn."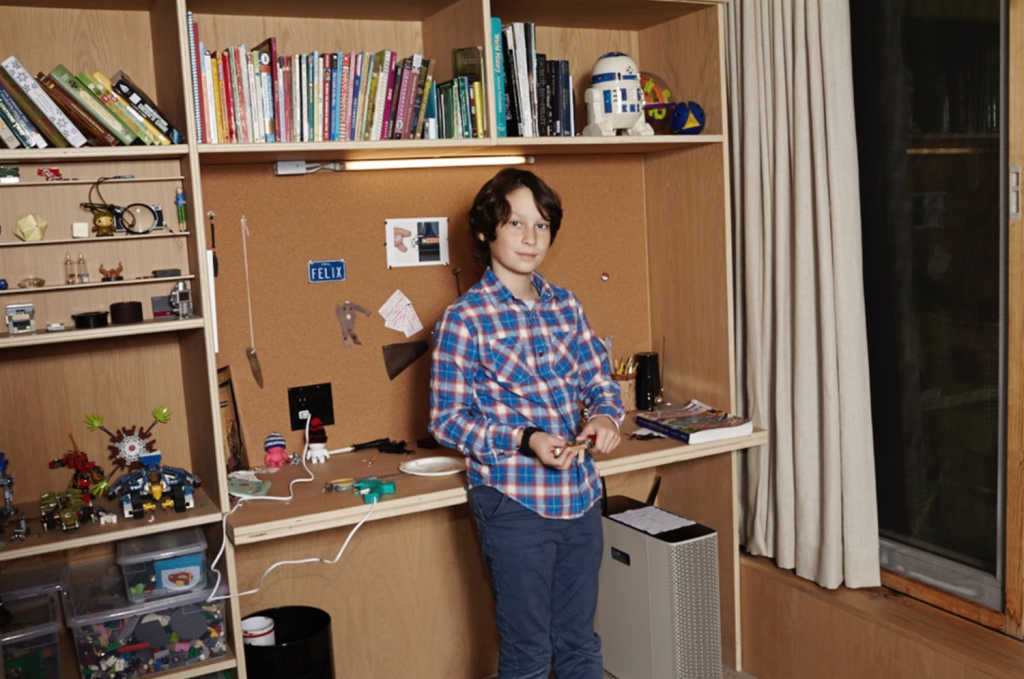 Recently, she and Cooper had cause to use some of these resources on a personal project. This was the renovation of their apartment, which Cooper says is further proof of how dedicated they've become to this neighborhood he once feared was "too compact" to feel like home but which he now regards as just right. With the kids growing, he says, "It was important for everyone to have their own space, with its own identity." For Felix, that meant walls of storage to accommodate his collections of Lego and minerals and old keys. For Mia, a "floating nest" of a loft bed and proximity to the art closet were paramount among her needs. For themselves, Cooper and Hanlin were looking to create a soothing environment that harnessed the copious natural light pouring in from high windows, as well as lots and lots of storage.
They collaborated heavily on the project, which took seven months and shows a style influenced by Japanese aesthetics—everything tidy and tucked-away. Says Cooper, "I came up with the spatial infrastructure and developed the compact organization of the rooms. Jen itemized everything we had and accounted for where it would go." Hanlin also focused on developing a neutral color palate throughout the space, which twists and turns up and up and eventually, in Felix's room—a sort of tower that tops the whole space—leads out on to the roof. Cooper continues, "We got rid of almost all our furniture and focused on built-ins and a few carefully placed pieces to set the tone. That allows us to live in a small space and not have it feel small."
It's not the first time the two have teamed up on a project. Cooper was senior designer for the new 7 World Trade Center building. Hanlin recommended the artist for the lobby piece: Jenny Holzer, who works largely with LED displays. "A lot of artists were being considered," says Hanlin. "But some of them had a less New York voice." Holzer's scrolling 65′-by-14′ wall of text in the building lobby is all New York. It features a continuous scrawl of poems and prose about the city, by writers as diverse as Walt Whitman and Allen Ginsburg. "It's just a great piece of public art," says Cooper.
At the end of a fast-paced day of designing sleek, modern buildings in ever-cacophonous Manhattan, Cooper says it's a relief to return home to mellow Brooklyn. "I walk a mile from the subway to the house and I find myself thinking, We are so lucky," he says. "There's a different pace here, and I like the smell of the nearby harbor, and seeing the seagulls." He pauses to take a phone call: His downstairs neighbor needs help moving an enormous fish tank. With a genial smile, Cooper pulls on his shoes and leaves to offer his assistance.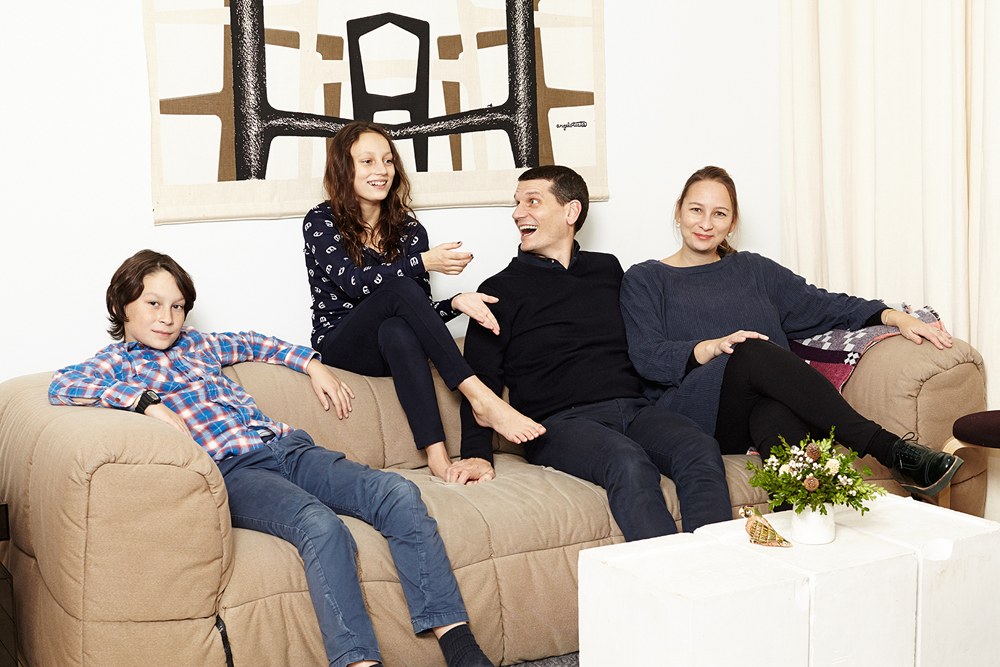 Photographs by Roy Beeson