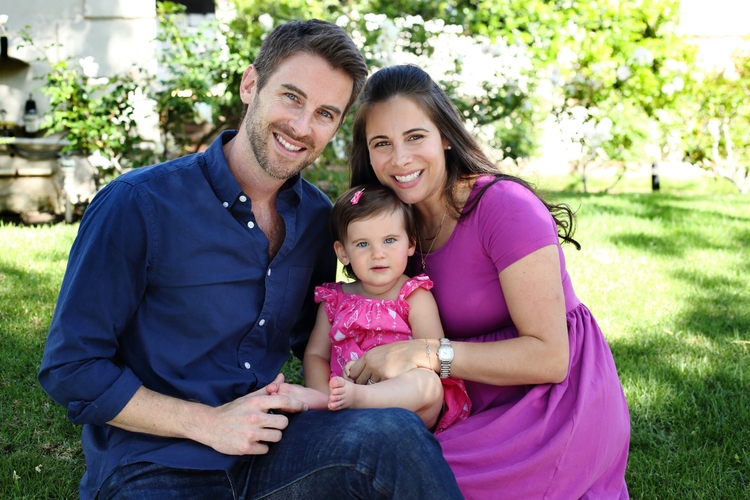 By Dawn Van Osdell
What better way to satisfy a craving than to share it with others? Rana and John Lustyan did just that with the creation of Edoughble, their Los-Angeles-based company that produces raw cookie dough—in flavors like Birthday Bash and Snicker Dude—that's meant to be eaten right out of the container.
"I have a crazy sweet tooth and I grew up eating cookie dough despite the dangers that came with the territory," says Rana, who realized that her preference for eating the dough before it was baked was far from unique. With plenty of restaurant experience, including a stint as a pastry chef at Wolfgang Puck's Spago in Beverly Hills—Rana and her husband, John, a business development director at DreamWorks Animation, created a recipe for eggless cookie dough that's safe to eat—just as is—without fear of foodborne illness.
Soon after they launched their business in 2013, their first child, Riley, was born. She was a fan of the tasty treat from her first bite. In fact, "She cried when I wouldn't give her a second bite," says Rana. Just two months ago, a second daughter, Emma, joined their happy clan. Read on to learn about the sweet life of this family of four on LA's Westside.
Rana: I quickly realized when Riley was born that I can't work from home and take care of a baby at the same time. As a small business owner and a mom, I'm stretched pretty thin but like all moms, I make it work. I have a part-time nanny and my mom to help me take care of Riley and Emma. I do all office work and customer service from home or by cell phone on the go, and John and I work together at home at night and on weekends on more creative tasks related to the business. We have a production kitchen where we make all the dough and taste each batch. We're getting ready to launch a Pumpkin S'mores cookie dough and starting to play with Peppermint for the holidays.
John: I'm currently employed full time in the entertainment industry—outside of Edoughble. When I have on my Edoughble hat, though, I'm focused on broader business strategy, marketing, and brand development. And I'm the dedicated lifter of all heavy sacks of flour!
Do you consider yourselves foodies? 
Rana: We are total foodies! John loves all the food competition shows and tries to be Gordon Ramsay when we go out to eat—being overly particular about tastes and textures. I love to examine the plating, service, and creativity and seasonality of the menu. Having worked in the front and back of plenty of restaurant kitchens, I know what hard work is involved with running one and I can really appreciate a good meal out.
John: Rana's life revolves around planning meals and I am no way close to her foodie level, but I consider myself pretty particular about food. She's always teasing me and telling me I should be a critic on one of those TV shows. Where I savor a bite of S'mores Cookie Dough and talk about how great the texture of the graham cracker is, she's already on her fourth bite!
What are your favorite local restaurants and markets?  
Rana: We love brunch with the girlies on the weekends at Little Door Next Door; Cafe Midi, where we can sit outside; and Milo and Olive and Huckleberry in Santa Monica.
Grocery shopping is also something I look forward to every week. I enjoy different markets for different things. When I want to explore new products, I go to Bristol Farms and Whole Foods.  When I want ice cream, I head to Gelsons, which carries a great selection. For house staples, I run to Trader Joes.
John: I have a ton of favorites, but really love Milo and Olive, too; and Pace in Laurel Canyon. A staple of ours is Bandera, where Rana was the general manager for a while.
What about your daughters; are they foodies, too? 
Rana: Riley is almost 20 months and is obsessed with sweets. We try to keep her meals balanced, and she has shown a preference for foods like sushi, Thai and Mediterranean—which makes me happy. We lucked out with her eating. She definitely has preferences, but she is not a picky eater.  We'll see about Emma when she is old enough to eat solids.  I'll keep my fingers crossed!
Are you a dessert-every-night kind of family? 
Rana: During pregnancy and while I was nursing, we were.  Now that Emma is eight weeks old, I'm trying to move to every other night. We love ice cream with cookie dough—I've created a Pinterest board to collect all my favorite ways to eat it: milkshakes, parfaits, and brownie bombs.
How do you balance all those sweet eats? 
Rana: My philosophy is everything in moderation—I can take a bite here and there. I have the discipline to not sit down and eat the whole tub of dough, but maybe that's because I am around it all the time.
What's next?
Rana: Two kids under two and a business is quite a challenge! I really want to focus on growing our business. I would love for every cookie dough lover to have the opportunity to grab a spoon!
Photographs courtesy of the Lustyans