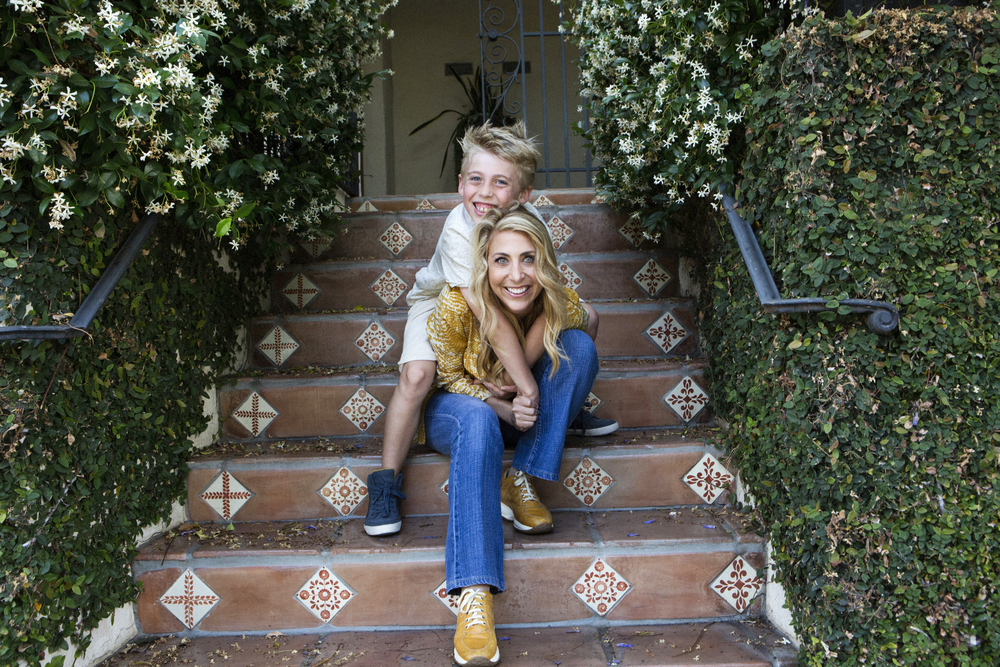 They say it takes a village to raise a child. When Stacy Katz became a mom in 2007, she created her own. A single parent of Bailey, now age 8, she left San Francisco, where she'd been working in public relations since the mid '90s, and bought a duplex in Los Angeles's Westwood neighborhood, not far from where she grew up. Then she talked Bailey's grandparents into moving into the other half of the duplex.
"It's amazing, like something you'd see in Italy or Spain," says Katz of her Mediterranean style side-by-side duplex home, where an interior courtyard connects her and Bailey to his grandparents. "He runs back and forth all day, often eating breakfast and dinner with them." It's a little bit like how things used to be when her own grandparents moved to the States from Lithuania, and the extended family lived on the same street and even shared houses. "Everyone chipped in and everyone benefited," says Katz.  "We have a little bit of that here."
Katz now owns her own public relations and digital marketing agency, Stacy Katz Communications, specializing in digital entertainment, immersive media, and consumer technology clients. After she walks Bailey to school, she often heads back home to work, or meets up with a client—or sometimes even squeezes in a workout. When we caught up with her, her head was freshly cleared from a morning spin class. She talked to us about how she's creating a balanced life, and shares a few secrets to how she makes it all work.
Other than your parents being (very) nearby, is Westwood a family-friendly neighborhood choice?
Stacy Katz: Very! UCLA, my alma mater, is in Westwood, so there's an eclectic mix of students and faculty from all over the world. It's smack in the middle of Los Angeles, which means easy access to both downtown LA—where's there's a big resurgence happening—and the beach.
Do you spend much time at UCLA?
Stacy: There's a lot to do there. Bailey loves to stop for donuts at old-school favorite, Stan's Donuts, in the heart of Westwood Village, on the way to the Fowler, a cool museum on campus with tons of free or inexpensive kids' activities on the weekends; or to a basketball game at Pauley Pavilion. There's a great little secret garden on campus, too. You can easily make a day of it.
Eight is such a great age—still full of wonder, yet old enough to hang out a little later. What else do you like to do together? 
Stacy: I love this age. I grew up going seeing shows at the Pantages Theater in Hollywood, and Bailey's nearly old enough to make it through a show without me having to feed him Starbursts to keep him quiet! We have a pretty good weekend routine, starting Saturday morning with a martial arts class at Little Beast Gym, or sometimes he'll take a class at Rolling Robots, where he's learning how to code in a really fun way. We also love a day at the beach—Helen's Bike Rental staff is awesome at making sure our bikes are in working order for the bike path. We'll stop for lunch at Back on the Beach and play at the Annenberg Beach House.
We're also fans of going to the movies—not the big fancy multiplexes, but the traditional, local Westwood theaters, like the Regent or the Fox, that have been around forever and are famous in L.A. for hosting movie premieres because they look like old school Hollywood. Sadly, they are losing customers to the fancy book-your-seats theatres so we're committed to giving our business to them.  If it's a movie night in Westwood, or a matinee, we like to grab a meal at TLT, which used to be a food truck and has made its home as a restaurant right in the heart of Westwood.
With so much to do around town, do you ever stay home? 
Stacy: We love to stay home and play badminton in our backyard—it's our thing. We're really big Harry Potter and Percy Jackson fans, so we often read or stream a video on M-GO, which has all the newest releases. We'll invite friends over, bring in food from Garlo's Aussie Pie Shop or Panini Cafe, and have dinner on the patio.
Having family around to help must be incredible. Are Bailey's grandparents his built-in nannies?
Stacy: No! My parents both work full-time as lawyers. I've found an incredible male kid sitter who stays with Bailey after school while I work. Bailey adores doing macho things with him, like go-carting, playing dodge ball, or learning to play tennis.
How about when you need a little solo or adult time? What do you like to do?
Stacy: When Bailey is at a play date or with his grandparents, I get a bit of time to myself. I usually head to yoga or Pilates, or to a 30-minute meditation class at Unplug Meditation, to unwind. For a special treat, I'll get a facial or massage from Nerida Joy at the Bel Air Hotel near Westwood. If I get a night out, I love to go salsa dancing with girlfriends, out to dinner at Taninos for great Italian or to Fridas Mexican Restaurant—where Bailey loves to go, too.
Do you think you do things differently as a single parent than you would if you lived with a partner?
Stacy: There's no dad in our house, but I remind my child that there are all kinds of families, and we get to live with his grandparents. I try to create experiences and expose Bailey to different kinds of people doing cool things that I might not be so inclined to do myself. We rented a two-person kayak, which was a lot of work—and I ended up in the water, which he loved! I took him to a Tough Mudder race, where people train and show a lot of character and grit to get through it. It had a "Mini-Mudder course," which he did and loved testing his physical abilities on the obstacle course like the fit adults. It would be awesome to say I did it with him, but…
Last year we learned to ride bikes together. I've had a phobia of bikes ever since I fell head first into prickly bushes full of spiders when I was a kid. I learned that sometimes the best way to teach your child how to do something is to realize you're not the one to teach them. It's important to be able ask people for help or bring in a coach or expert if you are able to once in a while.
It can't be easy running your own business, being a mom and finding time for yourself. How do you do it?
Stacy: I aspire to go beyond just being a professional and a mother, but I don't always succeed. My secret is personal training with Natalia. She has a sweet energy that pushes me when I have it in me, and does a great Thai massage or stretching when I'm exhausted. I don't even have to tell her what I need.
My other key to keeping it together is the two hours of private time I give myself every morning. I wake up at 5:00 am, make my favorite Bullet Proof Coffee and a smoothie and usually read, meditate, or listen to a TED talk. I realized that I'm not very productive during the time after Bailey goes to bed at night, so I go to bed early and get up early. It helps me be present when Bailey wakes up, rather than trying to play catch up, because at 7:00 am, it's on!