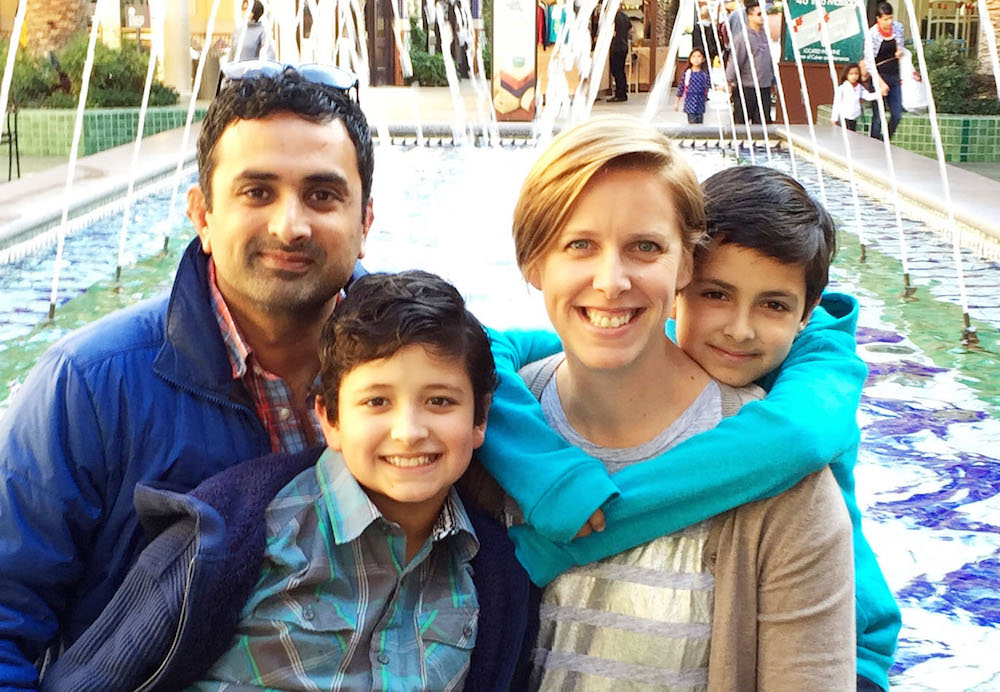 As told to Lela Nargi
Where are you from originally? I spent much of my childhood in the US and then moved back to New Zealand (where I was born) in my tween years. I studied Fine Arts in Auckland, and it made me understand what an important role creativity plays in our lives. I naturally sought out creative and hands-on experiences when my kids were little and realized how limited the offering was to create quality creative moments for kids; I thought there had to be a simpler and more positive experience out there. Kids are so excited and curious around exploring what they can do with their own two hands, I really wanted something that fully supported that spirit. So, I created [activity kit site] Seedling!
You're living in L.A. with your family now. What made you choose this location? My husband, Suraj, and our two sons Kieran (age 12) and Ashwyn (age 10) moved back to open a US office for Seedling. I have been humbled and thankful for how supportive my family has been around this. We choose L.A. because it is still close to home but has everything Seedling needs to succeed: great talent, an inspirational startup community, easy access to the rest of the US and our favorite venture capital investors. We just visited New Zealand for the holidays and our favorite thing is seeing all our wonderful family, closely followed by the food which we ate far too much of! We often have family visiting and the handy thing is that L.A. is a stopover for many New Zealanders traveling around the world, so we get to see a lot of family and friends throughout the year.
We love living in Southern California, because we really enjoy the opportunities our kids have to experience the diversity of communities. Just going in any direction 20 minutes puts us in a different culture we love exploring. When my family visits, we love taking them to the beaches and eating at our favorite restaurants; when we go to New Zealand, we love visiting the beaches and eating at our favorite restaurants. I guess we are creatures of habit.
What's a typical day like for your family? I get to enjoy breakfast with the kids before getting on the train to go to work. My husband takes the kids to school and then their sports in the afternoon, while I work through a day of meetings. We enjoy dinner together most nights, if the kids' sports schedules allow it.
On the weekends, we usually have some kind of sporting commitment but when we don't, we love to go on walks, play tennis, go to the beach, or hang out at home doing our own projects. My kids love to read and build things, I love to read and paint, while my husband enjoys tennis and catching up on current events. I also love taking photos of my favorite people so there are photos all over our house; actually, we all enjoy our creative moments so there are works of art all over the place (even my husband, who doesn't think he is creative, has a masterpiece on the fridge)
When we get the chance to go a little further afield, we love experiencing new communities, a few of our favorites are Laguna for the arts festivals and San Juan Capistrano for the amazing mission village but we're still discovering so many spots!
Are there any issues that are really important to your family? Supporting our communities at a local level is important to us and you'll often find us volunteering at the various sports and school communities that we belong to. Without this level of support, kids wouldn't have the opportunities they have and we are big supporters of opportunities for kids both in our personal and professional lives.
And what about Seedling—what's in store? Big plans! There are so many ways that kids love to play and we're focused on supporting it in many forms. If we can imagine an open-ended play opportunity, we plan on building it and bringing it to families around the world. 2016 will see some very big product releases for us and we're super excited about it. Watch this space!