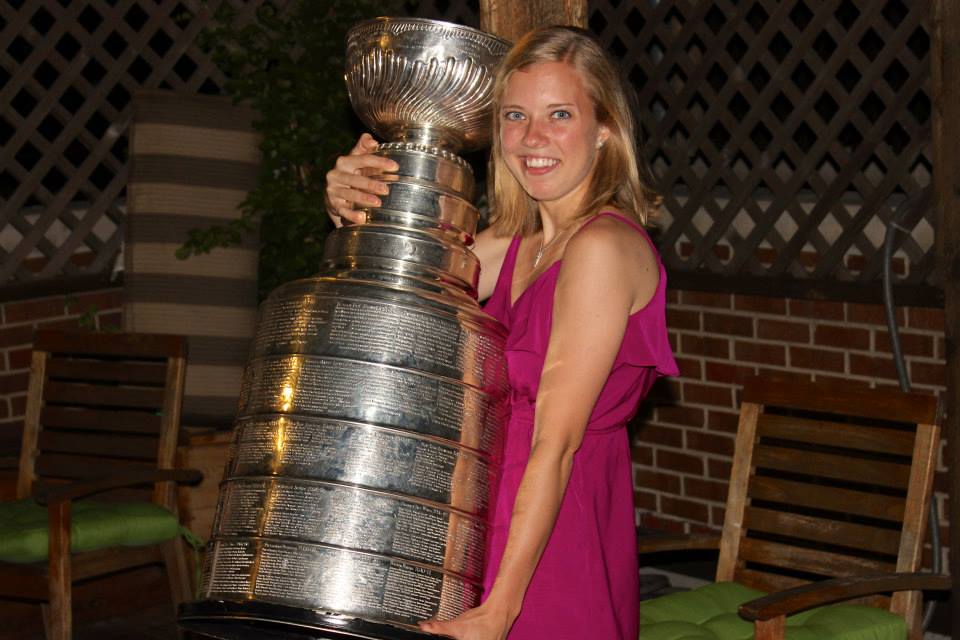 As a pediatric nurse practitioner at the top hospital in the US, Katie makes her living helping children. Since joining UrbanSitter in 2015, she's expanded her services to include babysitting for some of Boston's coolest families. A lifelong Chicago Blackhawks fan, she says she uses her own passion for sports as a tool for connecting with new families and kids, and loves babysitting because of the lasting relationships she builds with families.

A Chicago-native, Katie recently moved to Boston to attend graduate school. Here, she tells us more about her life as a nurse practitioner, her passion for helping others, and what she loves about living in Boston.
You're from Chicago originally. What brought you to Boston?
I came out here to go to grad school at Boston College, where I studied pediatric nursing.
Tell us a little bit about your work as a nurse.
I'm on the inpatient general surgery service as a nurse practitioner, and I manage children ranging in age from hours old to well into their 20s. Patients come from all over the world to have the surgeries that our hospital offers. My job mostly entails before and after surgery; getting patients prepared for the operation and making sure they are healing appropriately afterwards. At the end of the day, you have this goal of doing something good and changing a child's life for the better. It can be hard, but it's also really rewarding.
As a pediatric nurse and a babysitter, what is your schedule like?
I work four shifts of ten hours a week and then every fifth weekend, so I have random periods free time during the week. I have a lot of families that I sit for regularly, and I'll send them my work schedule and they'll work around it. A lot of families I babysit are not typical 9-5 families; they're doctors or lawyers and so the changing hours work for both of us.
Can you tell us a little bit about some of the families you sit for?
Boston is such a big city and so the families you meet are all very unique. I have babysat for dozens of families in Boston; some just once and some regularly. I've built relationships with parents who are professors, prosecutors, doctors, stay at home moms, and families traveling together for vacation or business who need a break from their kids.

Each family is unique and I enjoy the challenge of having to adapt to each family. I have one family that doesn't even have a TV and another family that is fine with just giving the kids the iPad and letting them entertain themselves.
How did you first get into babysitting?
I was probably 12 when my neighbors asked if I could watch their kids for a few hours. I did it all through high school, and it was never about the money but more about helping out families that I knew. I've always loved kids! I was also a hockey coach in Chicago. I had a family that I met when coaching hockey and I loved the kids so much that I would have offered to sit for that family for free.
How did you first discover UrbanSitter?
When I was in grad school, I chose not to work. So when I graduated it was top of my list to get back into babysitting. Before I sat for my nurse practitioner boards, I was working at a prep school summer camp and one of the girls working there told me, "You have to get on UrbanSitter!" I've been using it for about a year now. I babysit maybe 3-4 times a week, and I make enough that I can afford the monthly payments on my student loans.
What do you do in your spare time?
We live right in the heart of downtown Boston, which I think is so fun. Being able to afford to live in the middle of the city and experiencing everything here is so great. My girlfriend and I also travel a lot, which we're very fortunate to do. We'll go skydiving, book an impromptu trip in Europe, or jump on a flight to visit friends across the US. We figure, why not do the fun stuff now?