Fire up your family's patriotism with these fun craft and recipe ideas for celebrating the Fourth of July! We've rounded up two easy 4th of July crafts and two deliciously festive recipes.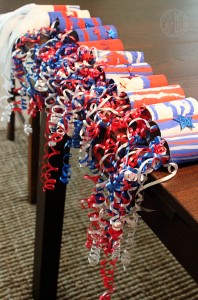 Craft: DIY Patriotic Streamers

Lead your own neighborhood parade in style! Tie some streamers and balloons to your stroller and help your kids decorate their bike or scooter with these DIY patriotic streamers we found on AlphaMom.
Supply list is simple:
1. a pair of toilet paper tubes
2. curling ribbon and/or crepe paper streamers
3. inexpensive water-based children's poster paint in patriotic colors
4. star stickers
5. paint brushes
6. a stapler and/or normal household tape
To create:
Have kids paint the tubes one color –the base coat. (Resist mixing colors since you'll end up with purple or pink instead of the red white and blue theme!).
Once base coat is dry, let them decorate the tube by painting on stars, stripes, flags, hearts, whatever else says 4th of July. And adding stickers, too.
Once everything is dry, staple and/or tape the streamers or curling ribbon in strips to the end of the tubes. Curl the ribbons.
Slip the decorated tubes of streamers over the ends of your child's handle bars, and voila, patriotic streamers!
You'll all have a blast circling the block in holiday style. Blow some horns, shake some noise makers and belt out our national anthem to your heart's content. Your kids will never forget it.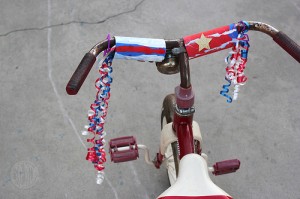 Recipe: Fruity Yogurt "Bomb Pops"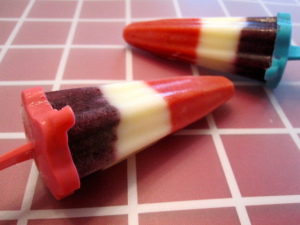 Remember those brilliant red, white and blue popsicles you likely devoured as a child?  They scream patriotism!  Make your own healthy version with yogurt, blueberries and strawberries:
Homemade Bomb Pops (Recipe care of Healthnut Foodie)
Makes 16 small or 8 large popsicles
For the red layer:  Puree 1 pint hulled strawberries with 1/2 cup vanilla yogurt.  Fill popsicle molds 1/3 of the way full with strawberry/yogurt mixture.  Transfer molds to freezer and freeze for about 30 minutes, to prevent the layers from mixing.  (There is no need to put the sticks in at this time.)  Rinse blender.
For the white layer:  When 30 minutes have lapsed, remove popsicle molds from freezer.  Reserve 3/4 cup of the yogurt for the blue layer.  Use remaining vanilla yogurt to fill molds 2/3 of the way full.  Return popsicles to freezer just long enough to prepare the blue layer.
For the blue layer:  Puree 1 1/2 cups blueberries with remaining 3/4 cup vanilla yogurt.  Remove popsicles from freezer and fill with blueberry puree.  Add sticks to popsicles and return to freezer.  Freeze for at least 2 hours.  Serve and enjoy!
Or, you could always throw caution to the wind (after all, it is a holiday!) and go for the ones you used to eat as a kid.  You can find them at Walmart.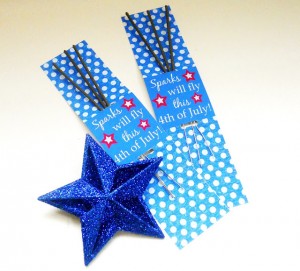 Craft: Sparkler Printables
Light up the night with sparkler favors. Thanks to this free printable, you can turn any ordinary box of sparklers into fun, festive favors for any family or friend gathering. Download the sparkler printables here, and be sure to print them on heavy card stock. Cut a slit above and below the solid blue block and slide a few sparklers through. ** Of course, never leave children unattended with sparklers, and be sure to explain the dangers of fire and the importance of being careful of sparklers before you light them. **
Recipe: Refreshing Watermelon Sundaes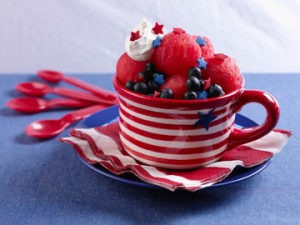 Red White & Blue Watermelon Sundaes
Recipe adapted by Babble from watermelon.org
Use a melon scooper to make watermelon balls (or could use frozen yogurt or raspberry sorbet)
4 cups watermelon balls
2 cups fresh blueberries
1 cup sweetened whipped cream or thick plain or vanilla yogurt
Red, white and blue star sprinkles
Gently mix together the watermelon and blueberries. Divide among 4 sundae bowls. Top each with a dollop of whipped cream or yogurt and sprinkle with red ,white and blue sprinkles. Serve immediately.
Serves 4.
Keep your party going this July 4th by joining your community at a family-friendly holiday parade, fireworks show or festival. Stay tuned for our July 4th Even Guide for ideas and info!
Find mom-trusted babysitters at UrbanSitter.com.