Father's Day is coming up on June 16th! Get ahead of the curve and start the kids on a homemade gift craft project! Choose one of these simple DIY gift ideas, get your kids busy at the kitchen table with either you or a babysitter to lead the charge, and in no time at all you'll have a touching and memorable gift to give Dad for Father's Day.
Terrarium
We can guarantee this awesome gift won't end up stuffed in a drawer or lost by the end of June. A terrarium is a way cool way to add a little green space to Dad's world. These instructions from Inhabitots claim kids can create this in one hour. And it does sound pretty simple – choose a wide-mouthed, clear container; fill with the appropriate soil or sand; plant small succulents or seedlings; and water moderately. For more detailed instructions on creating a terrarium, see The Terrarium Guy.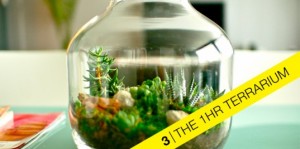 Bright and Brilliant Picture Frame
Dad will be happy to replace the boring old photo frame he has displayed on his desk or bedside table with this customized frame creation. Choose a sweet photo of your child, whether it be a school portrait or a candid shot, and insert it in a simple wood frame. The frame pictured here is from Ikea and cost $2 for 3. Have the kids paint the frames black, and once the paint is dry, mod-podge with bright mosaic paper squares like these from Lakeshore.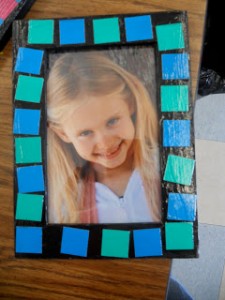 Daddy Questionnaire
Turn a free printable "All About My Daddy" questionnaire into a framed piece of art that's bound to keep Dad laughing for years to come. The framed questionnaire pictured here uses a custom questionnaire created by Mom and filled in with the answers her three-year-old provided, such as "Dad is 10 feet tall and weighs 46 pounds." The completed questionnaire was matted and framed in a simple white frame and decorated with a miniature banner created from craft paper and twine. You can choose the free printable questionnaire we found, or create your own. It'd be nice to add photos, too. And definitely don't forget to include your child's age. It speaks volumes about the thoughtful responses.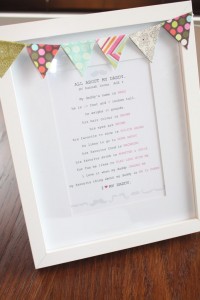 Homemade Sweet Treats
Haven't they always told us that the quickest way to a man's heart is through his stomach? Give it a shot. You and the kids can whip up some yummy Dad's Day cupcakes with this free printable –  super cool #1 Dad toppers, a batch of his favorite brownies, or even a big waffle breakfast. You'll have just as much fun baking the goodies as Dad does gobbling them up. Be sure and make extras for tiny tasters. Need some inspiration? Check out these cool cupcake creations for Dads who like to fish, Dads who like to golf, and for those who simply sport a tie.  All cupcake images found on Pinterest. 

Looking for a crafty babysitters? Check out UrbanSitter.com.