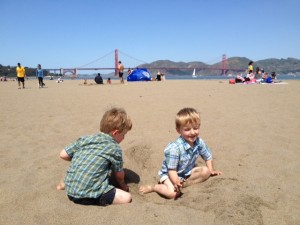 As any San Francisco resident or frequent visitor can attest, Fall is the ideal time to be outdoors in the City. The afternoons are warm and the evening's crisp.
If you're lucky enough to live in SF or are visiting anytime soon, don't miss an opportunity to enjoy the outdoors with your family. Here are parent-recommended spots for soaking up some sunshine and fresh air in SF.
4 Family-Friendly San Francisco Destinations
Sure, the enormous park is an obvious choice for playing outdoors, but there are so many great destinations within the park that you just may have missed. If you haven't already, check out a few of these insider favorite spots:
For those who aren't familiar, this super-accessible park with plenty of wide open space (edged with palm trees) is located two blocks south of Mission Dolores at the western edge of the Mission District. It's biggest advantage over other parks in the city? It's the sunniest spot in SF! Expect a mixed crowd – kids aren't the ones who like open space and sunshine! Do keep in mind that a major renovation is expected to begin this winter, though the playground will stay open throughout the work.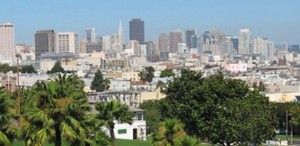 The can't-miss-it bow and arrow sculpture marks the spot for the perfect family picnic. You are a mere 5-minute walk from the Ferry Building where you can pick up all the good eats you need for a delicious family spread before plopping down by the sculpture. While you're at the Ferry Building loading up on refreshments, don't forget to take a minute to gaze at the bay, watch the boats and take in the view. Oh, San Francisco….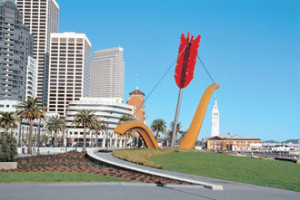 Enjoy an Autumn afternoon at this giant family picnic, held weekly on Sundays from 11 am – 4 pm.  Picnics at the Presidio is located on the Main Post Lawn (Main Parade Ground) adjacent to the Walt Disney Family Museum and the Presidio Trust. Their Facebook page says it best, "You can't say no to a picnic in 75-degree sun, complete with bay views, bloody Maries, hot food, fresh produce, and even bocce ball."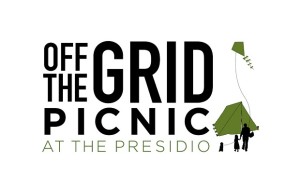 We hope these SF top spots will give you reason to spend a day outside with your family, sneak out for an afternoon with your kids or escape with your spouse while the kids are at home with a sitter! Fall is the time to do it!