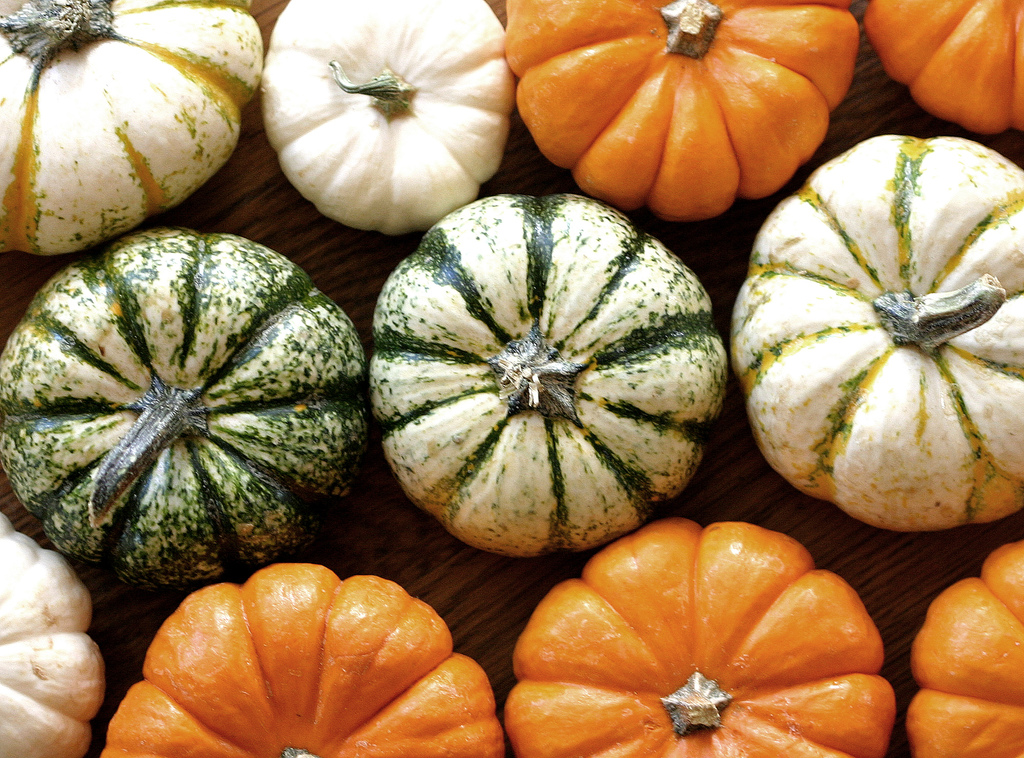 Not the crafty type? All thumbs when it comes to a glue gun and anything DIY, but longing to jazz up your home with a bit of Halloween or Falltime decoration? Have no fear. We've rounded up 5 super cool Pins that make DIY Halloween Decorating a breeze even for the most unhandy of us. Check out our full Pinterest board for more DIY Halloween ideas, including costumes!
Take a look at these fun, festive ideas to bring the season into your house:
These black and white painted pumpkins are ot your average jack-o'lanterns! Think beyond a big, orange pumpkin with triangle cut-outs for eyes.  These guys were created by making a base with white flat acrylic craft paint and adding the spider web or a pattern (like a chevron) with a paint pen (or Sharpee). There's a nifty template if your heart is set on replicating the big beetle.
This black burlap wreath is super simple – just a wreath form, some burlap, a can of spray paint and some letters to paint and glue on. Best part is that it can be customized to fit your style. Keep it cute and simple like this one, go modern rustic by leaving the burlap its natural color,  or go all out Halloween by adding more embellishments.
Glittery spider webs make great decorations for windows or tabletops. They are fun to make and a great craft to get the kids involved.  Redbook tutorial tells you how: Tape 2 sheets of wax paper together and lay them flat. Begin drawing your spiderweb with Elmer's glue (refrigerate for a few hours first so it's less runny) by making an asterisk with 4 lines. Starting at the center, cast a single line connecting each asterisk spoke; continue until the web is the size you want. Pour glitter on top of glue web and let it sit overnight. Shake off excess glitter and let the web sit for another 2 days to completely dry and harden. Using a spatula, gently peel the web off the wax paper.
Bring the outside in with this pretty idea for your mantel. It's little more than a couple of galvanized pots spilling over with baby pumpkins and one upright and brimming with natural and store-bought branches. The sparkle comes from adding lighted branches like these we found at Target.
Papier-mache ghosts to hang from a doorway or front porch are just the thing to inspire a ghoulishly fun time in your home. And who among us hasn't dabbled in a bit of papier-mache back in the day? It's loads of fun! Make them extra spooky by adding a battery-powered tea light or glow stick.  Detailed instructions are here.
No time for decorating? Find a babysitter on UrbanSitter to watch the kids while you head out for shopping.