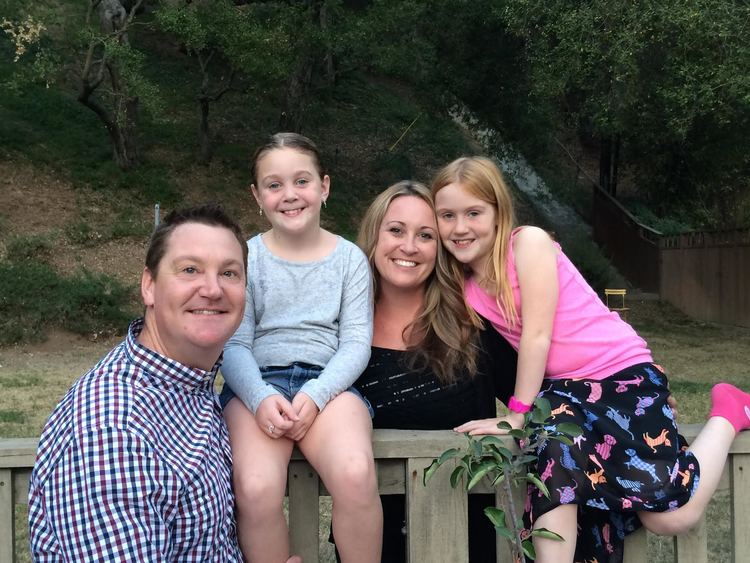 By Dawn Van Osdell
Parental guilt can be a powerful motivator. In 2013, Courtney Brockmeyer, like many working moms, felt enslaved by the long, stressful hours that often come with working for a big company in a big city. When her youngest daughter—then 7 years old—asked her why she worked so much, she couldn't find an answer to justify the time she spent away from her family.
"I knew something had to change," she says from the home her family now shares in Moraga, CA, a quaint residential town east of San Francisco and the headquarters of Sydney Paige, a "social good company" Brockmeyer started in 2014 and named after her and husband Dale's daughters, Sydney and Paige. "If I was going to work that hard, my work needed to have an impact. I needed to make a difference," she says. Brockmeyer can now tell her kids that's she's working to help supply the more than 16 million kids who live below our country's poverty level with the materials and tools they need to stay in school, and to make their own mark on the world.
She started Sydney Paige from her previous home in Los Angeles with little more than a sense of responsibility to her family and the families of others, a desire to do good, and a few other moms willing to lend a hand. It operates on a buy/give business model, similar to the way shoe company Toms and optical outlet Warby Parker work. Through the company's website, Amazon.com, or local events, buyers purchase high-quality backpacks; accessories like lunch boxes, nap blankets, and bag tags emblazoned with inspiring messages, such as Give Back, Respect and Creativity; and children's books that Brockmeyer has written to illustrate the importance of education. For every purchase, the company fills a matching product with school supplies, hygiene items, food, clothing, and monetary donations secured through partnerships. It then distributes it to a child in need through a non-profit organization of the buyer's choice—everything from local schools to national and global organizations like Baby2Baby, Volunteers of America's Operation Backpack, and the Salvation Army.
Why backpacks? Searching for a way to have a positive impact  on education, a cause that spoke to her, Brockmeyer found that kids most frequently drop out of school because of lack of confidence and lack of supplies. "If you don't have a backpack to take to school, everybody knows it. It makes you stand out and shouts to the world that you're poor, " she says. No kid deserves that stigma, she says, and every kid deserves the chance to proudly go to school, graduate, and eventually break the vicious cycle of poverty that entraps so many disadvantaged kids.
Sydney Paige's mission originated from more than just anonymous research. A decade-long employee of food giant, Nestle USA, she conducted market research in her role as business manager by meeting with lower income consumers in their homes. She also took them food shopping to observe their buying habits and budgets. She saw first-hand what need looks and feels like. "We all know poverty exists, but we have no idea how others live or how little they have," she says.  During focus groups and home visits, she saw not only empty refrigerators, but also a lack of books, crayons, and art supplies. "You can't buy these things when the choice is between that or food," she says.  And, yet, how can a kid be a kid without them ?
All this helped Brockmeyer to channel a sense of personal responsibility she'd carried since college. She'd won a scholarship to attend Pepperdine University, a highly regarded private institution with a price-tag to match its reputation and Malibu, California zip code. When the scholarship wasn't renewed her second year of college, a second award—the Raleigh Runnels Memorial Scholarship from the chancellor of her university—allowed her to continue her education. "Winning that scholarship gave me a huge responsibility to prove to myself and to others that I was worthy of such a gift," she says. "I knew I had to someday make a huge impact."
Paying it forward through Sydney Paige—like starting any new business—has been a bumpy, and at times serendipitous journey. Just after starting the company in 2014, Dale, also a Nestle employee, took a job as chief financial officer of Dreyer's, a promotion that moved the family hundreds of miles north of their hometown LA to the San Francisco Bay Area. Amidst the move—getting kids settled in a new school and setting up a home while getting her business off the ground—half of her first product line, a shipment of backpacks designed by a talented designer friend in Austin, Texas and manufactured overseas, was destroyed at the port of entry into the U.S. A second shipment from another manufacturer came back with inferior stitching. They wouldn't do. "I want shiny, awesome backpacks that kids can be proud of," says Brockmeyer. "They need to last through school and even beyond." Already saddled with hundreds of thousands of dollars in personal debt, she trekked on.
As luck, or fate, would have it, she found a "mompreneur," a seamstress in a neighboring town, who agreed to reinforce thousands of bags for a fee that wouldn't break an already tapped-out budget. "We took bags to her, load by load, until they were sturdy and ready to go," says Brockmeyer. Coincidentally, the seamstress is married to a small business loan officer who agreed to coordinate an additional loan, one that ultimately kept the business afloat. "I just kept going, and I just keep going," says Brockmeyer.
Today, she works at her home, surrounded by loads of inventory—some 10,000 backpacks in a nearby storage unit. Her new best friend is the PTA president at her kids' school, who is now also the company's director of sales.  She says her view is far better than it was in LA—rolling hills and pine trees. Her workforce is a collection of dedicated do-gooders, many working without compensation. Together, they have given nearly $1 million worth of backpacks and school supplies to children in need.
"Believe it or not, backpacks can really make it or break it for a kid who is struggling to stay in school because his family is too poor to provide the supplies he needs to attend," says Brockmeyer. Dedicated to her business of keeping kids in school, Brockmeyer hopes to expand her product lines, partnerships, and retail outlets; and eventually offer scholarships like the one that ultimately inspired her to make all the difference to kids in need.
Photographs courtesy of Courtney Brockmeyer