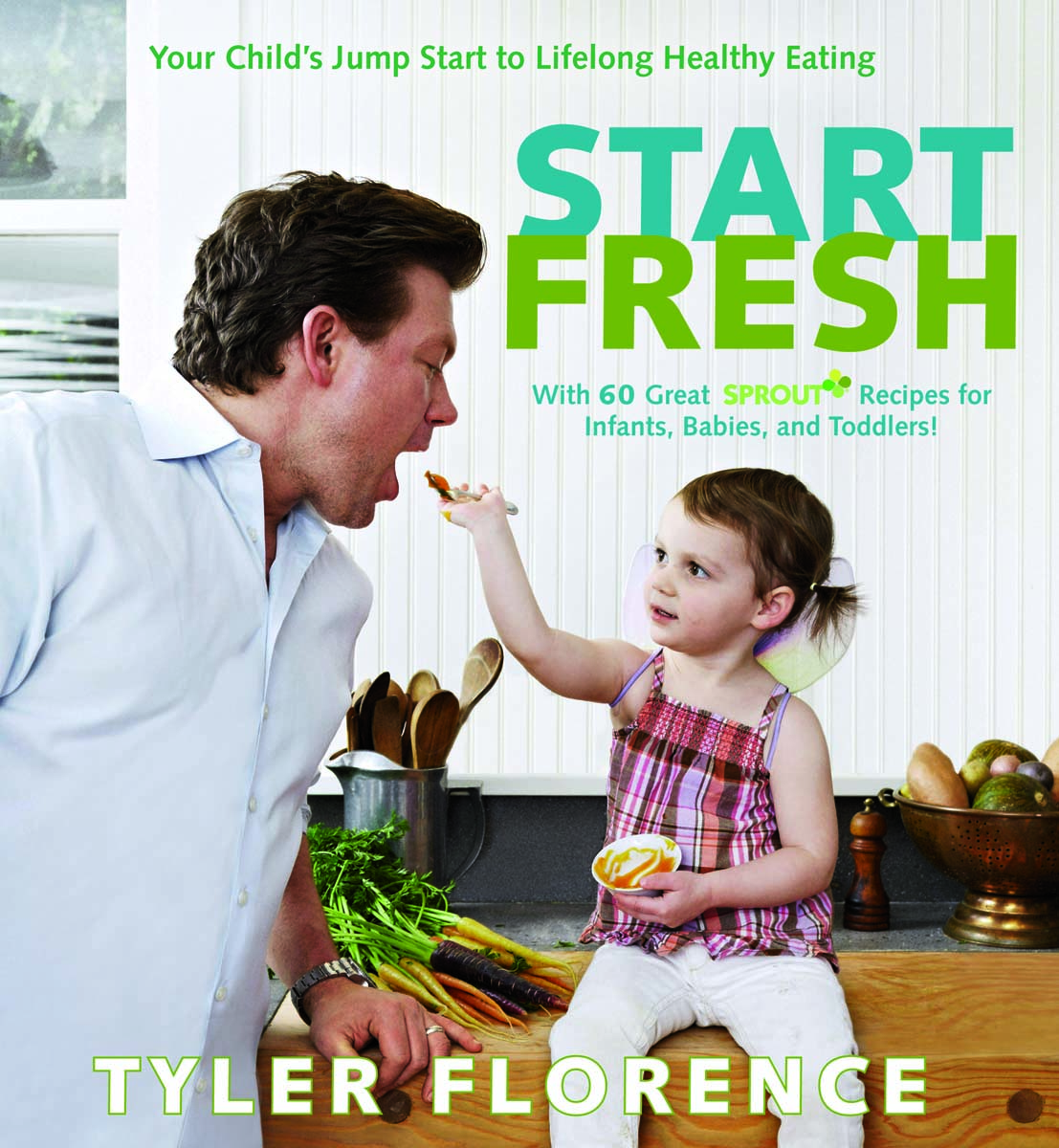 Contributed by writer & mom of three Jessica Edelen for UrbanSitter.
Tyler Florence, Food Network star and best-selling cookbook author has debuted a new cookbook — Start Fresh: Your Child's Jump Start to Healthy Eating. Filled with 60 delicious, user-friendly recipes, the book is about how to make healthy, nutritious food for babies, toddlers, and even the whole family.
As a mom of three young kids, I found the book quite engaging — the pictures are bright and inviting (and of course, make you hungry just gazing at them), and the recipes range from very easy (pureed spinach with bananas) to mildly complex (cauliflower gratin), but what I loved is that the recipes are in stages — 4-6 months, 6-8 months, 9-12 months, and 12 months and beyond. So there is truly something for everyone. Also included is a worksheet at the very beginning for new parents who want to keep track of which foods their babies are trying — in regard to allergies, etc. Enhanced by Tyler Florence's wit and practical, easy-going voice, the book is one that I believe most parents will find valuable.
Here are two of my favorite recipes. You can find the book at Tyler's downtown Mill Valley shop or online. Bon appetite!
Spinach and Banana Puree
Makes four 1/2 cup servings or two one cup servings
Tyler says: Bananas are an easy way to sneak super healthy nutrients into lots of dishes. This bright green puree is amazing — one of my favorites in the book.
You need:
12 oz. fresh spinach, well washed and tough stems removed
2 bananas
1/4 cup plain whole-fat yogurt
1/4 unfiltered apple juice
To do:
Combine all the ingredients in a blender or food processor. Puree until smooth.
Cauliflower Gratin
Makes 6 to 8 servings for adults or kids
Tyler says: The unsung hero of the vegetable world finally takes a stand in this cheesy, comforting gratin. I love not only the flavor, but the way it fills the house with its savory, roasted aroma. Great pureed, mashed, or as a side dish your children will love for years to come.
You need:
2 tbsp. extra virgin olive oil
1/2 medium yellow onion, cut into 8 wedges
1 head cauliflower, leaves and stem left intact, coarsely chopped
2 sprigs thyme
1 tbsp. unbleached all purpose flour
1/4 tsp. freshly grated nutmeg
1/2 cup whole milk
4 oz. fresh mozzarella, diced
1/4 cup grated parmesan cheese
1/2 cup panko breadcrumbs
To do:
Preheat the oven to 425 degrees.
In a 12-inch ovenproof skillet, heat the olive oil over medium heat. Add the onion cook, stirring often, until the onion has browned, 5 to 7 minutes. Add the cauliflower and thyme and cook until the cauliflower has browned slightly, 8 to 10 minutes.
Sprinkle the flour and nutmeg over the cauliflower. Pour the milk in and continue to cook, stirring occasionally, until the sauce thickens slightly, about 5 minutes. Sprinkle evenly with mozzarella, then top with parmesan and panko. (The gratin can be prepared to this point up to 2 days in advance and stored tightly covered in the refrigerator.)
Bake the gratin uncovered on the middle rack of the oven until the cheese is bubbling and the breadcrumbs are toasted, 7 to 10 minutes. Remove from the oven, cover loosely with foil, and let stand for 10 minutes before serving.
Divide the gratin into as many adult and child-friendly portions as needed. Transfer the child portions into a food processor and pulse until coarsely or finely chopped, as desired.