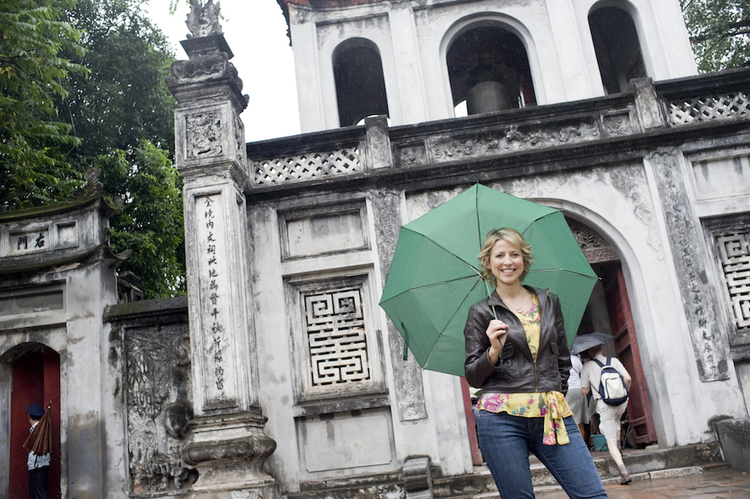 By Lela Nargi
On October 4, jet-setting TV hostess with the most-est Samantha Brown will launch "50/50," her latest show on the Travel Channel. In putting the first season together, she spent weeks filming around the world—everywhere from Abu Dhabi to the Philippines—in each episode taking two random folks plucked off the streets on a quest to spend $50,000 in 50 hours, on the getaway of a lifetime. How does this Brooklyn-based mom of 2-1/2-year-old twins juggle her dream job—and her family? We caught up with her to find out.
Obviously, you love to travel. Have you had a chance to do much of that yet with your own kids? The first thing I did after Ellis and Elizabeth were born was sleep for a very long time! But when they were 8 months old, we got them their passports. So far, they've been on a cruise, and they've been down to Florida many times, and they go on many road trips with my husband and me— anywhere from a nice weekend away to 12 days in various hotels and relatives' homes. They are already amazing travelers and have lot of patience, which I don't see when they're home. I think they love the newness of airports, and running down the hallway of hotels. It's not too complicated yet, and we don't have to do much to entertain them.
Where do you think you'll go to use those passports of theirs for the first time? Probably somewhere close, like Europe. It would be tough to take them on a 15-hour flight to Asia; I wouldn't want to put them through that yet.
Is there a stand-out trip from your own childhood that made you want to see the world? I think it was going to California when I was 12. It was my first time on plane, and it's interesting for me to think about that. Now, kids get on a plane almost as soon as they're born; everyone sees a plane as the main mode of transportation. But when I was growing up, it was the car. We'd think nothing of driving eight hours to Pennsylvania in our station wagon. So going to California, it was a big deal to get on a plane and go to Sea World, and Disneyland, Beverly Hills.
A lot of parents are afraid to travel with their children. Do you have any words of advice for them? I always sympathize with parents who are scared. I was scared the first time, too. Going through the security line can be scary, and it can bring you to another level of stress. But I do think it's very important not to show them you're stressed. And it's important to remember that the purpose of traveling is not to get things right, but to have an experience. Things can go not how you planned: a place is closed, or it's raining. But then you have the chance to say, What can we do now? It helps kids develop problem-solving skills.
Also, adults can feel weird talking to strangers, but children are conduits to other people. On our cruise, we had a wonderful cabin operator from Indonesia. We asked, How do you say hello in your country? And everyday we greeted him with that. We also learned how to say thank you. It was just two words, that was all we could handle, but that made him feel welcome, and we felt like we were learning.
After all the traveling you do, it must be nice to get home to Brooklyn. I travel all the time so I'm always a cat on the wrong side of the door. I can't t wait to be home in my comfortable bed. I've lived Park Slope for 10 years and we have great neighbors with twins who are in the first grade. Every summer they go to Europe, and they also do a home swap, where they pick a different place and swap homes with another family. It's a very affordable way to travel, and it's so important to them to travel with their children. They're the perfect neighbors for us!
What are you most looking forward to sharing with your kids about traveling as they get older? What I love most about traveling isn't all the must-sees, like going to Rome or Paris. It's the chance to spend time in the everyday lives of people around world. It is extraordinary, simply because it's different from your life, and that's where I find joy. Shooting the new show was high octane, but I made a point of spending time in the mundane: getting coffee in the same place every day, going to grocery stores and parks, to be with the people who live there. That's what fills me up.
But also, the U.S. is phenomenal. I would love to take my kids out west to ride horses, wear cowboy hats, and see the big sky.
Photographs courtesy of Travel Channel