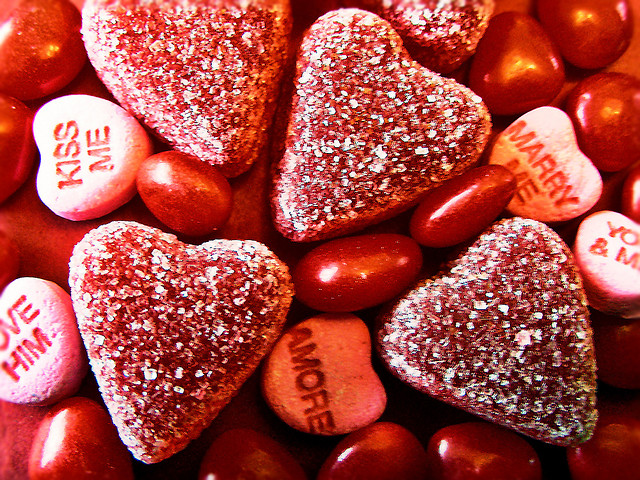 Valentine's Day is still a few weeks away, but if you hope to land a babysitter so you can celebrate without kids in tow, you'll need to get a head start. Veteran parents insist finding a babysitter for Valentine's Day is even tougher than scoring one for New Year's Eve. Here are a few tips on how you can be sure to score a sitter for the big night (or day):
1. Start your search early. Now is not too soon!
You have to figure your sitter could likely land a hot date that night, too. If not, she's bound to be bombarded with requests from parents who, just like you, would love to hand her the kids so they can sneak away for this romantic occasion. UrbanSitter makes it easy for both parents and sitters to connect by allowing sitters to post their availability well in advance, which gives parents the convenience of seeing who's free and allows them to send an immediate job request.
2. Make your own holiday… another day.
If you can't get away for the actual holiday, rest easy knowing you'll have a much easier time securing a babysitter the weekend before or the weekend after the real holiday.  Since Valentine's Day falls on a Thursday this year, it's pretty reasonable to choose the weekend before, or the Friday or Saturday after to celebrate. You'll likely have an easier time scoring a dinner reservation at a hot spot, too!
3. Share the love.
This is a fantastic opportunity to share a babysitter.  You can send your kids to a friend or neighbor's house and have a beloved babysitter of yours or hers babysit the whole bunch. The sitter likely won't charge twice her normal rate, but it's nice to make it worth her while by paying a bit more for this popular night. If you offer a higher rate upfront, you might just entice her to accommodate your request regardless of her previous plans. And… there's the added bonus of the night being extra fun for the kids, too. It's a big playdate!
4. Be an Early Bird.
Who said Valentine's Day has to be a romantic dinner? How about a lovely brunch together, or lunch after a round of golf or nice hike for two? Even if the babysitter has plans that night, she might be willing to help you out earlier in the day in order to earn some extra money.
5. Make it a romantic night at home.
If you are like most parents, the thought of having your own home to yourselves, sans kids, is too good to pass up. Have your babysitter take the kids out to an early movie and pizza (which might just be more fun for her, too) while you stay home and treat your Valentine to a homemade meal.
If your husband or wife likes to cook, let him or her share in the cooking and make it part of the fun. Otherwise, book the sitter a little earlier so you can prep and prepare. Don't forget to chill a nice bottle of wine and light some candles so it feels like a truly special tête-à-tête, and not like just another meal at home. Here are a few favorite recipes that make the perfect feast for two:
Latin American-Style Mussels: Adds a little zest and a little spice to your night!


Steak for Two Dinner: Pepper-Crusted Filet Mignon, Creamed Spinach and Slow-Roasted Tomatoes rival the menu at your favorite steak house, but take surprisingly little time or effort to create.


Gooey Chocolate Cakes. Even if you aren't a baker, you can pull these off, and no one will soon to forget! Top the rich chocolate with a scoop of ice cream and a handful of perfectly ripe berries. It looks and tastes like love on a plate!

Who is more deserving of a romantic break than two harried parents? Book a babysitter on UrbanSitter and don't let Valentine's Day pass you by!