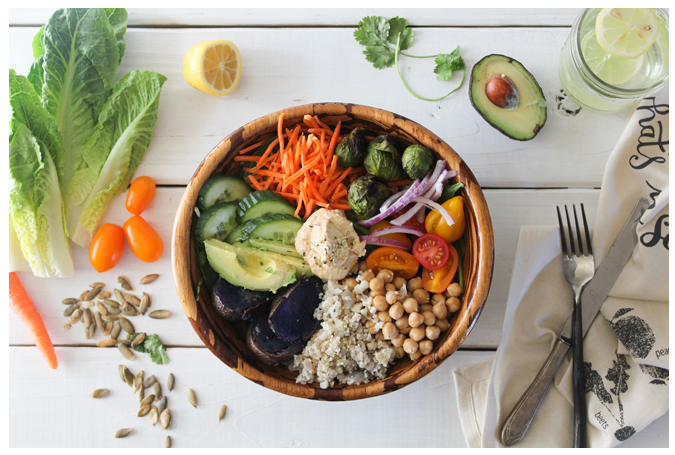 Whether you're coming home from work or from a long day at the pool or beach with the kids, you need a healthy dinner to feed and please your family – and you need it quick. In the heat of the summer, the less time in the kitchen, the better. These tried and true favorite summer recipes are fresh and satisfying, and so simple that you could ask the sitter to prepare them.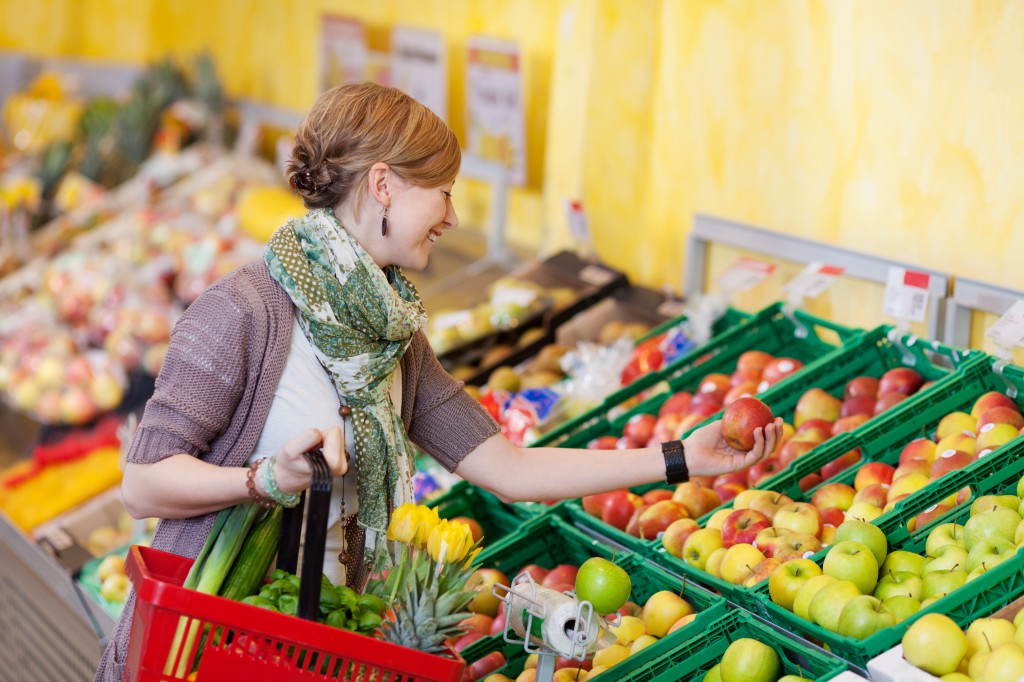 5 Simple, Healthy Summer Meals
Edamame Salad
A satisfying salad your kids will devour. After all, what kid doesn't love the tiny green soy bean?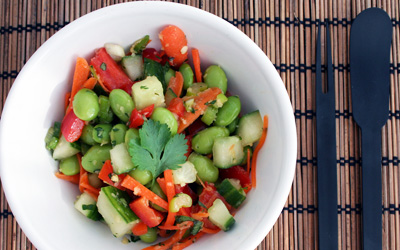 Ingredients
1 teaspoon sesame oil
2 tablespoons rice vinegar
2 teaspoons low-sodium soy sauce
1 teaspoon siracha (optional)
1 pound frozen, shelled edamame, thawed
1 cup red bell pepper, diced
2 green onions, thinly sliced
¼ cup shredded carrot
Directions
Combine all ingredients in a bowl.
Nourish Bowl
Not exactly a recipe, but rather a formula you can follow and customize to create a healthy, delicious one-bowl meal for every member of your family. Start with a big bowl with a base of dark leafy greens, top with a protein, a carbohydrate, and a healthy fat. Check out the helpful diagram and suggestions for each component.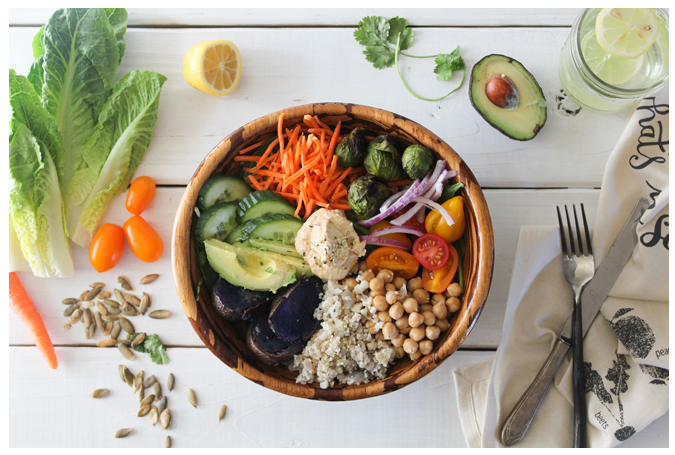 Greens | spinach, romaine, arugula, kale, micro greens, sprouts, mustard greens, swiss chard, etc.
Proteins | tempeh, beans, quinoa and lentils (starchy-proteins), hemp seeds, nuts/seeds, eggs and wild-caught fish, animal proteins
Healthy fats | avocado, olive oil, olives, nuts, seeds, hemp seeds, grapeseed oil, sesame oil, truffle oil
Veggies | carrots, bell peppers, cucumbers, zucchini, snap peas, peas, radish, green beans, broccoli, cauliflower; any and all veggies you enjoy!
Carbohydrates | sweet potatoes, quinoa, millet, brown rice, wild rice, beans (starchy-protein), corn and peas (starchy veggie)
Fruits: strawberries, pears, banana, papaya, mango, grapes, raspberries, apples, etc.
Dressings |  2 tablespoons hummus + 2-4 tablespoon apple cider vinegar + 2 tablespoons of nutritional yeast = a super thick and creamy dressing.
Any Veggie Frittata
This super simple recipe uses asparagus as the star ingredient, but really any veggie will do.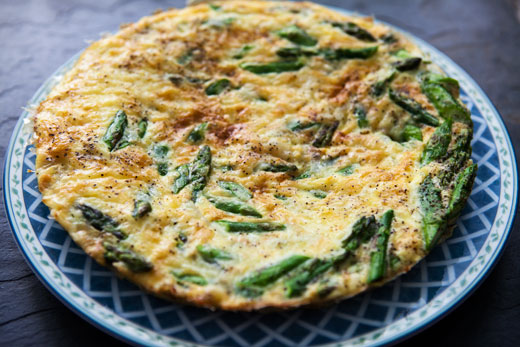 Ingredients
2 tablespoons unsalted butter
1/3 cup minced shallots
1/2 teaspoon salt
1 pound asparagus, tough ends snapped off, spears cut diagonally into 1-inch lengths
6 large eggs, lightly beaten
1 cup shredded Gruyere or Swiss cheese
Directions
1. Heat butter into a 10-inch oven-proof frying pan over medium-high heat. Add shallots and cook, stirring occasionally, until they soften and turn translucent, about 3 minutes. Add asparagus, reduce heat to medium-low, and cook, covered, for 3 minutes.
2. Pour in eggs and cook until almost set, but still runny on top, about 2 minutes. While cooking, pre-heat oven broiler.
3. Sprinkle cheese over eggs and put in oven to broil until cheese is melted and browned, about 4-6 minutes. Remove from oven with oven mitts and slide frittata onto a serving plate. Cut into wedges.
Lemon Garlic Pasta
What could be easier (and more delicious!) than pasta tossed with lemon, olive oil, red pepper flakes, parmesan and roasted garlic? Dress it up with some roasted chicken, cherry tomatoes, mushrooms, shrimp or fresh vegetables…. if you have the time and are so inclined. Roast garlic ahead of time if you know this dish is on the week's menu, and you'll have an even speedier meal.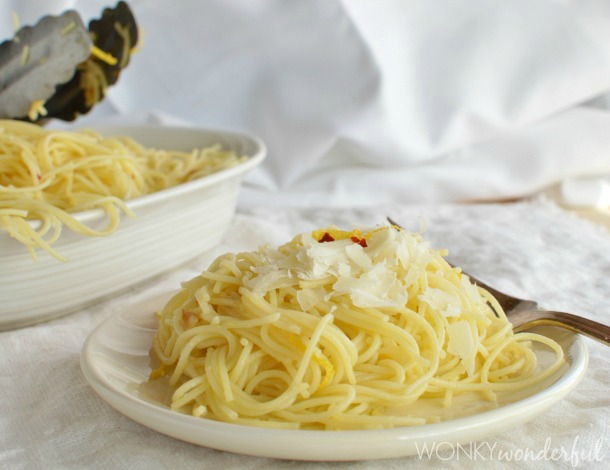 Ingredients
1 head of garlic (10-15 cloves)
1/4 cup olive oil
4-5 tbsp fresh lemon juice (1 large or 2 small lemons)
lemon zest
pinch of salt
1/8 tsp red pepper flakes (or more if you like spicy)
1/2 lb angel hair pasta (cooked)
fresh grated parmesan
Directions
1. Place peeled garlic cloves in an oven safe dish, drizzle with olive oil and cover with foil. Oven roast at 400° for 30-40 minutes (until lightly golden browned). Let cool for 2-3 minutes, then chop.
2. Cook pasta according to package directions. Feel free to use a different type of pasta if you prefer.
3. In a large sauté pan over medium/low heat – heat the olive oil and chopped garlic for 4-5 minutes while stirring.
4. Add the lemon juice and continue cooking for 2-3 minutes.
5. Reduce heat to low – add the salt and red pepper flakes.
6. Add the cooked pasta and toss with the lemon garlic sauce until fully coated.
7. Transfer to serving dishes and top with a drizzle of olive oil, lemon zest, fresh grated parmesan cheese and red pepper flakes (optional).
Mini Breakfast Pizza
Everyone loves breakfast for dinner. Put a twist on the usual pancakes or scrambled eggs by whipping up breakfast pizzas instead. The beauty of the recipe is that it's highly adaptable. Use what you have on hand – English muffins, bagels or bread, any suitable meat, cheese or veggie.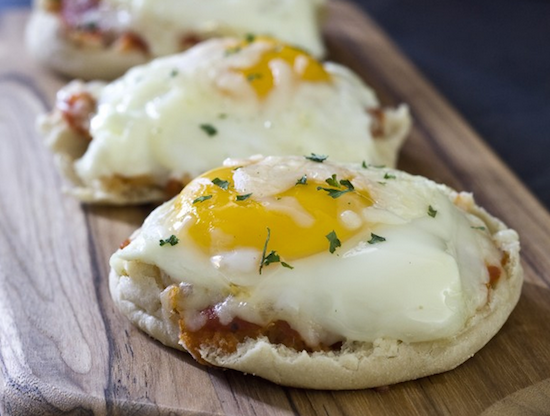 Ingredients

3 english muffins
3/4 cup pizza sauce
1 cup mozzarella cheese
1 tbsp olive oil
6 eggs
1 tsp parsley
Directions
Preheat oven to 350 degrees. Slice open English Muffins, top with pizza sauce and sprinkle with cheese. Add olive oil to a skillet, crack eggs inside and cook on high until almost done. Add eggs to prepared english muffins and top with more cheese and parsley. Bake on baking sheet for 10 minutes or until eggs are cooked through.
What recipes do you keep up your sleeve for when time is tight or to leave the sitter to make for dinner? Share your favorites with us in the comments!