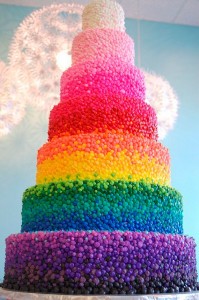 There's a lot of contradictory and downright erroneous parenting info floating around out there. We're not afraid to tackle it head-on! 
Throwing a birthday party for your child can feel like anything but a celebration. Instead of rejoicing another year older, parents of even very young children can feel pressured to throw extra-special bashes that rival the ones they see plastered on mom blogs and boastfully circulated through social media. Research published in the Journal of Consumer Culture shows that the pressure to live up to modern-day expectations of what makes a fab party is leaving many parents stressed out and insecure about their ability to pull it off; and likely giving kids the wrong message about what a birthday celebration is supposed to be.
To help parents maneuver party planning obstacles and banish unrealistic expectations, while still throwing a party that won't disappoint, we spoke with Lisa Gaché, an etiquette expert who often advises on event hosting; and Alison Smith, co-founder of ECHOage, a company transforming party planning by having guests pitch in on a special present or donate to a charity, both chosen by the birthday guest of honor. The two teamed up to set the record straight on three common myths related to planning kids' birthday parties.
Myth #1: A great party means a mammoth guest list. After all, I have to invite my child's entire class, and also plan for parents who decide to stick around.
Truth: The etiquette rule, according to Gaché, dictates that if you are planning a big party you really should invite your child's entire class—at least for grade school or younger kids. You don't want to risk hurting anyone's feelings or riling parents by excluding classmates from the celebration. But there are good reasons to keep the party small, including budget, space, and your child's comfort; many young kids can feel overwhelmed by too many guests, and enjoy a more intimate, lower-key gathering.
The solution, both experts agree, is to host an all-girls or all-boys party, or stick with six kids or fewer. Smith suggests creating a party that specifically lends itself to a smaller group, such as a sleepover or an outing to a special event—think concert, amusement park, or sporting event. If you're worried about hurt feelings from friends who don't make the invite list, consider planning a special play date or inviting them to a family dinner.
Regardless of the number of invitees, expect that the parents of kids younger than age five will likely stay, rather than drop-off their tot. "Your goal is to make sure they feel welcome and integrated," says Gaché. Offer them whatever you're feeding the kids—chicken tenders and pizza triangles are just fine, she says. Smith suggests setting up a self-serve coffee bar for parents who choose to linger.
And rest assured, once kids hit the middle school years, parties are typically smaller, and the invite list can be left to the guest of honor.
Myth #2: The competition for throwing a fabulous party is intense! I need to match, if not outdo, the birthday bashes my child attends.
Truth: The trend of over-the-top, commercialized parties—parents hiring garage bands or taking a gaggle of tween girls in a limo to a five-star dinner—lives on. But it's recently been rivaled by customized, personalized parties that impress guests—or more likely, their parents—with hands-on party planning, homemade food, and Pinterest-worthy DIY decorations. "There's tremendous pressure to be an expert crafter, a professional photographer and a videographer at your child's party," says Gaché.
Luckily, plenty of parents are realizing the insanity of both types of this extreme and are moving to simple, age-appropriate celebrations with cake, food, and a bit of entertainment. Opt out of the craziness, and join that party.  Smith suggests skipping the meal, even, and offering only cake and ice cream, which are all everyone really expects at a birthday party, anyway; or picking one wow factor, such as hiring an ice cream truck for the night. Alternatively, take the family out for a special dinner at the birthday boy or girl's favorite restaurant, and avoid setting big expectations for every birthday to come.
Myth#3: My closets are over-flowing with gifts my child doesn't need or already has, but I can't ask guests to forego the gift. People feel so uncomfortable showing up empty-handed.
Truth: "The rule is that 'no gift' means no gift," say Gaché. But guests don't always comply, leaving those who didn't bring something feeling awkward. "Society dictates that showing up to any party empty handed is uncomfortable unless there is another plan in place," says Smith.  So, make just such a plan: encourage guests to contribute to a group gift—something your child really wants or needs—or to give to a charity of the guest of honor's choosing.  "Everyone feels great about giving without having to show up to the party with a gift in hand," says Smith.
Gaché, on the other hand, says asking guests to donate to a charity can rub some of them the wrong way (and also risks disappointing your kids). Instead, she suggests asking guests to bring something for an activity the children will partake in at the party; for instance, paint for an art project, or candy for cupcake decorating. This approach also allows you to forego expensive favors by sending kids home with their completed projects instead of a goody bag. Think of it this way: You're saving parents from shopping for yet another birthday party gift, keeping clutter from your closets, and teaching your child that the celebration is about the company of their guests, and not the gifts they bring. Now that's something to celebrate!
Photos via Compfight