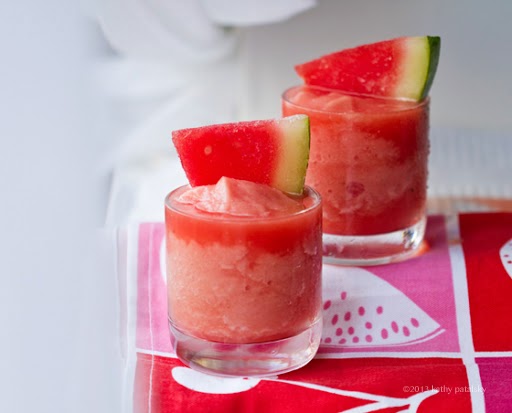 Before you open a box of popsicles or round up the kids for a trip to get ice cream, consider surprising them with a summer treat they can help create. Kids love to help in the kitchen, and everyone loves a summery treat to share on a hot afternoon or at the end of a long summer day. These delicious desserts make the most of summer's fresh fruit– berries, watermelon, and cherries – and ingredients you likely already have in your pantry or can easily pick up on your way home. They are so simple to make, we can hardly call some of them recipes.
The World's Easiest Pudding
Choose a healthy packaged pudding cup (or make your own) and scoop it into a waffle bowl. Top with berries. Voila! (via A Dose of Pretty)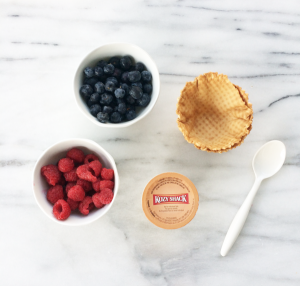 Watermelon Frosty
Add 2 1/4 cups frozen watermelon cubes
 (freeze the night before), 1/2+ cup water, 2 tbsp maple syrup, 1 large lemon, squeezed (lime juice also works very well! use 2 limes), and 1 fresh banana to a blender. Blend. Add more water as needed, but as  little liquid as possible to keep your frosty thick and frosty. Garnish with frozen watermelon/rind slices. For a grown-up version, turn this super smoothie into a margarita by adding tequila! (via Lunchbox Bunch)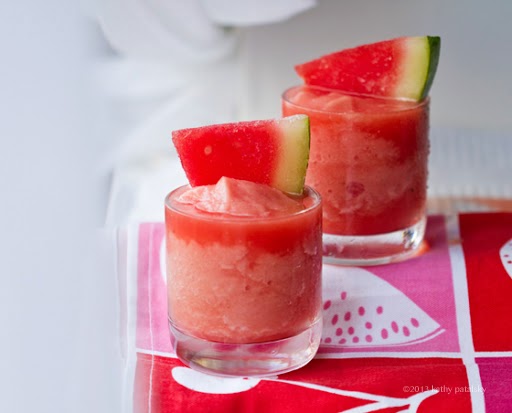 Super Easy Strawberry Shortcake
Shortcakes, strawberries and whipped cream, oh my! Dip tops and sides of biscuits in margarine (or butter), dip into sugar
. Place onto un-greased cookie sheet and bake for 13 to 17 minutes. Cool for 5 minutes
. Combine strawberries and sugar in a mixing bowl, set aside. 
Beat whipping cream, sugar and vanilla until soft peaks form
. Split biscuits, layer on cream and strawberries
. (via Tammilee Tips)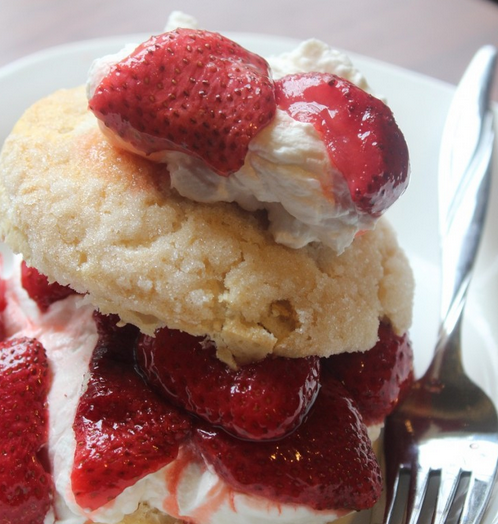 Pretzel Nutella Ice Cream Sandwich Bites
You can whip up these mini sweet and salty sandwiches with little more than a bag of pretzels, ice cream and a jar of nutella. Place a sheet of wax paper on a small freezer-safe plate or pan. Place half of the pretzels on the wax paper. Smear some Nutella on each of the pretzels. Working quickly, top with about a teaspoon of ice cream and place a plain pretzel on top. Freeze for about an hour, or until they're solid. Working quickly, smear a little Nutella on one end of each sandwich and dip in crushed hazelnuts. You may want to return these to the freezer for a while to re-harden them. Or you can eat them right away. (via Tasty Kitchen)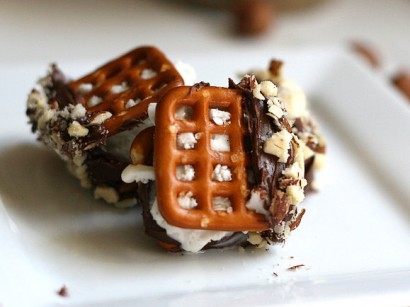 Cherry Pie Bars
A little more work, this recipe is a good one to tackle with older kids. These bars would be  sweet to pack for a picnic or bring to a BBQ. Preheat oven to 350 degrees. In a mixing bowl, whisk together flour, baking powder and salt, set aside. In a separate bowl, whip together butter and sugar until pale and fluffy. Mix in eggs one at a time, then blend in vanilla and almond extracts. With mixer set on low speed, slowly add in dry ingredients and mix until combined. Reserve and set aside 1 1/2 cups batter then spread remaining evenly into prepared baking dish. Top with cherry pie filling spreading into an even layer. Dollop small spoonfuls of the remaining batter evenly over top. Bake in preheated oven about 30 – 37 minutes. (via Cooking Classy)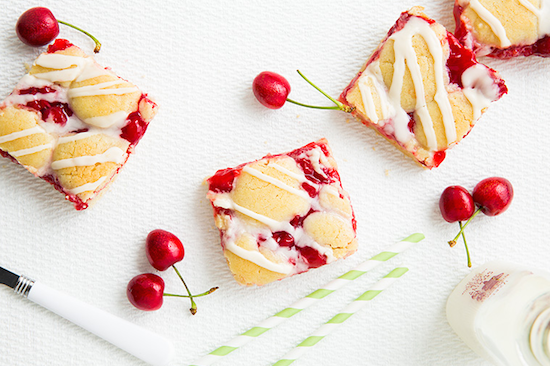 These treats are the perfect way to make a play date extra fun or to leave with the sitter for special surprise to enjoy with the kids while you're away.