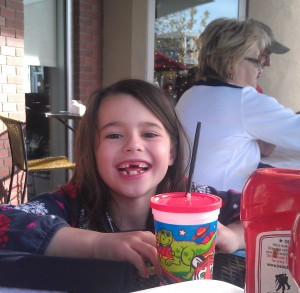 No matter where you live, there's no way, no how you and your family can spend Memorial Day inside of a restaurant! If you haven't received an invite to a backyard or patio BBQ, it's time to plan your own. Our checklist will have your party planned in no time.
Your Guide to Hosting a Memorial Day Barbecue
The Vibe
Memorial Day is a day to celebrate our fallen soldiers and the country they've served. It's all about the patriotism and red, white and blue.  Let the theme set the scene, keeping it as loose as you like:
Fill mason jars with simple flowers, such as white carnations, daisies or blue hydrangeas. Tie the jars with a festive ribbon and, if you like, stick a miniature flag into the mix. These make great centerpieces or decoration on a buffet or bar.
If you have a place to hang them, string tiny fairy lights for a festive look when the sun goes down. Twinkling lights always make a night feel special.
Use red or blue cloth napkins and simple white melamine plates so there's no extra waste or worry over broken dishes.
If kids are included on your guest list – and we hope they are – organize some All-American entertainment. Who doesn't love a game of kickball, flag-football or badminton, if you can get your hands on a net, racquets and a few birdies. It just might become a Memorial Day tradition on your block.
The Food
It's all about the grill, whether it's parked on your patio or in the park. Choose two main entree options – one for the meat lovers and one that's vegetarian. Why not go with burgers:
You'll find every kind of burger recipe imaginable, all claiming to be "the best burger recipe ever." Looking for something classic, simple and based on tips from a pro (Ina Garten), we're going with The Best Burger, found on Babble.
Crispy Quinoa Sliders from How Sweet It Is  are a tasty vegetarian option. Even the meat-eaters will be eyeing it in envy, so make extras.
If your guests offer to bring something, suggest they bring their favorite side dish, such as a salad, pasta or vegetable. SF Food blog Kitchen Confidante is full of inspiration for great recipes made from seasonal produce from local farmers' markets, if you need to make suggestions. It's nice to also provide a few simple sides of your own to go with the grilled centerpiece, something like Kicked Up Cucumber Salad from Aggie's Kitchen.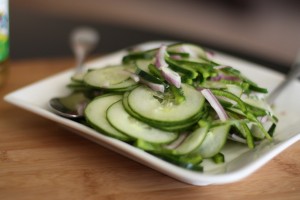 The Drink
BYOB (to share!) always works, but providing a good selection of alchoholic and non-alcoholic beverages is better. Since it's an outside bash, forego anything fancy or fussy and stick with a few choices of good beer, and chilled white or rose wine.  We're kinda loving the cute little cans of  Francis Ford Coppola Winery's Sofia Mini, an effervescent Sofia Blanc de Blancs blend, in a stylish mini can with a matching straw. 
Another good route is to create a signature cocktail that guests can serve themselves from a big pitcher or punch bowl. How delish does this Bing Cherry Mojito look?! It'll be just right for the patriotic holiday, and perfect for serving a crowd.  Get the Martha Stewart recipe here.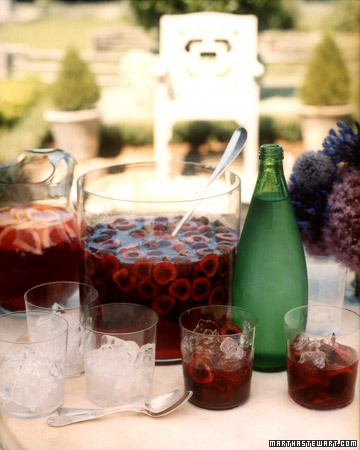 The Finale (Dessert!)
Here's where you make your splash. Everyone loves a good dessert and it's a rare bird who isn't willing to give her willpower a break and indulge on a holiday. Make it a DIY "event." It's a win for everyone – less work for you and more fun for everyone. With a little prep, you can create the ultimate s'mores bar or ice cream sundae buffet.

The photos are great for inspiration and guidance, but for grocery list making, here's a handy list of  suggestions:
For S'more Building:
Graham crackers
Marshmallows (there's one than just the  plain white ones)
For Sundae Building:
Ice cream – mostly vanilla, but throw in a gallon or two of chocolate, strawberry or pistachio.
Chopped fresh fruit, such as bananas, peaches, strawberries or whole blueberries
Maraschino cherries
Cookie bits (crush Oreos or chocolate chip cookies)
M&Ms or other candies
Raisins
Shredded coconut
Chopped peanuts or walnuts
Candy sprinkles
Chocolate sauce or hot fudge sauce
Carmel sauce
Whipped cream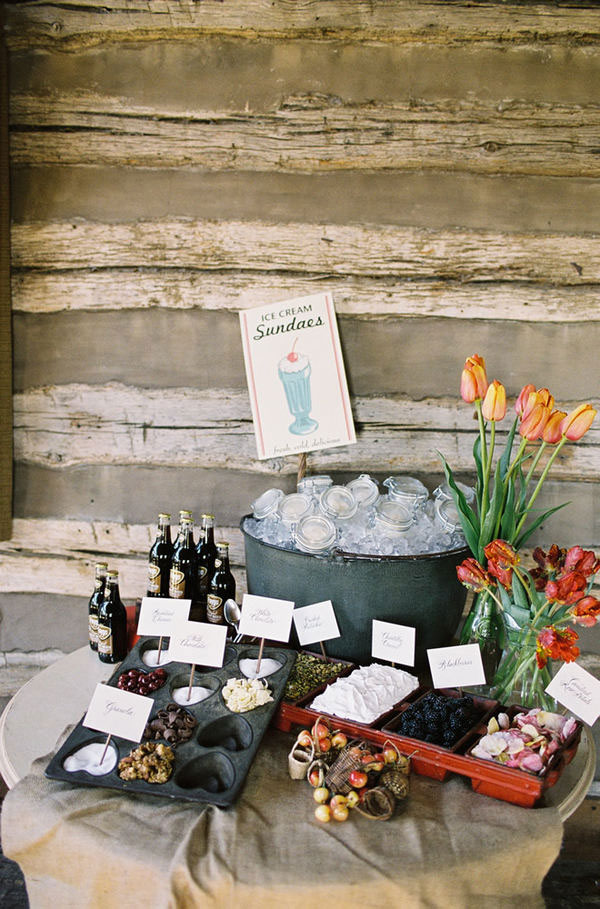 These bars are one-size-fits all, as long as you give some thought to what your guests like and don't like.
Now all you need to do is add the guests! If your guest list includes a whole lotta kids, find a babysitter to help you out! You know where to find one.