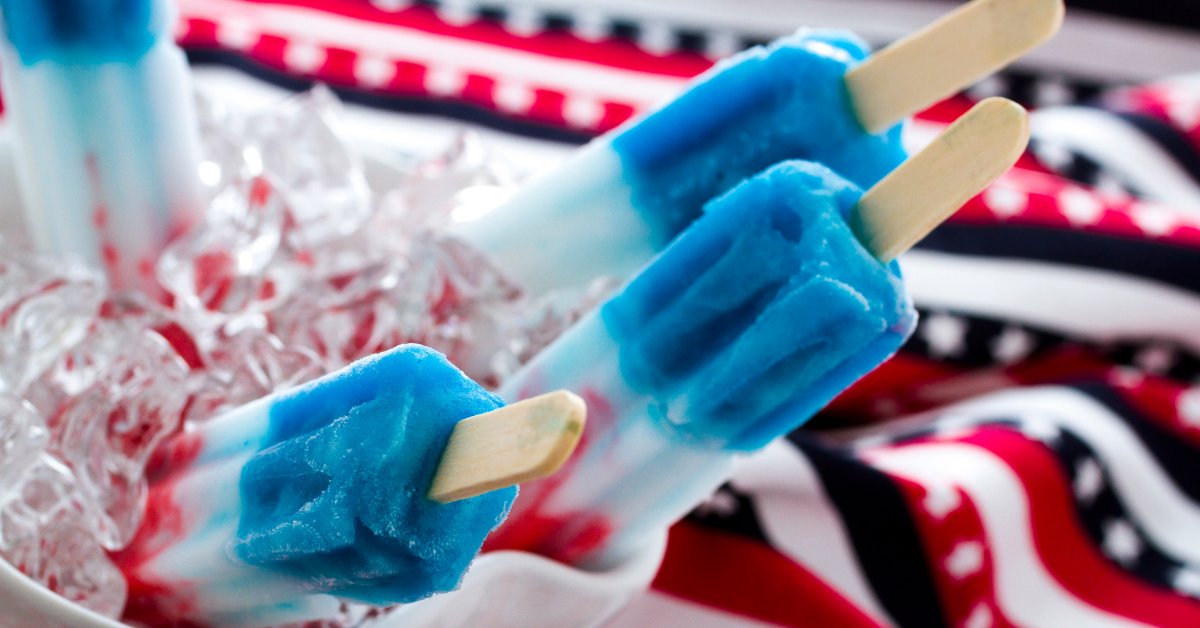 No matter where you live, there's no way your family can spend Memorial Day inside of a restaurant! If you haven't received an invite to a backyard barbeque, it's time to plan your own. Get the kids involved and throw a fabulous kid-friendly Memorial Day BBQ Bash. Our checklist will have your party planned in no time.
Your Guide to Hosting a Memorial Day Barbecue Party
The Vibe
Memorial Day is a day to celebrate our fallen soldiers and the country they've served. It's about patriotism and red, white and blue. Let the theme set the scene:
Fill mason jars with simple flowers, such as white tulips, daisies and blue hydrangeas. Tie the jars with a festive ribbon and, if you like, stick a miniature flag into it to add to the theme These make great centerpieces or decoration on a buffet or bar and are a fun, easy activity for children.
Twinkling lights always make a night feel special. Hang up strings of tiny fairy lights for a festive look when the sun goes down.
Use red or blue cloth napkins and simple white melamine plates so there's no extra waste or worry over broken dishes.
Get the kids to organize some All-American entertainment. Who doesn't love a game of kickball, flag-football or badminton, if you can get your hands on a net, racquets and a few birdies. It just might become a Memorial Day tradition on your block.
Give the kids a memorial day activity or craft, such as creating red, white and blue slime from I Can Teach My Child. It's an outdoor party, right? Or create a patriotic suncatcher from A Little Pinch of Perfect.

The Food
It's all about the grill, whether it's parked on your patio or in the park. Choose two main entrée options – one for the meat lovers and one that's vegetarian.
Burgers are always a fan favorite at outdoor barbeques. You'll find every kind of burger recipe imaginable, all claiming to be "the best burger recipe ever." To keep it simple and kid-friendly go with a classic burger and guests can make it fancy or not based on the toppings you have. For the kids, a side of ketchup and pickles is all they need.
Crispy Quinoa Sliders are a tasty and fun vegetarian option. Even the meat-eaters will be eyeing it in envy, so make extras.
Side dishes are the perfect option if a guest offers to bring something to the family barbeque. Popular sides include salad, pasta or vegetable dishes. Keeping the kids in mind, a patriotic fruit salad is sure to be a hit – add strawberries, blueberries and watermelon. A caprese skewer of mozzarella balls, watermelon and a blueberry or two on top also keeps with the red, white and blue theme and is enjoyed by kids and adults alike.
The Drink
BYOB (to share!) always works, as well as providing a good selection of alcoholic and non-alcoholic beverages. Since it's an outside bash, forego anything fancy or fussy and stick with a few choices of good beer, and chilled white or rose wine
Another good route is to create a signature cocktail that guests can serve themselves from a big pitcher or punch bowl. Good Housekeeping has an extensive list of memorial day signature cocktails that may have your mouth watering. Try out their backyard lemonade or the ginger mint margarita.
The Finale (Dessert!)
Everyone loves a good dessert. Make it a DIY "event" and the kids will have a blast. With a little prep, you can create the ultimate s'mores bar or ice cream sundae buffet Here's a handy list of what to pick up to make your dessert bar a success!
For S'more Building:
Graham crackers
Marshmallows (there's one than just the plain white ones)
Milk chocolate, white chocolate, and dark chocolate bars
For Sundae Building:
Ice cream – mostly vanilla, but throw in a gallon or two of chocolate, strawberry or pistachio.
Chopped fresh fruit, such as bananas, peaches, strawberries or whole blueberries
Maraschino cherries
Cookie bits (crush Oreos or chocolate chip cookies)
M&Ms or other candies
Raisins
Shredded coconut
Chopped peanuts or walnuts (if there are no allergies amongst the guests)
Candy sprinkles
Chocolate sauce or hot fudge sauce
Carmel sauce
Whipped cream
Ask your kids to help plan the memorial day barbeque bash and especially what to have for dessert! The more involved the kids are, the more fun they'll have!
Now all you need to do is invite your guests. If your guest list includes a lot of kids, find a babysitter to help you out!