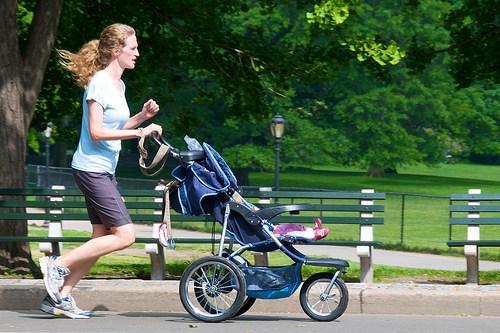 [maxbutton id="1″]
Have baby, need a workout? We hear ya! It's hard for anyone to squeeze regular exercise into a busy life, but moms of infants fight an especially tough uphill battle to make it happen. New moms are fighting fatigue and struggling to fit their own needs around their baby's complete dependence.
Fortunately, their cries were heard, as witnessed by the plethora of Mommy & Me workout classes that have sprouted up around the country to enable Moms to workout without worrying about childcare. There's truly something for everyone – from yoga, pilates, barre, stroller workouts, dance, cardio and strength training, and intense boot camps to kick your butt.
Here are our favorite postpartum workouts that allow you to work up a sweat with a built-in support network of other moms and your baby at your side.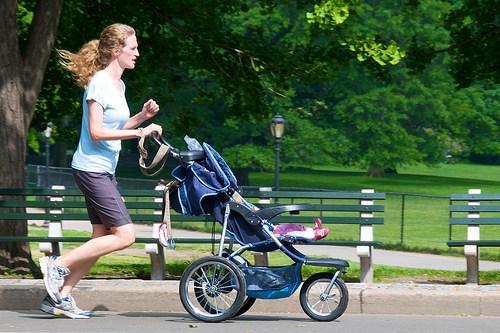 NATIONWIDE
These popular programs have a strong presence from coast to coast. Check their websites to find a location near you. We can almost guarantee that you'll find more than one option that is close by and just right for your needs and your schedule.
Fit4Mom
Here's where to go for an awesome outdoor workout with your baby. The founders of the original Stroller Strides have expanded to now offer Fit4Baby (a prenatal fitness class), Body Back (a workout for any stage of motherhood) and Stroller Barre. They also host an impressive mom community with playgroups and moms nights out.
Baby Boot Camp
There are more than 50 Baby Boot Camp programs throughout the Bay Area alone, and hundreds more across the country. The most popular stroller fitness class they offer, STROLLFIT, is a 60-minute class for moms of all fitness levels with one or two stroller-aged children. The ab routine at the end of each class makes it a total body workout.
Moms In Training
A program of the Leukemia and Lymphoma Society, Moms In Training is a flexible, nine-week workout program that meets Saturday mornings. Get together with other moms and their babies to not only get in shape, but also raise funds for cancer treatments.
SAN FRANCISCO/BAY AREA
San Francisco is likely the yoga capital of the country and has no shortage of prenatal, postnatal and Mommy & Me yoga classes from one end of the city to the other. Golden Gate Mothers Group offers a fantastic list of yoga options for Moms. Bookmark it! The city also has some of the most active chapters of the national workouts we mentioned above. For Mommy & Me exercise options outside of the city, read on.
Pomegranate – San Anselmo
A wonderful center with prenatal and postnatal yoga and pilates, as well as new mom groups and workshops. You can do the classes with your baby and they also sometimes offer childcare so you can enjoy a bit of solo time.
Lautmann's Gym – Mill Valley
Check out their new class for moms and their babies where you wear your baby in a carrier and the workout is designed (and approved by an RN) to use your baby's weight as resistance.
Mommy & Me Pilates – Pilates Pro Works – Oakland
Popular pilates and barre studio offers a Mommy & Me Pilates class designed for new moms and their babies age 6 weeks to crawlers.
Yogalayam – Berkeley
Awesome Mommy & Me Yoga classes at this Prana Yoga studio.
Yogini & Bambini Yoga at Nandhi Yoga – San Mateo
Designed for moms who want practice yoga with their little ones by their sides. Open to all levels with babies who are pre-crawling to 24 months.
[maxbutton id="1″]
NEW YORK CITY AREA
Mommy and Me Fitness – throughout Manhattan
A wildly popular personal trainer leads moms in sessions that vary from jogging, doing squats and lunges, jumping rope, using resistance bands and working with the environment around you to get a great workout with great company or on your own if you prefer a private session.
Strollercize – Central Park
Use your stroller as a fitness apparatus to strengthen, slim and balance, and when your hands are not on the stroller, use the program's RollerSize to tone thighs, target tummies and improve posture.
BoSoul – Manhattan
New Yorkers use this cool, innovative service to find other moms with similar interests, form or join a class group and hire a top-notch instructor who is available when they are.
Baby Om Yoga – Manhatttan and Brooklyn
A 75-minute class providing a full yoga experience for both caregiver and baby.
LOS ANGELES AREA
Zooga Yoga – Culver City
Zooga offers a full range of classes suitable for yogis of all ages, from babies to toddlers to teens & families; and for adults and mommies in all stages of pregnancy.
CHICAGO AREA
Hip Circle Studio – Evanston
This studio exceeds the typical offerings with popular classes such as a dynamic cardio class, dance, yoga and even belly dancing for moms and their babies or young children.
Bubbles Academy – Chicago
A bootcamp style workout that uses a combination of running, weight training, ballet and barre to kick you into (or back into!) shape. Studio offers free sibling care so you can enjoy some one-on-one time with your child.
Active Moms Club – Chicago
Mommy & Me Postnatal Recovery class is targeted to new Moms who are 6 weeks to 6 months postpartum and ready to lose their baby belly. The workout aims to tighten your abs, pelvic floor muscles and lower and upper back—all with your little one by your side. Toddler care for older siblings is available at a minimal cost.
WASHINGTON DC AREA
Lil Omm Yoga – Tenleytown
Community yoga center focused on yoga for all levels, specializing in prenatal, Mommy and Me yoga and yoga fitness classes and yoga for children. Their popular Mommy and Me YogaFit workout blends cardio, yoga, strength, and resistance training using free weights, bands, and blocks for a more intense workout.
Past Tense Yoga – Mt. Pleasant
Studio offers pre and postnatal yoga classes, kids yoga, Music Together classes and PJ parties.  They also offer a fun Movers and Me class, though it's more of a workout for your crawling to age 2 child than it is for you
Thanks to these fun, innovative and effective workouts, you can exercise around your baby's feeding and nap schedule and enjoy the company of other moms who feel your pain in more ways than one.
[maxbutton id="1″]