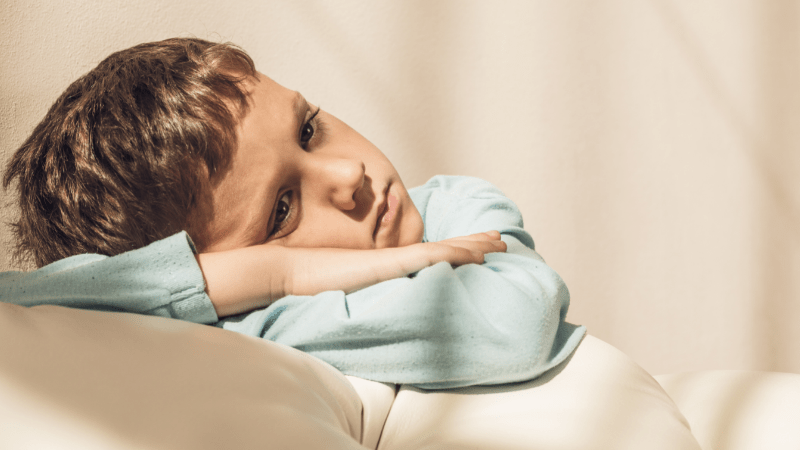 Contributed by our friends at Brightline
When you became a parent, you probably didn't envision 18 months hunkered down at home with your whole family (or that spending some extra time hiding out in the bathroom would be keeping you sane). And we're guessing you didn't picture that you'd feel so weird about finally sending your kid or teen back to the classroom after that year and a half. Excited to be going back to the new "normal?" Yes. Confused about what that looks like? Also, yes. Worried about how your kid might handle it? Triple yes.
Raising kids can have its challenging days (don't you love trying to convince a tired kid to…go to sleep?), but parenting your way through a global pandemic? It's been like a chaos-filled Groundhog Day, but in real life. Nobody should have to navigate this uncharted territory alone. Whether you're wondering if constant tantrums are "normal," or you want to figure out if your kid might have anxiety or ADHD, it might be time to enlist a bit more support.
Not sure exactly where to start? Here are a few key back to school transitions tips for parents during this weird and challenging time.
5 Tips To Navigate Back to School Transitions
1. Talk to your child's teacher
Wondering about your kids' behavior, but you're not sure what steps to take? Your child's teacher — who observes them in close proximity every day and probably has years of experience with kids and behavior — can be a great resource. If the teacher notices your kid's been struggling to focus or is having a hard time making friends, they might recommend resources at the school, or habits you can try at home as a family. And if your kid is struggling at school, but not at home, you can offer up your expert suggestions to help the teacher.
The more you work together, the more your kid will thrive at home and in the classroom!
2. Establish dependable routines
Consistency is the key to stability and enlisting more child care support, like a reliable morning or after school nanny—to pack up backpacks and lunches, then help with pickups and homework—could make a world of difference for a child struggling with the newfound busyness of their life. Not sure what kind of school year child care solutions are out there? Check out Before and After School Child Care: 6 Practical Solutions.
3. Consult your family doctor
Another great support to add to your team is your kid or teen's doctor. Along with ruling out medical concerns that could be contributing to your kid's behavior, pediatricians are trained broadly in kids' health, so they can help you pinpoint potential issues and whether extra support (or evaluation) could be useful for you. And since your family doctor knows other professionals and your child, they can provide personal suggestions about which behavioral or mental health experts your kid would gel with (and send through a referral, if needed).
4. Try behavioral health coaching
If you've tried all the things to help your kid with tantrums or your teen with self-confidence, a behavioral health coach who specializes in parenting and family issues can work with you to identify growth areas and, more importantly, goals and ways to meet them.
While therapists tend to focus on the "why" behind the "what," coaches hone in on the present and future — helping you reframe struggles and find and implement practical opportunities to get where you want to be. Coaching is grounded in evidence-based methods for kids and teens, then applied to work for everyday challenges and situations that might not meet a clinical level of need. So if your elementary school kid is struggling with worries or your high schooler just can't seem to stay on top of homework, a coach can help you figure out the right tools — and how to use them to help your family grow.
"Coaching is a way to reframe your goals and push you or your child to the next level," says Charlene Montgomery, MS, a behavioral health coach at Brightline. "Together, we'll identify where you want to be, and give you the tools to help you get there."
Coaching is a great way to set goals, so you and your family can thrive. Consider a behavioral health coach an investment in your family's well-being — the cheerleader you need to power through this tough season.
Want to learn more about coaching? Check out 5 coaching programs that will help you tackle back-to-school.
5. Consider therapy
If things just aren't getting better, or you think your child may need a greater level of care, it might be time to think about looping in a therapist — someone who is specially trained in identifying and treating behavioral health issues.
When you're worried about how your child is doing — maybe they're really stressed or feeling down lately, or maybe you think they might have ADHD, or tough behavior is really wearing you down — it can be seriously tough on everyone in the family. And asking for help can feel like a big (and scary) step. The first thing to know? "All of these things are totally normal, especially during a time of transition and uncertainty," says Angel Herrera, LMFT, a Brightline behavioral therapist. "We all experience stress in one way or another, and it's OK to need help sometimes."
There are tons of therapists out there, and it can be hard to figure out where to start. In your search aim for a licensed behavioral health clinician who can diagnose and treat behavioral health conditions in kids and teens. You may also want to partner with a therapist who has experience in your child's specific struggle, whether that's anxiety, depression, or ADHD.
For kids, it can be especially helpful to work with a therapist who takes a positive approach. Strengths-based therapists will help your kid or teen to grow coping skills out of what they're already amazing at, which can infuse the whole process with confidence and motivation.
Coaching or Therapy?
Need help figuring out what type of support is best for your family?
Reach out to Brightline
for a free, 15-minute consultation or download the Brightline Connect app for videos, articles, tips and resources, and more to help you through it all.
Taking the Next Step
If you're feeling overwhelmed by next steps, take a deep breath and remind yourself you're absolutely not alone — and there are plenty more resources to build into your support system.
It can be difficult to take the first step and ask for help, but an incredibly important one. "I feel like the more parents are involved in their child's treatment, the better results we see," says Herrera. Remember: you're not alone, and help is available. You got this!
Additional Online Resources for Children's Mental Health