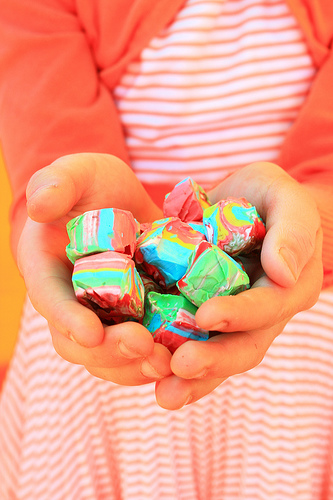 It's about to start. We're not talking about the early morning alarm, the arrival of the school bus or soccer season kickoff. We're talking about the budget-busting bombardment of birthday parties!
If you have just one child, the steady stream of invitations might not seem so overwhelming, but if you have more than one who falls within prime birthday party years (say age 2 or 3 to at least 12), you're looking at a flood of kiddie party invitations and Evites.
Here's how you can meet your gift-giving responsibilities without breaking your neck or the bank:
1. Buy in bulk. Becoming the woman who has a stash of ready-to-give gifts will free up a tremendous amount of your shopping time and help you avoid the all too common, last-minute stop at the toy store on your way to the party. Buying in advance and in abundance also has big budget-saving advantages. Forego the free gift-wrapped presents at the pricey local toy store, and instead load up at Target, an online sale, or even not necessarily top of mind places like an art supply or sports store. If your daughter loves Tangled, chances are her friends do, too. Buy a few extra dolls when you choose one for your child. See a sale on a cool craft kit that will delight a child and give her mother a break? Stock up.
Gift cards may seem like an odd choice for little kids, but even kids can appreciate the power of having their pick of a present. Consider a movie pass, bowling or miniature golf rounds, even an iTunes card for those toting iPads or iTouch.
2. Choose a signature wrapping. Having a signature wrapping method means you'll never have to stop for a gift bag on the way home, buy expensive paper that the young recipient will never appreciate, or have to give up precious closet space for a mirage of supplies. Keep it simple and unisex. How about a solid turquoise paper with a red bow? Or the same combo in a gift bag version. Better yet, go green and use reusable gift bags or recycled paper your child can decorate with stickers and stamps. It makes life much easier if you can slap on a gift tag with your child's name. Try printing your own with the free printables offered at Pizzazzerie.
3. Be a trail blazer. Ask for donations to a charity in lieu of gifts for your child. This will set the stage and encourage other parents to do the same. Does any child in your playgroup really need another tiara, Lego set or floor puzzle? Instead, encourage giving where there is truly a need. There are many charities whose mission can touch the hearts and interests of children –  your local humane society, St. Jude's Children's Research Hospital , Americans Feeding Americans, World Wildlife Society, and many, many more.
Asking is as easy as a simple request in the invitation, something along the lines of: "Please join us in supporting the American Cancer Society by giving a gift in (your child's name) to (name of the fund). Help us find a cure for cancer!"
Pooped from one-too-many birthday parties? Hire a babysitter on UrbanSitter and treat yourself to an adult evening out!