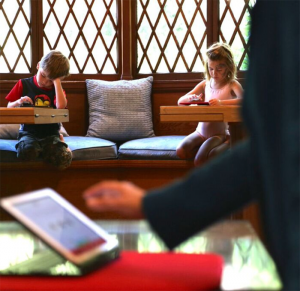 Guest post by Linsly Donnelly, Founder, SmartFeed
As a longtime technology entrepreneur, I truly believe in the power of digital media, but as a parent, I worry about the content that's out there. That's why I founded SmartFeed to give parents a tool to manage screen time with customized media options to inspire, educate, and entertain kids. We put together expert playlists for education and entertainment to help more parents, find content they'll love for the kids and their kids will love them for "allowing."
Here are a few of our favorite positive, educational kids apps and eBooks when you just need 30 minutes of kid-free time. These titles are recommended for children 2-10 years old as indicated.
Top 10 Positive Kids Educational Apps & eBooks

Dr. Seuss's ABC (age 3+)
Your favorite zany Dr. Seuss characters come to life in this whimsical yet educational app, designed to reinforce alphabet, rhyming, phonemic awareness, and other pre-reading skills. Read on your own, turn the pages, or hear the words read aloud. Very enjoyable!

PopOut! The Tale of Peter Rabbit (age 5+)
An innovative spin on the classic book– this app includes the original story's text (with an option to read on your own or hear the story read aloud), with delightful interactive elements throughout. Make leaves fall, blackberries grow, and bunnies giggle, all while enjoying Beatrix Potter's beautiful original illustrations and themes of bravery, honesty, and perseverance.

The Fantastic Flying Books of Mr. Morris Lessmore (age 6+)
A touching and mysterious story of love, connection, loss, and hope. This app is based on the book and Academy Award-winning animated short film, and is an interactive blend of both. Ethereal, thought-provoking, and a lovely choice for grownups and kids to enjoy together.

Count the Animals (age 2-5)
The concept of this app is simple: tap on a series of pictures to count a particular object or element in each scene. As you tap, the app counts along with you. Beautifully designed, with a wry sense of humor and 21 languages to choose from.

Sago Mini Friends (age 2-5)
The Sago Mini apps are irresistibly appealing and universally excellent, especially for the youngest users. Basic skills using numbers and sorting, and positive character traits like kindness and sharing are reinforced in an adorable, fun context.

Endless Wordplay (age 4-7)
This award-winning app features a variety of foundational reading skills taught through an engaging, fun interface. Interactive spelling, rhyming, and other phonics activities are presented clearly and thoughtfully, and the app is full of cute robots and other critters and fun settings. An engaging way to learn!

Pickle's Paper Dolls (age 4+)
Travel around the world as you design and dress friends from different countries, and learn new words in French, Spanish, Chinese, and more. A cut above many of the dress up apps out there, with kid-centric dolls, clothes, and accessories, and a multicultural, world-centric point of view. Simple to play, adorable, and fun.

Loopimal (age 5+)
Every so often, an app comes along that makes practically perfect use of the capabilities of a smartphone or tablet– and Loopimal is one of those apps. Creativity is sparked as users explore endless combinations of rhythm and music patterns, with delightful and whimsical results. Create, compose, modify, and play!

Professor Astro Cat's Solar System (age 6-9)
Beautifully designed and chock-full of information, this app is a great option for those who are curious about space, planets, the sun, and the universe. Information is colorfully and clearly presented, and interactive and creative elements make for fun (and funny!) learning time.

Monument Valley (age 7+)
It's a story. It's a puzzle. It's a mysterious, mind-bending logic game. It also happens to be incredibly beautiful, with stunning art and atmospheric music. It's a great choice for logic and puzzle-oriented kids and adults to play together.
Want more recommendations?
Check out these positive screen time playlists on SmartFeed or create personal playlists based on your family values or favorite character traits, your kids' interests, and your secret (or not so secret) academic hopes.