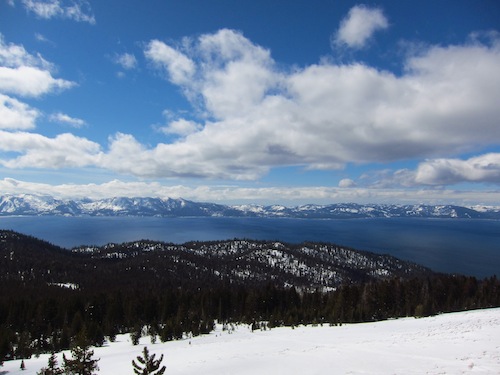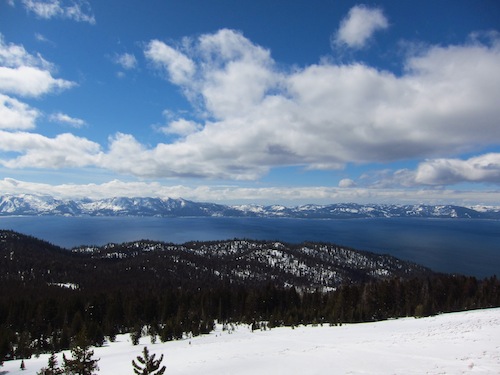 When you find yourself on a family trip to Tahoe, after a few days, your "vacation mom" self is not quite the laid-back, relaxed, happy self you'd like to be. Sometimes you just need a break.
Book a sitter and try our Top 10 Tahoe Date Ideas for a much-needed hiatus.
10. Hula-Mud Pie at Sunnyside. Who can resist this precipice of deliciousness: cocoa cookie crust, macadamia nut ice cream, fudge topping, with whipped cream on the very peak. Go for dinner or just pop in for dessert — Sunnyside is beautiful, whatever the season. In summer, sit outside and enjoy an amazing sunset. In winter, the cozy dining room makes for a very romantic dinner for two.
9. For something different, book a daytime date. Get sandwiches at PDQ in Homewood (6890 West Lake Blvd.) and take them up to the summit of Eagle Falls. PDQ sandwiches have a sort of cult-like following, so the line can be long, but it's worth it! And, the Eagle Falls hike is not strenuous, but offers enough incline to get your heart racing before you settle in to enjoy the view and eat lunch. Park at highway 89 across from Emerald Bay.
8. Your date doesn't have to be complicated. Head to Fanny Bridge at the crux of Hwy. 89 in Tahoe City. How did it get its name? I'll let you decide as you hang over the side to check out all the big fish and rushing water. Then, get a table at The Bridgetender (65 West Lake Blvd.) and enjoy one of Tahoe's best burgers while taking in great apres-ski /rafting people watching.
7. Historic Truckee can be the perfect afternoon escape. Go early enough to peruse the quaint shops and old-town sights. Then, stay for dinner and a drink at Pianeta Restaurant, a stellar Italian restaurant that offers delectable food and a great wine list.
6. It might be obvious, but the Gondola at Heavenly is still one of Tahoe's gems. Going without the kids can feel like a true escape. Start at the base, where you can shop in Heavenly Village and grab a coffee or lunch before getting on the gondola. Revel in the pure quiet as you climb up and up and take in the view. You can get out half-way up to take photos, and once you get to the very top, enjoy a moment of serenity when you realize just why that long drive to Tahoe is worth it. It's truly breathtaking.
5. Pretend you're in college again and head to Chambers Landing Bar and Grill for some punch and people watching. This one definitely works better in Summer, but you can't beat the throngs of beach bodies, budding romances, and children's cries of joy when they catch a crab or two with a homemade pole and bait.
4. For some real fun, go someplace where you're guaranteed not to see anybody under 21 — a casino. The Hyatt Regency in Incline Village  has a great restaurant, the Lone Eagle Grill, where you can dine and enjoy the lake view before heading in to give your luck a try. The casino is actually pretty classy if you can handle the wafts of cigarette smoke and desperation. Craps or slots, you're guaranteed to leave with at least a good story, if not a windfall.
3. If you're the active type, rent bicycles at one of the many rental shops dotted along the lake (Olympic, Tahoe Bike & Ski, etc.) and head out for an adventure. You can ride around the whole lake — most likely a 4-6 hour ride for most non-pros. Or, keep it local and ride along West Lake Blvd. or South Shore. Be sure to end with a hearty lunch or picnic in order to connect and bond over your awesome physical achievement.
2. Dinner at Christy Hill is some of Tahoe's finest. Located in Tahoe City, Christy Hill is a small restaurant (note: make reservations), which makes for a very customized, romantic experience. Recently written up by The New York Times and Bon Appetit, it's sure to meet (or exceed) your standards. And a traditional date can sometimes be the best kind.
1. How about this for a change-up? Tell your sitter to take the children OUT of the house or hotel room and take advantage of being home alone. A sitter can easily haul everybody down to the beach and grab an early dinner at West Side Pizza or Rosie's. Don't forget to give her a specific time to be home. Meanwhile, you and your hubby can have a cocktail, enjoy each other's company while cooking, or even take a walk or watch a movie. There are real joys in being somewhere familiar without the interruption of the kids' demands.