Brighten your days and theirs with fun, colorful kids clothes for spring. Here are some of our favorite finds for little boys and girls. Forgo the neutrals and go for bright colors and fun prints, including lots of polka dots and stripes!
1. Available in Paprika (an orangey red), this dress is cheery but not too bright for the urban jungle. It's designed to be worn loose for a relaxed look and feel. Keep it simple or spunk it up with striped socks or tights.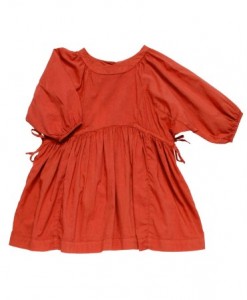 2. Billabong Kids Spinner Pull-Over Hoodie will have the big kids on the block drooling with envy.
3. Superga sneakers come in all kinds of jazzy colors for kids. Your little one is sure to find his or her favorite color in the mix, or go for a mini-me and choose a pair that matches yours. We're partial to the green, the sunshine yellow and the sporty-glam silver.
4.  Nothing says summer is right around the corner like a gently-faded, Nantucket red button-down for the little man.
5. Polka-dot poplin shorts for baby from Old Navy are too cute and just the thing to top off a plain white onesie or a t-shirt.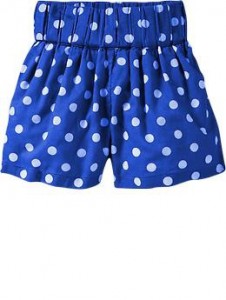 6. Don't you wish this rainbow-striped dress came in grown-up sizes, too? Pair it with leggings and a sweater for cool days, and let it stand on its owns when the weather warms up.
7. Flower-printed Stella McCarthy espadrilles are fit for your princess.
8. Even rainy days look a little brighter with a classic, yellow fisherman's rain jacket and Rainy Day Wellies with contrasting trim and striped lining.
9. You don't need to live anywhere near a beach to let your tot hang loose. He'll be adorable in this
super cool dude striped tee
from old school surf brand, O'Neil.
10. It's nice to keep it casual when the weather warms, but sometimes you just have to dial it up a knotch. For those dressier occasions, this
embroidered sheath
is just right.