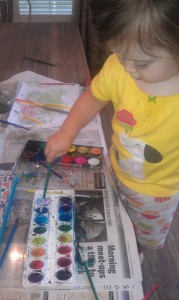 Feeling buried alive in an avalanche of artwork your child brought home from school this year? Don't let parental guilt and sentimentality keep you from weeding out the best-of-the best and letting go of the rest. That way, you'll be able to concentrate on the pieces that really make for lasting reminders of their youngest years.
Here's what to do with the masterpieces that make the cut:
 Curated Galleries
Sure, the side of your refrigerator works just fine for an easily interchangeable art display. It's quick and easy to grab the tape or a few magnets and instantly switch from cottonball snowmen to fingerprint daisies. But, you eventually run out of space, and glitter glue and fingerpaint start to take over the kitchen. You need a gallery. Decide where it will reside – a breakfast area, front and center over the sofa, a hallway or maybe your child's bedroom. There are several easy systems to choose, including:
Frames. Sure, it takes more work to frame art, but it certainly elevates the presentation and your child's work can easily give the more expensive art in your home some stiff competition. If you're planning on a gallery-style or grid approach to display, keep the frames the same or at least the same color or style for cohesiveness. You don't need to break the budget.
How to hang them: Here are several handy patterns for no-fail gallery style groupings, or go for a straight line down a hallway or a vertical line up a small swatch of wall. Too much work? Shelves or picture ledges are a great alternative.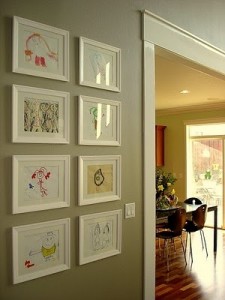 Big bulletin boards. It's the low maintenance approach, and there's nothing wrong with that. If you know you'll never find the time to frame and swap out framed artwork with new art, go easy on yourself and find a great, big bulletin or magnetic board. Martha Stewart shows us how to create a large bulletin board by stapling Flor carpet tiles to the wall.

Curtain Rod Gallery via Apartment Therapy

Clothes lines. If you're the sweet, homey type, go for a simple string or ribbon and use basic clothespins to hang art. If you like a cleaner, more contemporary look,check out this use of Ikea's curtain wire system called Dignitet, which consists of the wire rod, corner pieces and the curtain ring clips.
Apps to Help You Organize and Store Your Child's Art

Artkive describes itself as a "clutter-free way to save and enjoy your child's artwork." We couldn't agree more. The free app for iPhone and Android devices lets you take photos of your kids' artwork and then tag, share, and organize a chronological art portfolio. You can take it a step further by creating a photo book, mug or other keepsake from any of the digitally saved art.  Download app for IPhone Also available for Android.
Photo Books for Coffee Table Display
If you love the idea of organized, but need your children's precious creations in hard form, rather than digitally stored, photo books might work well for you. Artkive lets you make photo books out of the photos you shoot with your iPhone. If you prefer to use your DSLR camera and you download your photos to a site such as Shutterfly, Shutterfly photo books are the perfect option. Good 'ole Shutterfly is great for its ease of use (especially if you already download your pics there), themes and frequent promotions that make it a wallet-friendly option. Simply shoot photos of your kid's best works, and populate them into a photo book. You can take it a step further by adding photos of your child at milestone events, such as the first day of school, or the holiday pageant. Photo books are great to display and easy to store.
Art as Gifts
Rolling up a finger painting and sending it off in a mailing tube is a fantastic, heart-warming gift for an adoring grandparent.  Have your child help select which pieces they'd like to give. Also give some thought to how else you might be able to use your children's creativity as inspiration for other personal gifts. Cool Mom Picks featured an independent jewelry designer, Mia Van Beek of Formia Design, who creates super hip key chains, charms and bracelets from kids' doodles. Check out her leather cuff to see what we mean by hip. You might just want to gift this one to yourself.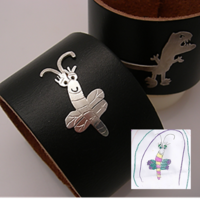 How do you make the most of your children's artwork? UrbanSitter would love to hear your ideas!